An employee who plays a key role in developing Borsheims' service-oriented culture was named this year's recipient of the company's prestigious Ike It Award. Jodi Longmeyer, Sr. Employment and Benefit Specialist at Borsheims, was presented the award at the company's virtual holiday party after being nominated and selected by her co-workers. The award is named for long-time Borsheims owner Ike Friedman, who passed away in 1991.
Jodi started at Borsheims in 2008 as the Employment and Benefit Specialist in the Human Resources department, and in 2013 she was promoted to Sr. Employment and Benefit Specialist. Jodi's responsibilities include establishing the procedures that guide Borsheims' recruiting efforts, overseeing employment benefits, and growing the company's internal culture. She is our resident Wellness advocate, and she truly believes that health awareness makes your life better. She loves to eat well, walk, work out, hike, and cheer her boys on at their sporting events.
Speaking of family, she has been married to her husband, Jason, just shy of 20 years and is a mom to two boys, Drew and Mason. Drew plays basketball, and Mason plays Lacrosse. She loves to attend all their sporting events and is known as their biggest cheerleader.
Jodi is determined to continue learning. During her time with Borsheims, she went to night/weekend classes and graduated with her MBA – it was a lot of late-night and weekend sacrifice, but she did it. She has also taken numerous HR courses, reads self-help books and industry articles, and attends every seminar she can. She is always looking for better ways to recruit, interview, test and welcome our team members. She presents new ideas for health insurance, wellness programs, and overall ways to make us better. She has a passion for our vision of serving clients and does that by serving us.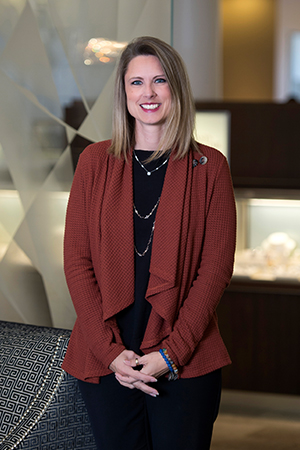 Borsheims' CEO and President, Karen Goracke, applauded Jodi's commitment and contributions over the past 13 years. "Jodi exemplifies the core values and spirit of Borsheims. Her compassion and dedication to improving our employee experience, combined with her enthusiasm and positivity, represent what the Ike It Award stands for," said Goracke.
Her position touches everyone who works here – she is the first point of contact for new staff members and conducts the last point of contact "exit" interviews with those who move on to other things. She is there for benefits questions and counsel for the rest of a person's time with us. She helps guide us all.
Jodi received nominations from almost every area of the company – gift wrap, shipping, shop, maintenance, security, customer service, appraisals, CRD, receiving, IT, buying, corporate gifts, and gift and jewelry sales. Some of the nomination feedback for Jodi includes:
She works so hard, and nobody has any idea of what she does for us, and she does it with the BEST attitude.

She is a superwoman – from helping in shipping to taking on the 

Beast

 called health insurance.

She is always happy to help.

Jodi is willing to pitch in wherever, from manually tracking wellness points, explaining and enrolling us in health insurance, and working in gift wrap and shipping.

She has done so much for the company and me.

She jumps in wherever needed with no fuss and no praise expected.

She has helped me navigate FMLA and is so kind.

She is passionately dedicated to committing her time, positive energy and providing signature service to her position in HR and any role she is asked to help with.

I was new when COVID hit and had so many questions to ask of someone who already has so much on their plate. Not once during this crazy year did she seem stressed. Her positive attitude and confidence were reassuring during an uncertain time.

I have never met anyone as helpful as Jodi, and she always does it with a smile.

She is a shining example of Borsheim's Mission.
The Ike It Award was started at Borsheims in 1992, just a year after Ike Friedman's death. The award is a tribute to Ike's legacy, honoring someone who demonstrates exceptional customer service, a willingness to help, and an enthusiasm for Borsheims. For more on Ike's importance to Borsheims, watch the video below.