Very few individuals have transformed the jewelry industry the way Kokichi Mikimoto did. In 1893, Kokichi Mikimoto succeeded in producing the world's first cultured pearl. This was a significant development in the jewelry industry and forever changed the pearl jewelry landscape. Read on to learn more about cultured pearls, Mikimoto himself, and the luxury brand he started.
What is a Cultured Pearl?
For those that may not know, a cultured pearl is a real pearl that's created under controlled conditions with human intervention, whereas a natural pearl is created organically in the wild by Mother Nature. Natural pearls are extremely rare and expensive, and discovering new natural pearls is exceedingly difficult. For these reasons, most of the pearl jewelry you see today uses cultured pearls. Cultured pearls can come in a variety of shapes and colors, but most commonly, they are white or black.
Cultured pearls are produced in both freshwater and saltwater and are formed after an irritant, like a tiny bead, is inserted into an oyster shell by a pearl farmer. Saltwater pearls are often considered to be more valuable than freshwater pearls and are available in three main types: South Sea pearls, Tahitian pearls, and Akoya pearls.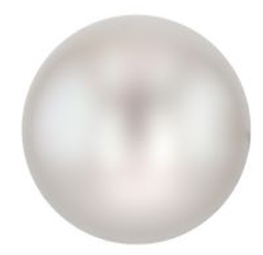 Mikimoto's Path to Success
The Mikimoto brand was founded by Kokichi Mikimoto, who was born on January 25, 1858, in Toba, a small town in Japan's Shima peninsula. He was the eldest son of a hard-working noodle shop owner. When Mikimoto's father fell ill, he was forced to leave school to help support the family financially. International trade had arrived in Japan in the early 1850s, and in Mikimoto's port hometown of Toba, pearls were the most valuable local commodity. Mikimoto intensely pursued the trade and gained some success, but the pearls became more and more scarce as the years passed. Concerned about the extinction of the pearl-producing oysters, Mikimoto set out to grow pearls within the oysters of his own protected beds.
After many years of research, experiments, and overcoming nature's obstacles, such as oyster-eating octopuses and repeated damage to his Akoya pearl oyster beds by red algae, Mikimoto finally triumphed. On July 11, 1893, Mikimoto's wife brought up a basket of oysters from the sea for inspection, which revealed a semi-spherical cultured pearl as worthy as a natural pearl. Three years later, in 1896, Mikimoto was granted his first patent for cultured pearls. 
A few years after securing a patent for the cultured pearl, Mikimoto opened his first pearl boutique in Tokyo's Ginza district in 1899. Stores in London, Paris and other major cities soon followed. After World War II, Mikimoto opened stores in New York, Chicago, Boston, Los Angeles, San Francisco, Shanghai and Bombay, further solidifying the brand's international reach and recognition. 
Kokichi Mikimoto devoted his life to pearls and lived to be 96 years old, passing away in Japan on September 21, 1954. His luxury pearl company and artistic vision still live on today. 
Mikimoto Pearl Quality & Value
Today, more than 125 years after the debut of the first cultured pearl, the Mikimoto brand is the premier producer and designer of the world's highest quality pearls and pearl jewelry. The overall quality of a pearl is ultimately determined by various criteria, including its size, shape, surface, color, and luster.
Luster: One of the most important things to look for in a pearl is luster. Luster is the amount of light a pearl reflects from both its surface glow and the deep mirror-like reflection of its inner light.
Surface: Subtle blemishes and tiny marks are part of a pearl's natural texture and proof of its genuine origin. However, fewer surface imperfections denote a higher quality, more valuable pearl.
Shape: Generally, the closer a pearl is to a perfect sphere in form, the more rare and valuable it is. Nowadays, pearls of all shapes are embraced for their unique charm.
Size: The size of a pearl is determined by its diameter measured in millimeters. While size does not affect the quality of a cultured pearl, it does affect the price.
Color: It is commonly accepted that the more even the color, the higher quality a pearl is.
Every Mikimoto pearl must meet all the criteria mentioned above to be deemed a "Mikimoto Pearl." To maintain the quality in Mikimoto pearls that customers have come to expect, only the finest pearls that meet the strictest standards are used.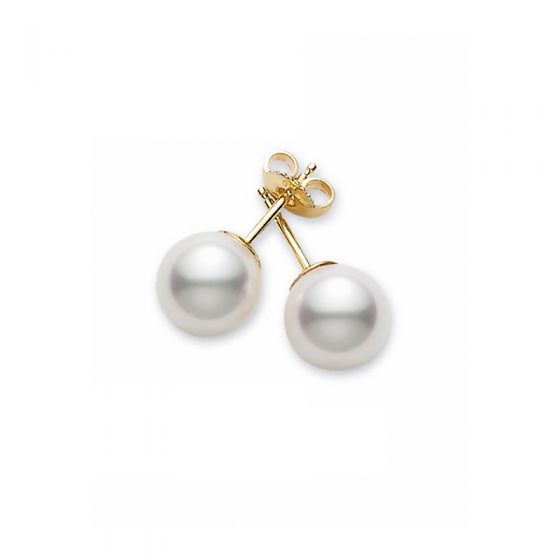 Akoya Cultured Pearls
Akoya cultured pearls are the specialty of Japan's pearl farms. Pearls from Akoya oysters are the quintessential pearl, both classic and timeless, and are the most popular pearl on the market. Admired for their breathtaking sheen, they typically range in size from 3-10mm and in color from white to cream.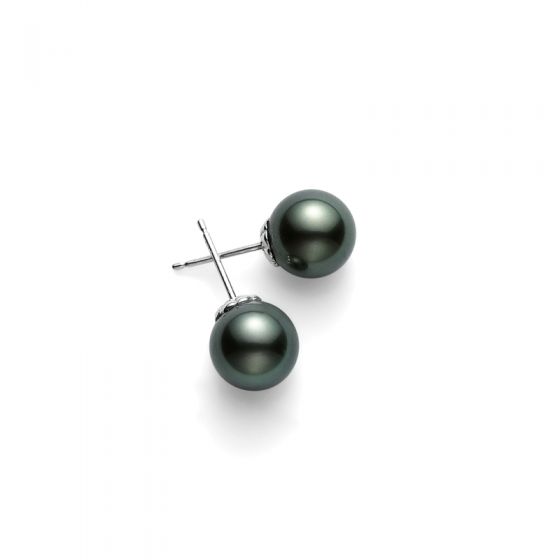 Black South Sea Cultured Pearls
Black South Sea cultured pearls, also referred to as Tahitian pearls, exude modern sophistication and elegance and are prized for their rarity and natural exotic colors. Though typically identified as black, these dark, opulent pearls range in color from mirror-like gray to midnight black, with iridescent overtones of green, blue, brown, red, and yellow. Produced by Black-lipped oysters, sizes begin at 8mm, and shapes vary, including round, oval, teardrop, or baroque.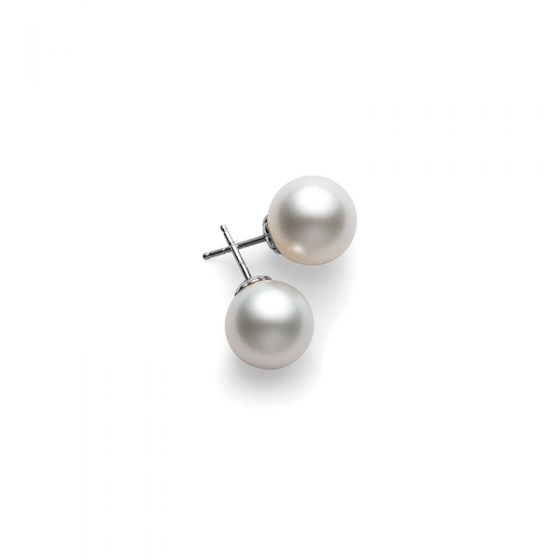 White South Sea Cultured Pearls
With a minimum harvest size of 9mm and reaching up to 22mm in diameter, these luxurious, glossy pearls have a subdued iridescence that subtly changes with lighting and movement. Produced by the Silver-lipped South Sea oyster, which is found in deep, offshore waters, the pearl's rarity is due to the sensitive, difficult-to-cultivate nature of this species.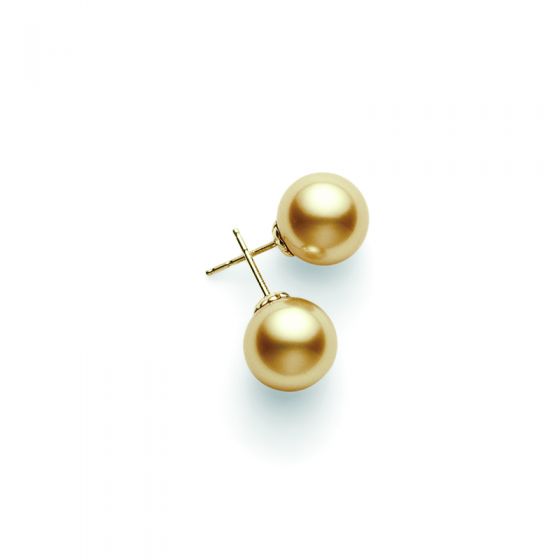 Golden South Sea Cultured Pearls
Golden South Sea pearls are rarefied and highly coveted. They can be grown in silver-lipped oysters or gold-lipped oysters, and their color will ultimately be influenced by such. Pearls grown in gold-lipped oysters will have a deep, rich luster that ranges from light champagne to mesmerizing gold.
Borsheims is a proud authorized retailer of Mikimoto Pearls. If you would like assistance in shopping for Mikimoto pearl jewelry, one of our jewelry experts would be happy to help you. Please stop into our store or call 1.800.642.4438 during store hours to speak with one of our friendly and knowledgeable sales associates.