Meet the newest addition to Borsheims' collection of luxury jewelry designers: Spinelli Kilcollin. While primarily known for their linked rings, Spinelli Kilcollin specializes in combining versatility, comfort and style in their jewelry designs. Read on to learn more about the Spinelli Kilcollin brand and the iconic rings that made them famous.
About the Spinelli Kilcollin Brand
The luxury jewelry company was founded in 2010 by husband-and-wife team Yves Spinelli and Dwyer Kilcollin in their East Los Angeles garage. Today, each Spinelli Kilcollin piece is handcrafted in downtown Los Angeles by a small team of talented local artisans using ethically sourced materials.
Spinelli Kilcollin launched with an innovative series of interconnected rings, but interestingly the establishment of the coveted brand and their now-famous ring design happened by chance. It all started when Yves conceptualized a ring design for himself that would consist of multiple rings connected by smaller rings that he could wear across several fingers. Yves began wearing the ring out and about, where people started noticing it and wanting to buy it. A short time later, Yves met his future wife, Dwyer, who was an artist. With her creative eye, Dwyer was able to enhance the ring with a sense of color and conceptual design.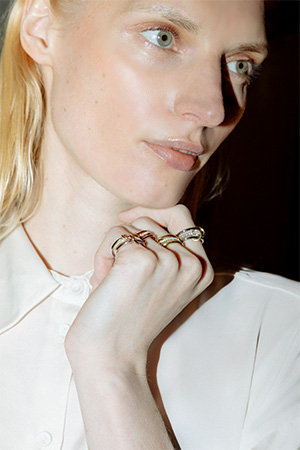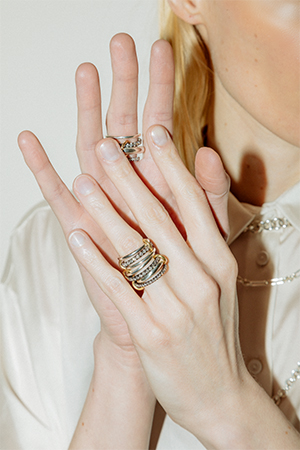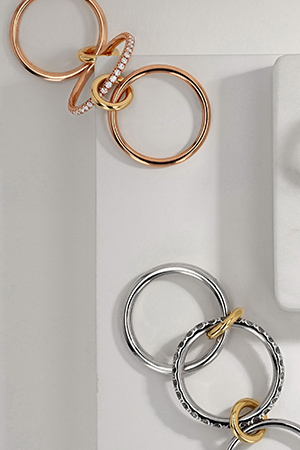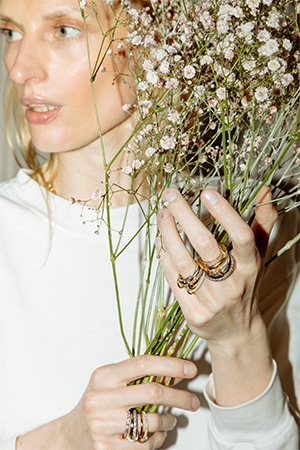 Spinelli Kilcollin Galaxy Rings
Spinelli Kilcollin makes elegant stacking completely effortless with their innovative, interconnected rings. The Galaxy ring, Spinelli Kilcollin's most famous design, consists of multi-band rings linked by smaller connecting rings that can be worn stacked onto one finger or spread across several without compromising mobility.
By striking the perfect balance of edginess and elegance and seamlessly mixing silver and gold, Galaxy rings have become a gateway for mixing and matching jewelry. The eventual addition of diamonds to the design caught the attention of fashion editors and celebrities and thus catapulted the Galaxy ring into the coveted fashion statement it is today. Designed to be worn by both men and women, these universal rings offer limitless versatility by giving wearers the flexibility to create multiple looks with a single piece of jewelry. See below for just a sampling of the many ways you can style these exceptional rings.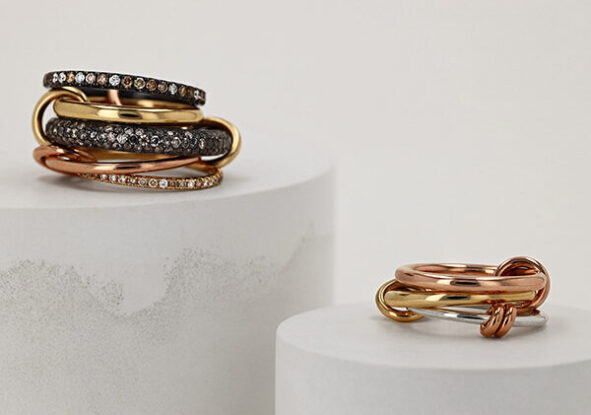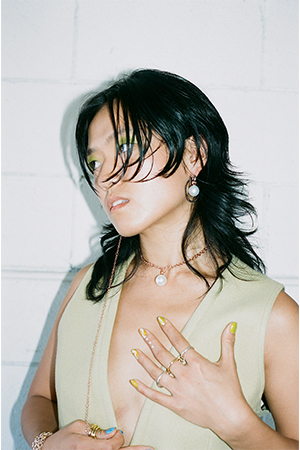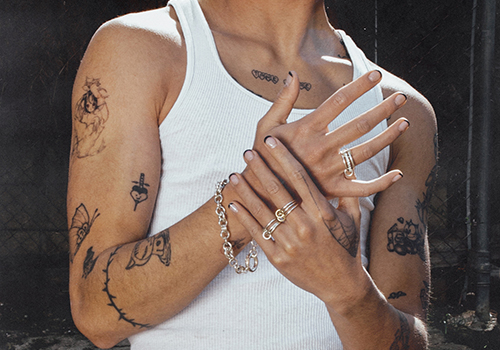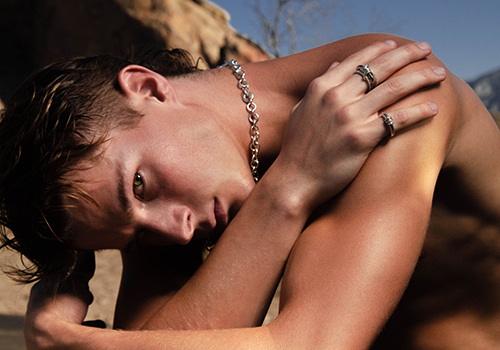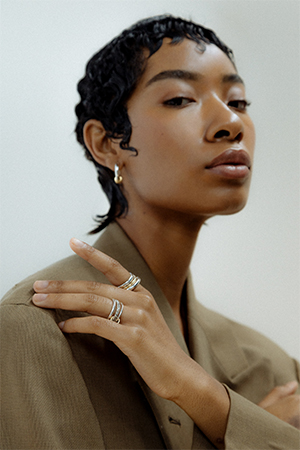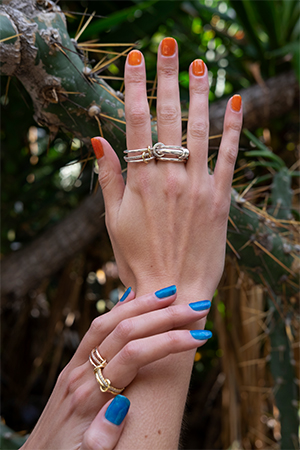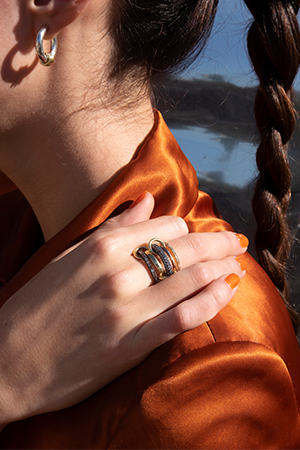 If you have questions or need help picking out a piece of Spinelli Kilcollin jewelry, one of our jewelry experts would be happy to assist you. Call 1.800.642.4438 during store hours to speak with one of our friendly and knowledgeable sales associates.