One of the most memorable moments of your upcoming wedding will be the second you make your grand entrance and everyone gets their first peek. Without a doubt, your wedding dress is the most important piece of your bridal ensemble. However, careful consideration should be paid to your wedding day jewelry. Here are a few tips for selecting bridal jewelry that perfects your wedding day wardrobe.
Choose Colors that Complement the Dress
The rule of thumb for bridal jewelry is that metal colors should complement the dress: silver works well with white dresses, gold tones with ivory, and even rose gold with blush shades. However, don't feel pressured to include your engagement ring and wedding band in this rule. You can use the remainder of your pieces to complete your look.
Necklace Selection
A good starting point when selecting your necklace is consideration of the neckline of your dress. When it comes to more ornate necklines, such as halter, one-shoulder, and illusion, it's best to go sans necklace and use earrings and a bracelet to complement your dress instead. These necklines are designed to grab the attention, and adding an accessory can compete rather than enhance.
The sweetheart neckline is a popular style for wedding dresses. This heart-shaped cut pairs well with shorter, more delicate necklaces. The Freshwater Cultured Pearl & Diamond Swirl Pendant or the Diamond Curved Bar Necklace are elegant options.
If your wedding gown has a straight neckline, you have a variety of necklace styles to choose from. A statement necklace, such as the Diamond Cluster Spike Necklace or the Phillips House Large Infinity Diamond Necklace, is a bolder option. If your style is more delicate, try a pendant necklace such as the Kalahari Dream Diamond Necklace or the Frederic Sage Diamond Double Interlocking Mini Circle Pendant. Or, if you'd rather go with a classic and timeless bridal favorite, choose the TARA Pearls strand & earring set.
If you have opted for a more daring gown with a plunging neckline, a Y-shaped or lariat necklace follows the neckline well. Consider the Swarovski Lifelong Y Pendant in rose gold.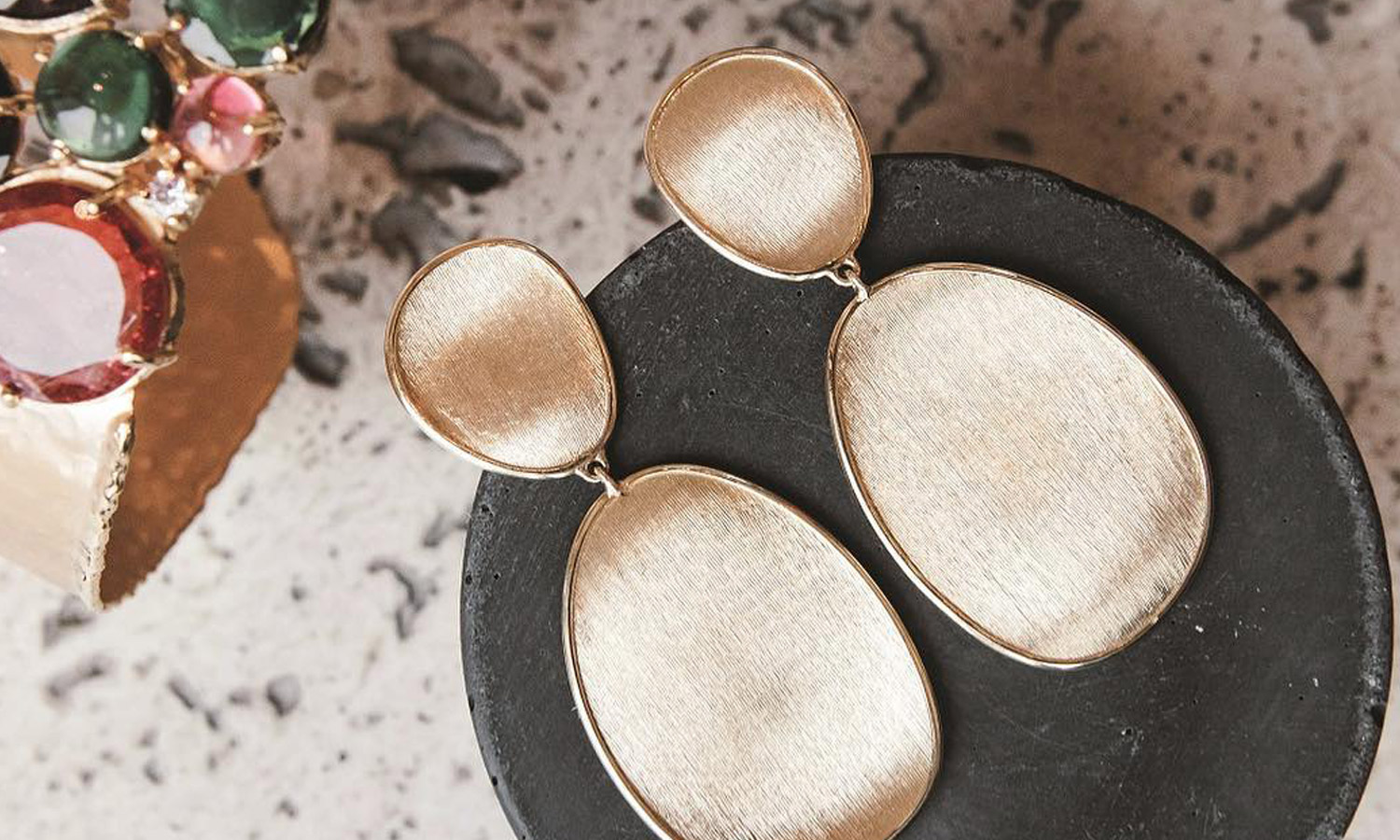 Sentimental Meanings
Your wedding is the perfect occasion to select pieces that have sentimental value. The wedding jewelry is the only part of your ensemble that you will continue to wear after your special day, especially as you celebrate anniversaries in the years to come. Wedding jewelry can become heirloom pieces, and may even serve as the "something borrowed" element for future brides in the family that you create together.
Some pieces have inherent sentimental value. Sapphires are the birthstone for September birthdays and are also used to celebrate 5th and 45th wedding anniversaries. In the same manner, aquamarines are the birthstone for March birthdays and are used to celebrate 18th wedding anniversaries. You may choose pieces that are designed to convey a special meaning, such as the Swarovski Lifelong Bow Necklace (tying the knot), the Alessandra Dona Rhodolite Garnet Cluster Stud Earrings (romance), or the Diamond Infinity Necklace (forever).
You may also choose to use nontraditional jewelry that holds special meaning. An heirloom cocktail ring may be an option, but remember to wear it on your right hand – your engagement ring and wedding band are the center of attention on the left. The Diamond Cross Pendant Necklace may be worn for religious sentiment. Finally, a winter wedding may be the occasion for the Atelier Swarovski DIAMA Created Diamond Bloom Sunburst Pendant and stud earrings.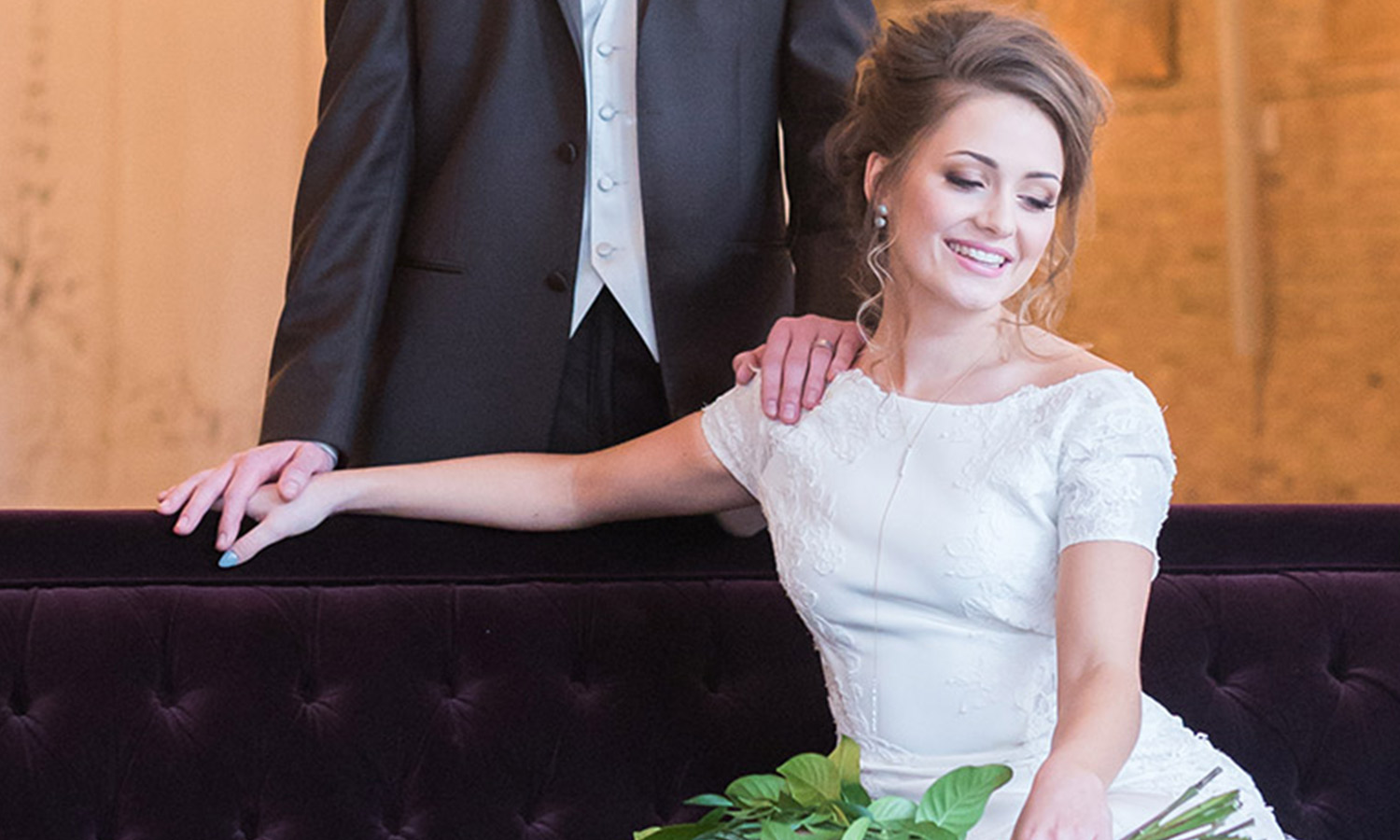 Be Your Most Beautiful YOU
An essential element to consider when selecting your wedding day jewelry is YOU. When you look back at those cherished wedding photos, you want to recognize the bride! Choose pieces that fit your style, and remember not to over-bling! If your dress is highly ornamental, opt for simpler jewelry pieces. Keep in mind that a classic look for bridal jewelry is always a winner, as trendy selections may become dated very quickly.
Borsheims has a long history of expertise in bridal jewelry, offering a wide range of options both in-store and online.