An employee who plays a crucial role in growing Borsheims' Corporate Gifts department was named this year's recipient of the prestigious Ike-It Award — Employee of the Year. Ann Lothrop, Sr. Corporate Incentive Account Manager at Borsheims, was presented the award on February 18th after being nominated and selected by her colleagues. The award is named for longtime Borsheims owner Ike Friedman, who passed away in 1991.
Ann began working at Borsheims in 2014 as a Customer Service Associate, a role in which she learned firsthand about Borsheims' commitment to exceptional service. In 2016, she took on a new role as the Corporate Incentive Account Manager and was promoted to Sr. Corporate Incentive Account Manager in 2019. In this capacity, Ann partners with local and national businesses, healthcare organizations and educational institutions to develop gifting programs for them to recognize their employees and clients.
Ann's phenomenal work over the years has not gone unnoticed, as she has been nominated for MVP twice in her career at Borsheims. Borsheims' CEO and President, Karen Goracke, applauded Ann's passion and enthusiasm. "Ann's integrity and customer-centric focus embody our Signature Service. Her positive attitude is contagious, and she treats everyone – from customers to employees to vendors – with grace," said Goracke.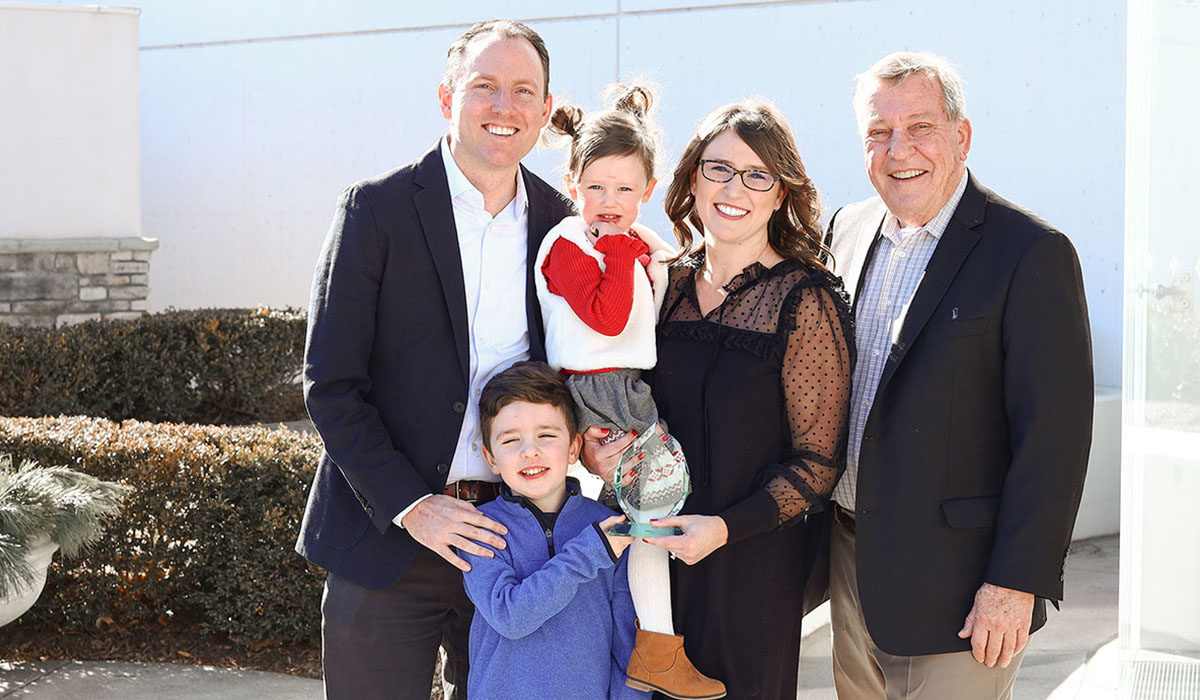 Ann is also an MVP at home, and her family means the world to her. Ann and her husband, Matt, have two beautiful children, Graham and Hannah. She's also incredibly close to her sister and two brothers. 
The list of accolades that Ann's colleagues wrote on her nomination is extensive. It centers on themes of her expertise, sunny disposition, willingness to help, and respect for all of her coworkers. Quotes about her from her nomination include:
Ann brings her best to work every single day. The quality of her character allows her to stand out amongst her peers.

Ann always has a positive attitude and smile on her face – even when things aren't fun or easy.

Ann's can-do attitude and easy-going personality have long characterized her tenure at Borsheims. She's a steel magnolia underneath–advocating for her clients, providing customer service and nailing sales goals.

Ann's sincere enthusiasm is contagious. She goes above and beyond to help customers. She's respectful and kind to her peers and should be this year's 'Ike-It' award winner.

She is such a pleasant person in everything she does!! She is a wonderful person to represent Borsheims when dealing with corporations!

Ann is a team player. She is always so friendly. I can tell she cares about Borsheims and its customers.

My vote for the 2021 Ike-It Award is for Ann Lothrop. Ann's integrity and always-willing-to-help-a-customer attitude are what Borsheims' Signature Service is all about. She's able to balance a sales mentality with the enthusiastic, caring demeanor of someone like Ike Friedman. Working with many different customers means enduring many different personalities. And I applaud Ann for treating them all with grace and dignity and seeing all sides of the situation. We are lucky to have Ann as a member of the Borsheims family!

She is always positive and helpful to fellow associates when needed. She demonstrates our Signature Service and core standards when working with customers.

Every time I see Ann, she brightens up my day! She is a shining example of what the Ike-It Award embodies – through her hard work, positivity, enthusiasm, and warmth she brings to Borsheims.
The Ike It Award was started at Borsheims in 1992, just a year after Ike Friedman's death. The award is a tribute to Ike's legacy, honoring someone who demonstrates exceptional customer service, a willingness to help, and enthusiasm for Borsheims. For more on Ike's importance to Borsheims, watch the video below.