An employee who plays a crucial role in growing Borsheims' gift and jewelry departments was named this year's recipient of the prestigious Ike-It Award — Employee of the Year. Wendy Johnson, Sr. Buyer's Assistant at Borsheims, was presented the award on February 21st after being nominated and selected by her colleagues. The award is named for longtime Borsheims owner Ike Friedman, who passed away in 1991.
Wendy began working at Borsheims in 2007 as a Buyer's Assistant in Gifts, assisting the Gift Buyer with several duties. Over the years, her role evolved, and she began assisting our Diamond and Jewelry Buyers with projects in addition to her responsibilities in the Gift Department. In 2019, Wendy was promoted to Senior Buyer's Assistant. 
Wendy's hard work and many contributions have not gone unnoticed over the years, as she's been selected as an MVP several times and was even nominated for the Ike-It Award in 2020. Borsheims' CEO and President, Karen Goracke, applauded Wendy's service and commitment to the company, saying: "Wendy has been an integral member of the Borsheims family for many years, and I couldn't be prouder of her for being selected by her fellow employees as our Ike-It Award recipient. Our staff is grateful for her positive attitude and tremendous work ethic."
Wendy is also an MVP at home, and her family means the world to her. Wendy and her husband, Matt, share three active boys, Andrew, and twins, Aaron and Nathan. Most evenings after work and on the weekends, you will find Wendy shuttling her kids between practices, games and other activities.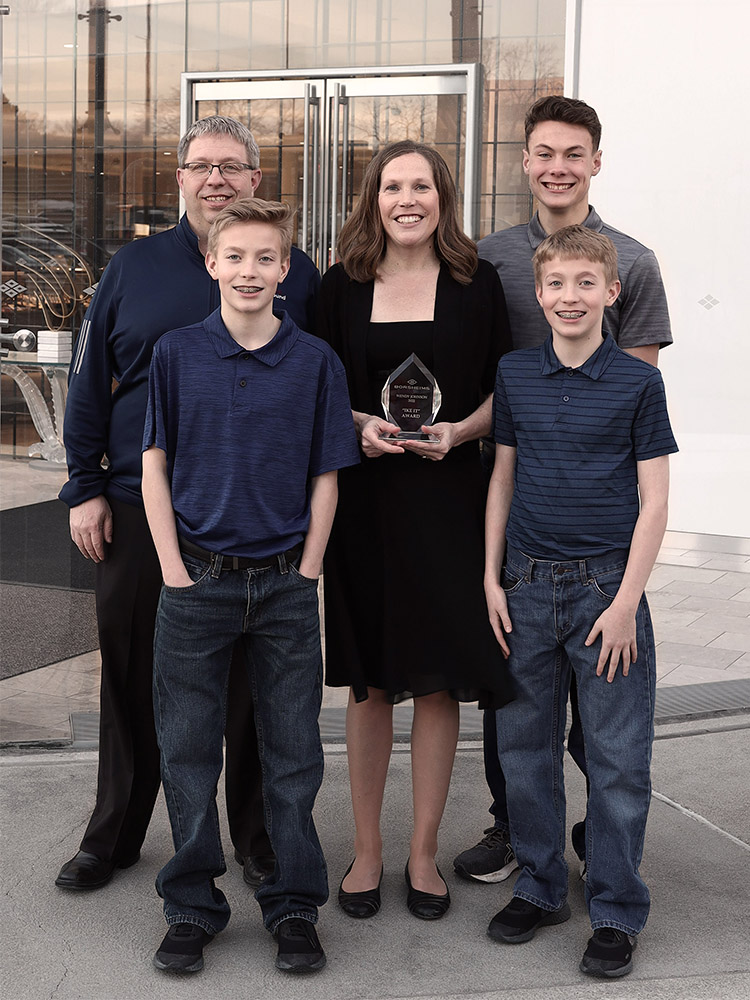 The list of accolades Wendy's colleagues wrote on her nomination is extensive. It centers on themes of her expertise, kind disposition, willingness to help, and respect for all of her coworkers. Nomination feedback about Wendy from her peers includes the following:
Wendy always has a good attitude, is willing to help wherever needed and is a hard worker.

Wendy is great with answering questions about vendors.

Wendy is always kind, efficient and always goes above and beyond.

Wendy has the most amazing work ethic. She is an asset to Borsheims.

Wendy goes above and beyond every day. She is happy to help anyone, no matter their needs, and never makes you feel bad when asking for help. 

Wendy is an excellent example of what the Ike It Award is all about and represents Borsheims core standards. She is loyal, provides exceptional customer service each day and is always willing to help.

Wendy's dedication to Borsheims is phenomenal! She is always working to make things run more smoothly for everyone! 

Wendy never wants accolades and always has a positive "can do" attitude.
The Ike It Award was started at Borsheims in 1992, just a year after Ike Friedman's death. The award is a tribute to Ike's legacy, honoring someone who demonstrates exceptional customer service, a willingness to help, and enthusiasm for Borsheims.