Jewelers of America (JA), the national trade association for businesses serving the fine jewelry marketplace, has named Andy Brabec, Director of Marketing and Ecommerce at Borsheims, as one of the recipients of the 20 Under 40 in Jewelry Retail List. Jewelers of America's 20 Under 40 is a new recognition program that celebrates young professionals who exemplify leadership skills and a commitment to elevating jewelry retail for tomorrow's jewelry consumers.
A panel of industry judges reviewed nominees from JA Retail Members across the country and had the difficult task of narrowing the applications down to the 20 individuals who best embody an ability to lead, innovate, and improve a jewelry store's success while adhering to professional ethics. Andy was selected as one of the recipients of this prestigious award.
"Jewelers of America's 20 Under 40 in Jewelry Retail List was designed to recognize young and talented individuals in all facets of the retail jewelry industry. Mr. Brabec possesses all the qualities and leadership skills that will help to pave the way for a brighter future and the next generation of jewelry industry professionals," says Jewelers of America President & CEO David Bonaparte.
Andy is responsible for overseeing and leading the marketing and e-commerce teams at Borsheims. His job entails reviewing online sales, building brand awareness, creating new partnerships with brands and individuals, innovating to solve for daily opportunities, reviewing and approving marketing campaigns and more.
Andy overhauled the Borsheims website to create a more accessible and user-friendly site. He has heavily focused on developing our omnichannel business and culture over the past two years, which ensures all customers have the same signature Borsheims experience whether they shop online or in-store. He formed new and flourishing partnerships with companies in different industries, including being one of the first jewelry companies to sign an NIL student-athlete as an ambassador for the brand. Beyond these achievements, he has been one of the biggest contributions to the company's success through leadership, constant innovation and improving current processes.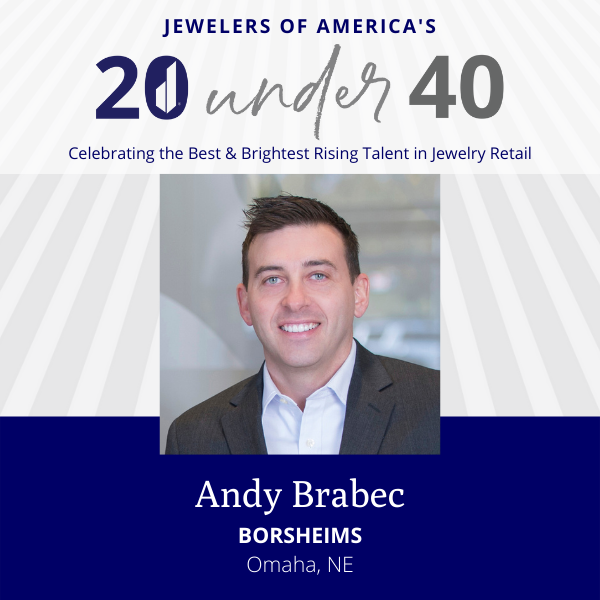 Borsheims is a member of Jewelers of America, the national association for fine jewelry businesses with the most reputable jewelers in the United States, who are backed by a commitment to Jewelers of America's Code of Professional Practices.
For more information about Jewelers of America's 20 Under 40 List, visit https://www.jewelers.org/ja/events-news/20-under-40.