Peridot: August Birthstone Quick Facts
Peridot Color: Shades of green
Peridot Mohs Hardness Scale Rating: 6.5-7
Peridot Symbolism & Meaning: Good fortune
Peridot Zodiac Signs: Leo and Virgo
Other Recognitions: Traditional gift for the 16th wedding anniversary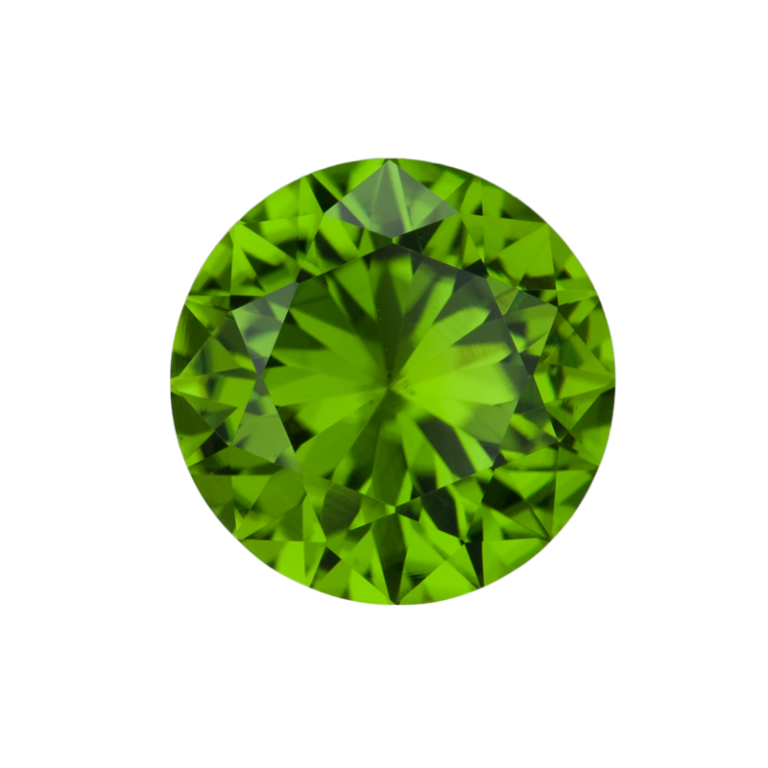 What is Peridot?
Peridot is the gem-quality form of the mineral olivine. Volcanic activity produces an igneous rock called periodite in which olivine is found. All peridot either comes from deep in the earth's mantle or, more rarely, from pallasite meteorites. Peridot from below the earth's surface is plentiful, especially in the United States. Arizona's San Carlos Reservation provides an estimated 80-95% of the world's peridot supply. It is also found in Myanmar, Australia, Brazil, China, Kenya, Mexico, Pakistan, Sri Lanka, and Tanzania.
Peridot History & Meaning
Peridot was mined on the Red Sea island of Zabargad for 3500 years and was treasured by the Greeks and Romans. It was brought to Europe in the Middle Ages by the Crusaders and was used in religious jewelry and artifacts.
In ancient times, these gorgeous green gems were believed to ward off evil spirits and people with malicious intentions. Wearing peridot jewelry is said to improve relationships and marriages. Today, peridot is known as the stone of compassion. It is believed to bring good health, restful sleep, and peace to relationships by balancing the mind and emotions.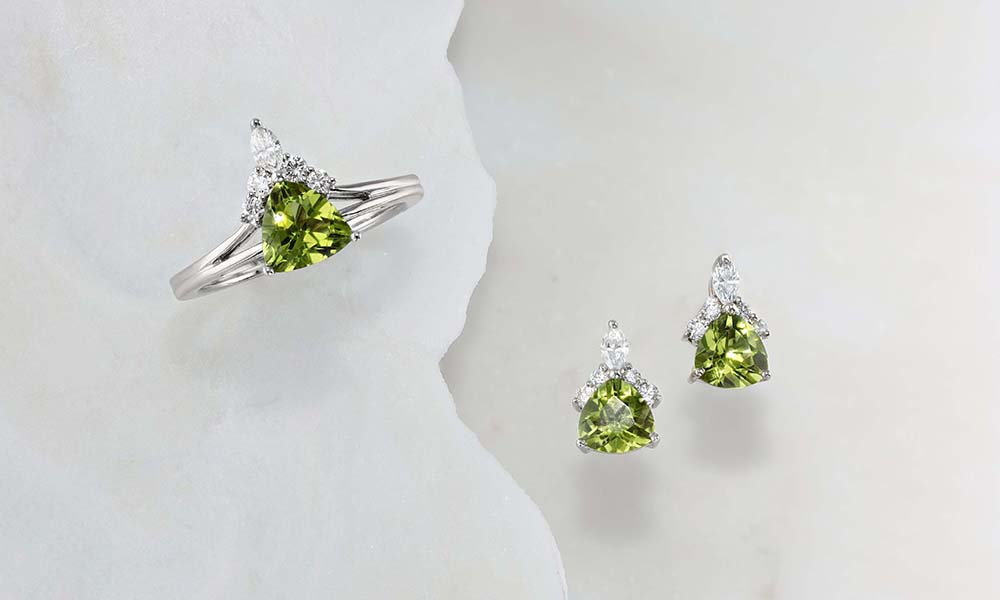 Peridot Color, Characteristics & Value
Peridot is the primary birthstone for August and ranges in color from yellowish-green to deep olive green. The intensity of the peridot's color depends on the amount of iron; the higher the iron content, the deeper green it will be and generally more valuable too. The finest peridot is green with no tinge of yellow or brown. Peridot comes in a variety of shapes and sizes, but large gemstones, especially in flawless quality, are rare.
Peridot Care & Cleaning
Peridot has a hardness rating of 6.5 to 7 on Mohs Scale of Hardness, meaning it's softer than many gems and is not recommended for everyday use. It can be somewhat brittle, and accumulation of skin oil over time may etch the surface. Cleaning peridot jewelry is a delicate process and may be best left to a professional jeweler. If you are attempting to clean peridot gemstones yourself, it is recommended to use a soft bristle brush with mild dish soap in warm water. Avoid using an ultrasonic or steam cleaner as peridot is susceptible to thermal shock. When not being worn, peridot jewelry should be stored in a jewelry box lined with soft fabric and away from other gems to avoid scratching.
Peridot Jewelry & Gift Ideas
Whether you are shopping for yourself or someone else, Borsheims has an extensive selection of peridot jewelry in various styles. Peridot is a popular gift option for those celebrating August birthdays and those commemorating their 16th wedding anniversary. If you need help picking out the perfect piece of peridot jewelry, one of our experts would be happy to assist you. Stop into our store or text or call 402.391.0400 during store hours to speak with one of our friendly and knowledgeable sales associates.