Stacking has become an art form where you pick jewelry pieces that complement each other and define your style – all while bringing your look to the next level. There's just something so gratifying about finding the perfect accessories that make you feel more confident as you take on the day. For this reason, we are especially fond of stacking bracelets and wristwatches – perfectly pairing beauty and function. The watch acts as the focal point, a functional and often sophisticated accessory that grounds the entire look, while the bracelets add layers of texture, color and personal meaning.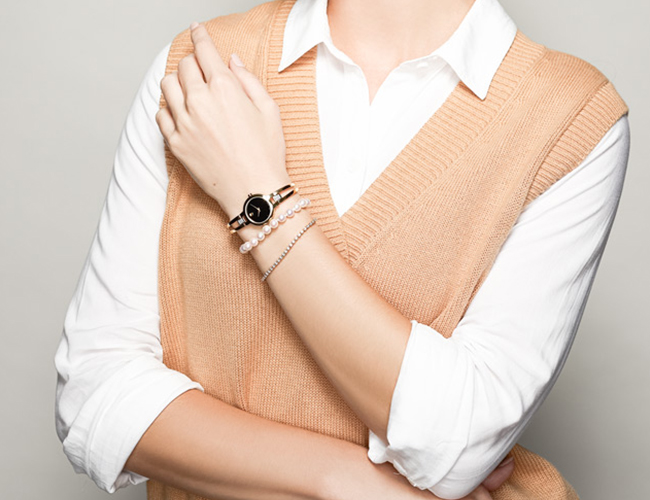 Start with the Watch
Choosing the right watch as your base is crucial. A timepiece with a minimalist design provides an elegant backdrop, allowing the bracelets to shine. On the other hand, a more intricate or statement watch can serve as a bold centerpiece, around which you can build a complementary stack of bracelets. The juxtaposition of the sleek, structured wristwatch with the organic and often free-spirited nature of bracelets creates a harmonious blend of styles. We recommend placing the watch on your wrist, closer to your hand, and then adding the bracelet(s) above it on the side closest to your elbow.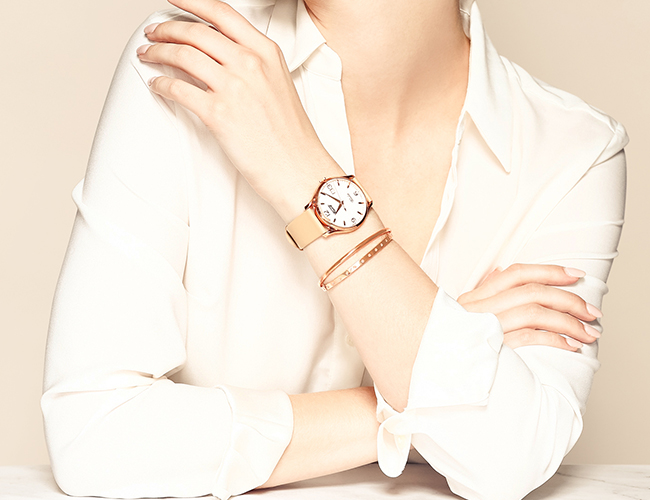 Play with Textures
Mix textures for a visually appealing combination. Pair a smooth leather watch band with a textured bracelet or combine beaded bracelets with a simple, sleek watch.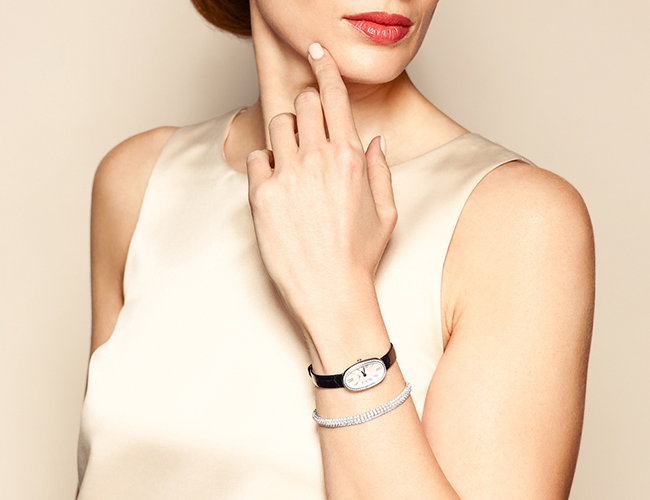 Dress for the Occasion
To take your look up a notch, match the style of your watch and bracelet to the occasion. Opt for a more refined and elegant stack for formal events—think diamond bracelets, patent leather watch bands and more. For every day, go for a more casual, relaxed vibe.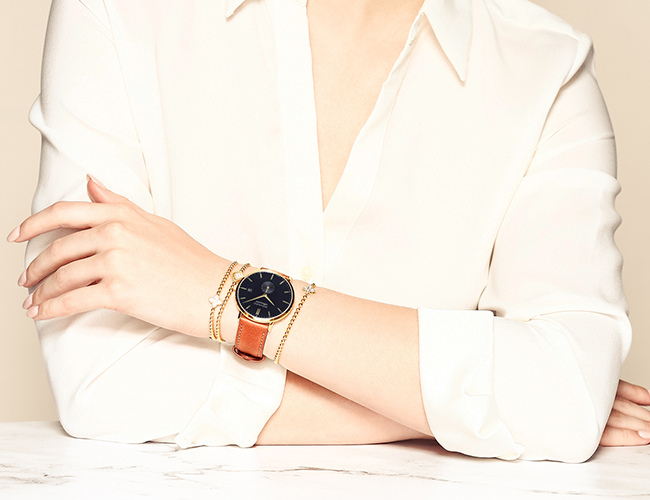 Balance Your Stack
If you plan to wear multiple bracelets, create a symmetrical and balanced look by placing them on either side of the timepiece. For example, wear one or two bracelets on one side of the watch and a similar number on the other side.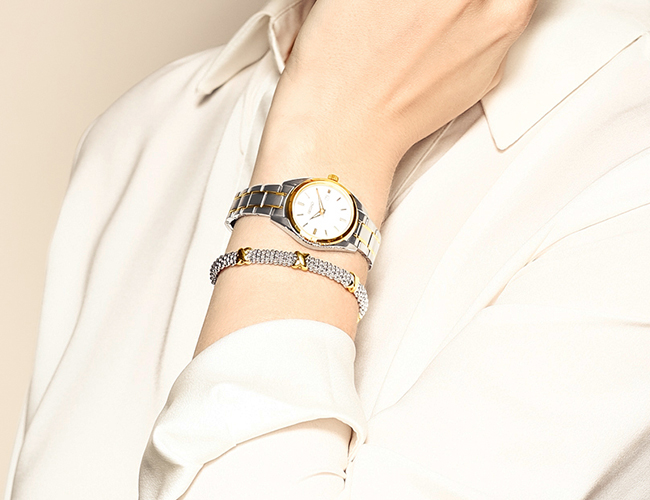 Consider Size and Proportion
Pay attention to the size of the watch and the bracelet together, as you will want them to be proportional. If you're wearing a bulky or oversized watch, opt for thinner and more delicate bracelets. Be careful mixing chunky bracelets with a dainty wristwatch, as these thicker bracelets can overpower the more delicate timepiece.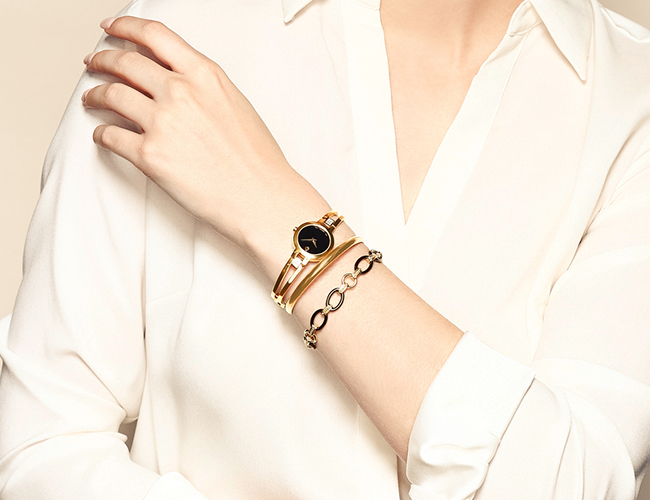 Coordinate Colors
Coordinate the colors of your watch and bracelets to create a cohesive and harmonizing look. For example, if your watch is yellow gold and black, wear bracelets with yellow gold tones and black accents to match.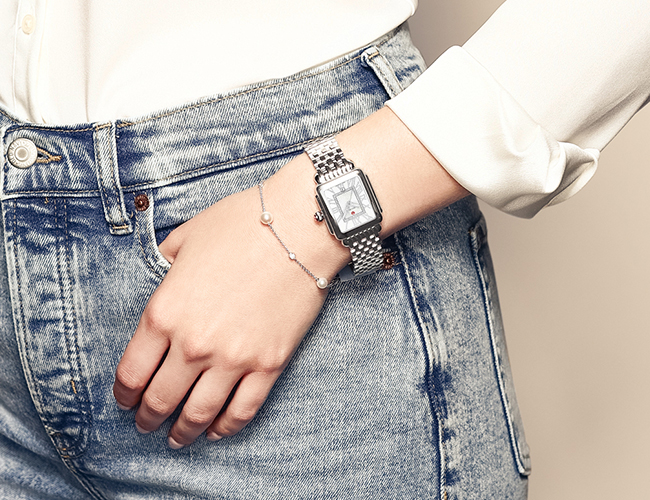 Mix Materials
Mixing different materials is a popular way to add interesting contrast to your look. If your watch is metal, pair it with a beaded bracelet to add depth and variety to your wrist.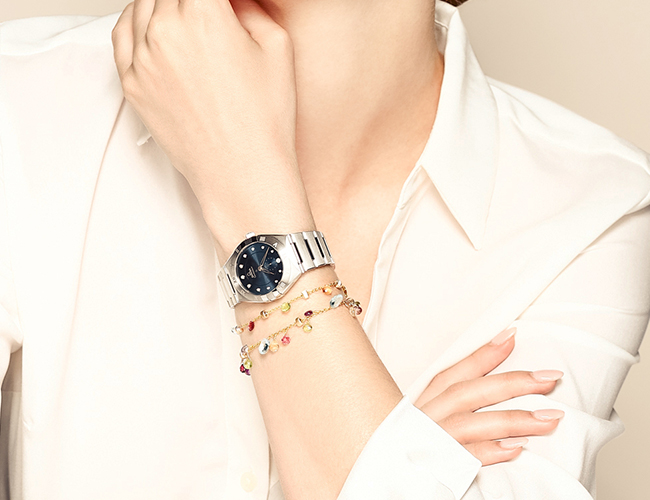 Personalize Your Stack
Add a personalized touch to your stack by including bracelets with colored gems, charms or initials. This not only adds visual interest but also tells a story that's unique to you.
If you need help putting together the perfect bracelet and watch pairing, one of our experts would be happy to assist you. Stop into our store or text or call 402.391.0400 during store hours to speak with one of our friendly and knowledgeable sales associates.