Diamond stud earrings are the epitome of a jewelry box staple – seamlessly transitioning from day to night and casual to formal. Their versatility, paired with their breathtaking beauty, make them a popular go-to gift to mark special occasions like birthdays and anniversaries as well as holidays like Valentine's Day. While deciding to get yourself or that special someone a pair of diamond studs is easy, picking out the perfect pair requires a bit more thought. To help take some of the guesswork out of the shopping process, we've put together this guide with everything you need to know when picking out the perfect pair of diamond stud earrings. Let's get started!
Diamond Stud Shapes
Like diamond rings, diamond earrings are available in any number of shapes, also known as cuts, with round and princess cut being the most popular. When choosing a diamond shape for your earrings, be sure to keep in mind that studs may shift in your ears as you wear them, so it's a good idea to choose a shape that looks good sideways and upside down as well as right side up.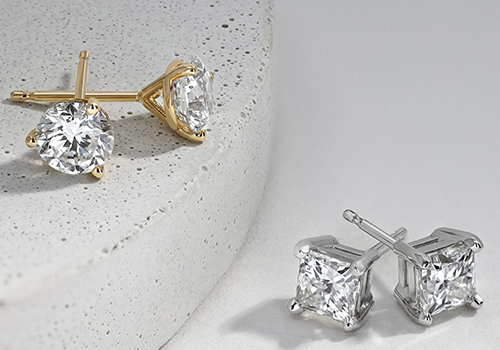 Diamond Stud Sizes
Diamond stud earrings come in any number of sizes, from small to large, and are measured based on their carat total weight, or cttw, which is the total diamond weight of both studs. For example, if you're looking at a pair of 1.00 cttw solitaire diamond studs, each stud will be 0.50 carats. It's important to understand total carat weight when shopping for diamond earrings so that you come away with a pair of studs that you are happy with. In order to find the very best diamonds for you, we also recommend familiarizing yourself with the 4Cs, which covers the cut, clarity, color, and carat of a diamond.
To help you visualize what various carat weights might look like on your ears, we've put together this diamond stud size chart which shows some of our most popular sizes being worn.
.25cttw Diamond Stud Earrings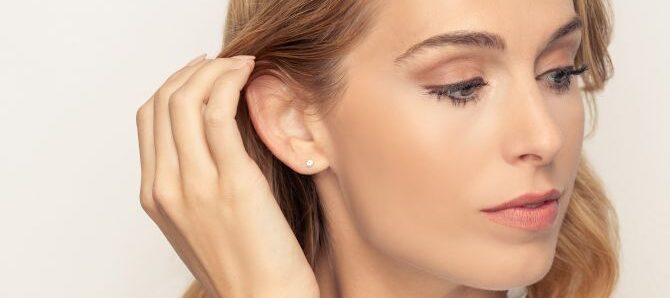 .50cttw Diamond Stud Earrings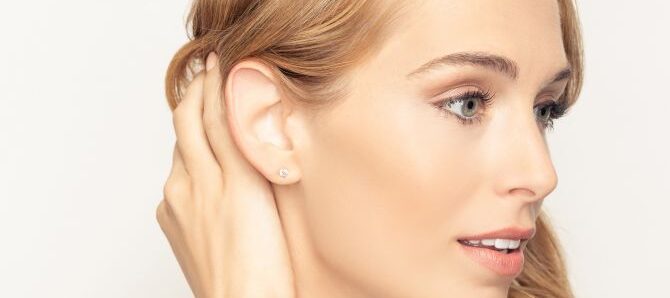 1.00cttw Diamond Stud Earrings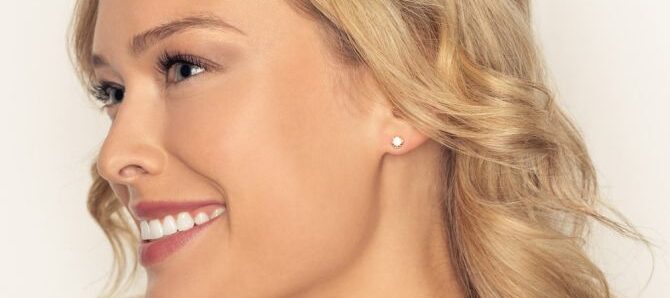 1.50cttw Diamond Stud Earrings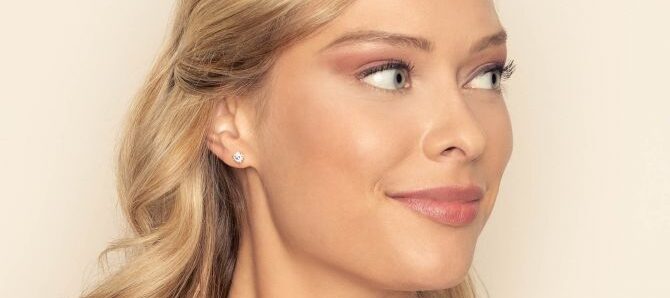 2.00cttw Diamond Stud Earrings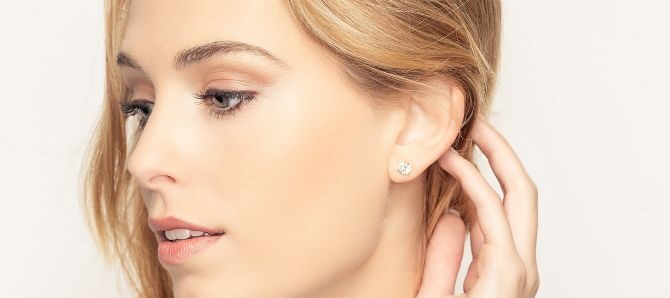 Diamond Types: Mined vs. Lab-Grown
You may not have realized it, but there are options when it comes to choosing a real diamond for your stud earrings. While you are probably familiar with natural, or mined, diamonds, you may not have heard of laboratory-grown diamonds. Lab-grown diamonds are chemically, structurally, and visually identical to mined diamonds. The fundamental difference between lab-grown diamonds and natural diamonds comes down to their origin. Mined diamonds were formed billions of years ago deep within the earth's crust, whereas lab-grown diamonds are grown in a laboratory over a 2-3 month timespan. 
Lab-grown diamonds can make for an appealing alternative to mined diamonds, with their affordability being one of the most popular reasons to choose a lab-grown diamond. Regardless, mined diamonds continue to be the more popular option. 
Diamond Stud Settings
Diamond stud settings come in many different styles. Most commonly, you'll see prong settings, bezel settings, and halo settings used to secure the diamonds in stud earrings. Let's touch on the advantages of each of these setting styles.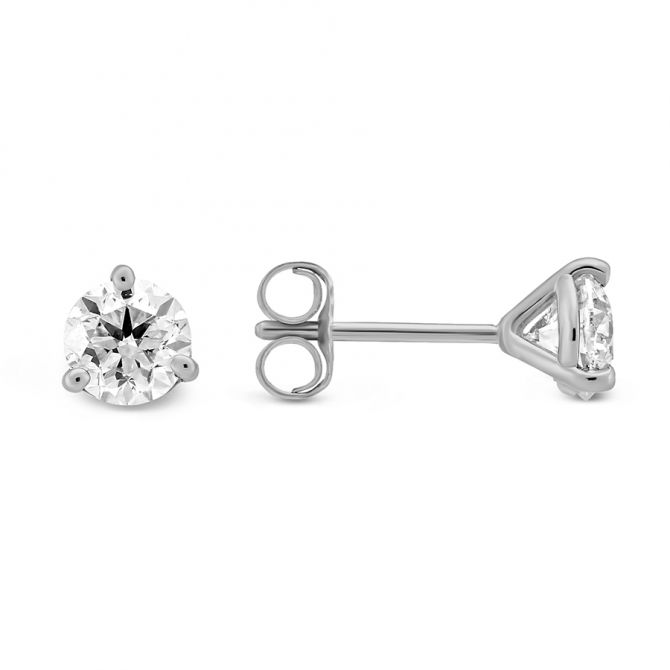 Prong Settings
Prong settings consist of prongs, or pointed pieces of metal, that hold a diamond in place. Prong settings can have any number of prongs, but most commonly you'll see three-prong settings, known as martini prong settings. Additionally, there are basket prong settings, which feature prongs that secure a stone in a basket-like shape. One major advantage of prong settings is that they allow the sides of your diamonds to catch more light, maximizing their brilliance.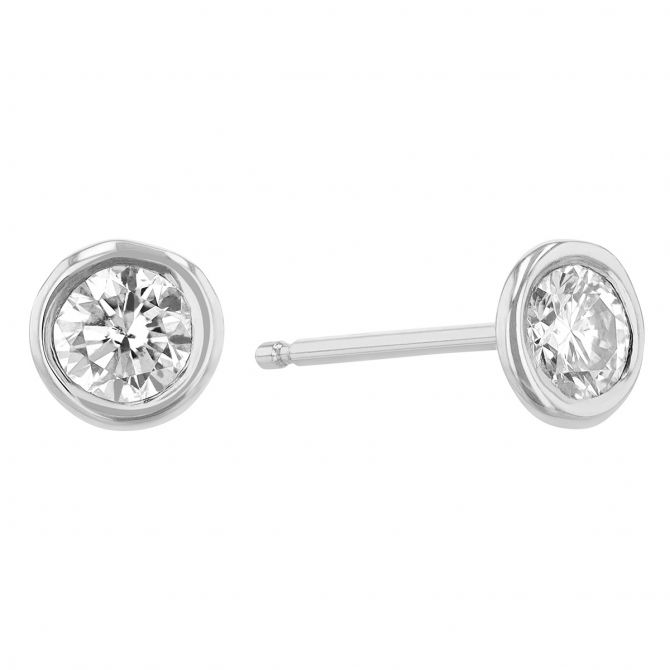 Bezel Settings
A bezel setting holds a diamond in place with a ring of metal. This metal ring snugly fits around the diamond, keeping it securely in place and providing ample protection from bumps or drops. Keep in mind that bezel set diamond stud earrings allow for slightly less light entry than prong settings.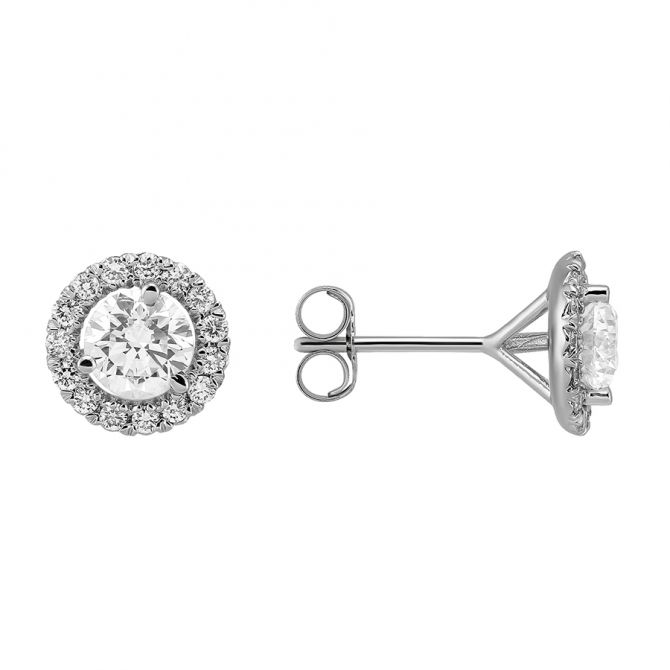 Halo Settings
Halo diamond stud earrings consist of one or more rings of smaller diamonds surrounding a center stone. These smaller accent diamonds add brilliance to your diamond earrings, creating a high-impact look. As an added bonus, a halo setting will make the enclosed diamond appear larger than it actually is.
Diamond Stud Metal Types
When choosing a setting for your diamond studs, you'll also want to consider which metal type and color is preferred. Stud earring settings are usually crafted from one of four precious metals: white gold, yellow gold, rose gold, and platinum. White gold is the most popular option as it's a classic look that blends well with the diamond. If you are sensitive to metals, platinum is a good choice – it's hypoallergenic and unlikely to cause an allergic reaction no matter how long you wear it. While white gold and platinum are similar in style, they differ in durability, weight, and price, with platinum being more durable, heavier, and more expensive than gold.
If you need help picking out the perfect pair of diamond stud earrings, one of our jewelry experts would be happy to assist you. Stop into our store or call 1.800.642.4438 during store hours to speak with one of our friendly and knowledgeable sales associates.