Shopping for the perfect engagement ring or wedding band can feel overwhelming, especially when there is so much pressure to do everything according to tradition. We're here to help answer the most common questions about engagement rings, wedding bands, their costs and when it's okay to stray from traditional ring etiquette.
Engagement rings vs. wedding bands: what's the difference?
An engagement ring is given during (or shortly after) the proposal, while a wedding band, or wedding ring, is traditionally exchanged during the wedding ceremony. Another notable difference is that engagement rings tend to be more intricately designed, featuring a large center diamond or gemstone set either as a solitaire or with multiple stones surrounding it. A wedding band is typically simpler and less expensive than an engagement ring, consisting of a plain metal band that may or may not include small accent diamonds.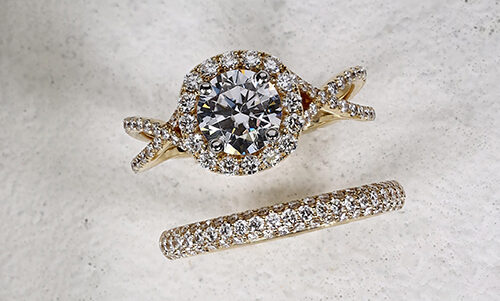 Do you need both an engagement ring and a wedding ring?
Tradition upholds the necessity for a separate wedding and engagement ring, but really it boils down to personal preference. For someone who prefers minimalism or just doesn't like wearing jewelry, an all-in-one ring may be a better fit.
Since a wedding band is traditionally exchanged during the ceremony, there's no urgency to determine the want or need for one right away. As the engagement ring is often a surprise, picking out the wedding bands together as a newly engaged couple can be a fun bonding activity.
How much should you spend on an engagement ring?
Remember that old rule about spending three months worth of salary on an engagement ring? Toss it out the window! Along with being an outdated belief, it implies that the cost of an engagement ring is one-size-fits-all, which is certainly not the case.
The average cost of an engagement ring is currently $5,500, according to the 2020 Jewelry and Engagement Study released by The Knot. While that is the national average, the study also found that one-fourth of participants actually spent between $1,000-$3,000, proving that the amount spent on an engagement ring is both personal and unique to each couple. Many couples looking to get a bigger bang for their buck have opted for a lab-grown diamond engagement ring. 
How much should you spend on a wedding band? For him? For her?
According to The Knot, the average cost for a male wedding band is $500, while female wedding bands average around $900. However, this is simply a general rule of thumb. The cost of a wedding band will ultimately depend on design preference and material.
Should your engagement ring and wedding band match?
While there may be a compulsion to find an engagement ring and wedding band that are a perfect match, there are no rules that say this is a must. An alternative option for creating a cohesive aesthetic between rings is to choose pieces with similar elements to tie the pair together, such as the ring's metal color.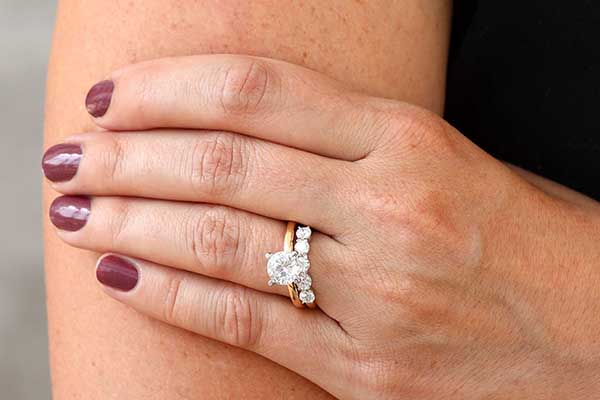 How do you wear an engagement ring?
An engagement ring is worn on the ring finger, or the first finger nearest the pinky, on the left hand.
How to wear a wedding band?
The wedding band traditionally goes on the left-hand ring finger first, nearest the heart, with the engagement ring stacking on top. Again, this practice is not law, and the rings can be arranged in any way that is most comfortable and aesthetically pleasing to you, including wearing the rings on separate fingers.
Do you wear your engagement ring on your wedding day?
Yes! On the day of the wedding, the engagement ring can be moved to the right hand's ring finger to leave room for the wedding band on the left ring finger.
When should you pick out your wedding bands?
At Borsheims, we suggest that couples choose their wedding bands at least three months before their wedding date. This allows ample time for any custom work and sizing that needs to be done before the big day.
Who should buy what? Who buys the engagement ring? Who buys the wedding rings?
The Knot's 2020 Jewelry and Engagement Study found that 91% of participants who proposed purchased the engagement ring themselves. Only 3% of responders said that their significant other contributed to the cost of the ring, with the same percentage responding that the ring was purchased from a joint account.
As for the wedding bands, the bride traditionally purchases the groom's wedding ring while the groom pays for the bride's wedding ring.
Statistics and traditions aside, remember that there are many right ways to choose the perfect ring. Focus on the joy of the experience and the love and commitment that the ring represents. If you do that, all of the other details will fall into place!
If you still have questions or are searching for the perfect ring, one of our engagement experts would be happy to assist you. Call 1.800.642.4438 during store hours to speak with one of our friendly and knowledgeable sales associates.