Weddings are truly unforgettable and magical affairs. Since the "Big Day" is ultimately an expression of love between couples, it can be easy to forget that there are other important people who make it all possible.
Groomsmen are often as valued as brothers to the groom and deserve a gift that reflects their priceless contributions. Couples can be at a loss, however, when selecting the ideal gift for their groomsmen, since many men tend to be reserved about their preferences. To honor these men who mean so much, we have created a handy guide with gifts for various hobbies, styles and price points that are sure to be cherished.
For the Man who Appreciates a Good Drink
Why not consider getting some stylish decanters and glasses for your groomsmen who enjoy a good drink? After all, a wedding is meant to be one of the grandest celebrations in your lifetime. It is the ideal opportunity to share a wonderful toast toward great things to come.
The Jan Barboglio Mendoza decanter comes in a dark shade that can complement other existing barware the recipient may have. Its design is complete with a longhorn topper that symbolizes strength and unity – a fitting tribute to the bond shared between the groom and his groomsmen.
For something less heavy, couples may consider the sleek and elegant design of the Nambe Vie Decanter, which is a perfect addition to any glassware collection. Reminiscent of a glass beaker, it's perfect for the groomsman who loves all things science (or loves a good conversation piece).
Simon Pearce offers great options for the groomsman who enjoys entertaining. Both the Alpine Vodka glass and Alpine Whiskey glass set come in soapstone bases that can be put in the freezer before their guests arrive, ensuring everyone's drink is cold without watering it down with ice.
Premium drinking glasses such as those from Orrefors, are choice alternatives for the wine connoisseurs among your groomsmen. Their Essential Drinkware collection focuses on enhancing the everyday drinking experience and is available in stemless, XL and everyday designs.
For the Executive
Though lots of communication has gone digital, adding a personal touch from writing a personal note to jotting down ideas in a meeting still requires an old school writing instrument. Gift your groomsmen a pen with a story and they'll have no trouble keeping it handy.
Your groomsmen can now own a piece of history with park seat pens from Tokens & Icons crafted from the wooden benches of old school ballparks. A timeline printed on the length of the pen provides a measure of the bench's honorary years in service.
For your groomsmen looking for a signature pen for the office, Montblanc offers timeless pen models with a name that speaks for itself. Both the Bauhaus-inspired Pix Blue Ballpoint and the PIX White Rollerball with elegant gold-coated details add a touch of class to any desk.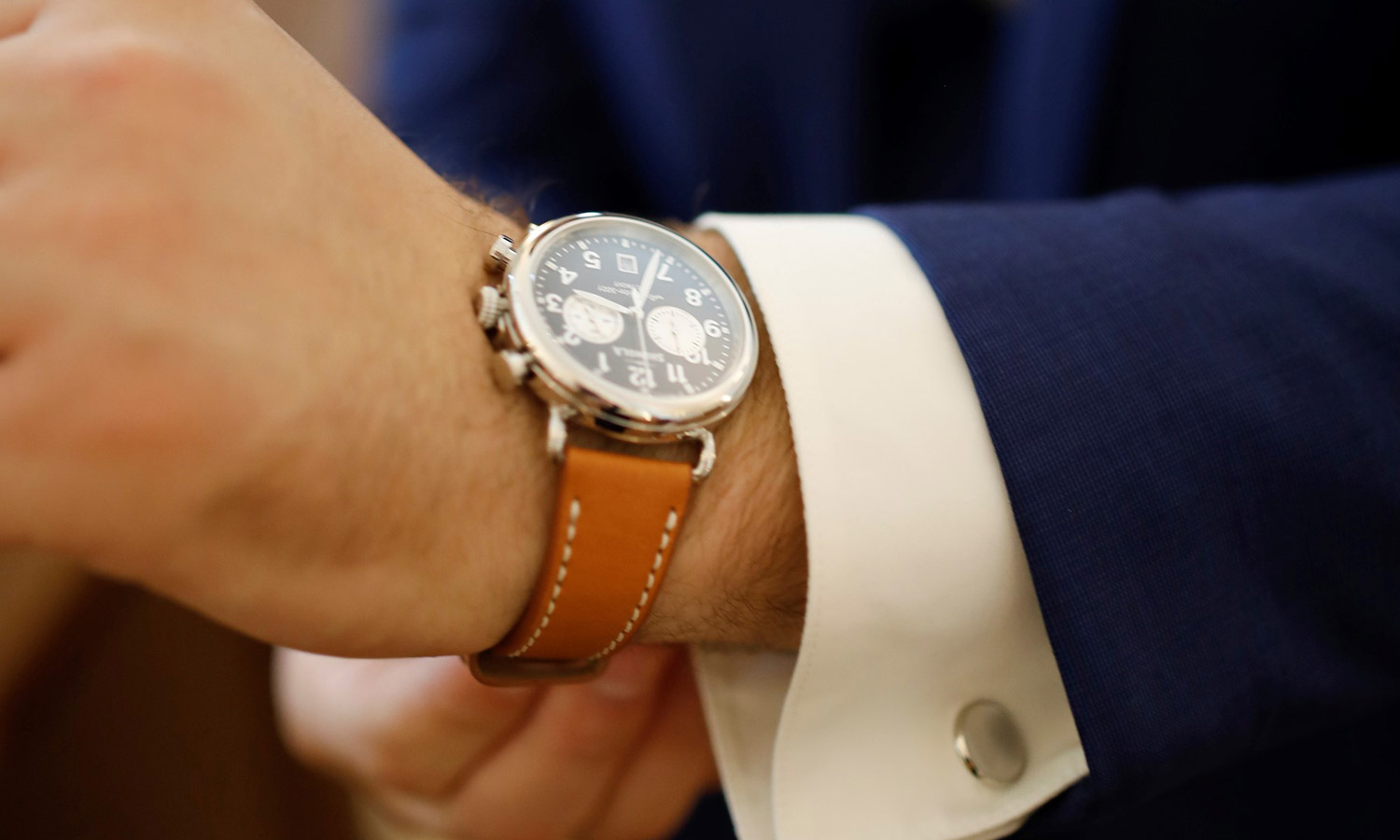 For the Watch Lover
When all else fails, always turn to practicality. Watch rolls, winders and boxes are your best bets for the horologists (watch fans) amongst your groomsmen.
Wolf offers a comprehensive range of options that will keep precious timepieces organized and secure. The Savory 10 Piece Watch Box made from quality burlwood with delicate silk lining and the Black and Grey Cub Watch Winder will ensure watches are always protected and in good working order.
Alternatively, the Brown Teju Lizard Leather Triple Watch Roll with easy snap closure is ideal for the groomsmen who travels with their timepieces.
For the Sharp Dresser
Cufflinks are a popular way of adding a unique finishing touch to a suit. Choose a pair they can wear on your big day that also speaks to their style or personality. Bonus points here as they can wear this gift again and again.
Halcyon Days' Mother of Pearl Salamander Black & Gold Round Cufflinks add a fun twist to the standard yellow gold cufflink while these Sterling Silver Hexagon Cufflinks offer a polished, modern twist on the standard cufflink shape.
For the golf lovers, Tokens & Icons TPC Sawgrass Golf Ball Cufflinks will score you that perfect hole in one as far as gifts go.
Wallets are another practical gift option that every man needs. Couples may consider stylish Rustico Knox Bifold Leather Wallets that come in stone, charcoal and black.