Aquamarine: March Birthstone Quick Facts
Aquamarine Color: Ranges from light blue to deeper green-blue
Aquamarine Mohs Hardness Scale Rating: 7.5 to 8
Aquamarine Symbolism & Meaning: Youth, health and hope
Aquamarine Zodiac Signs: Pisces and Aries
Other Recognitions: Traditional gemstone for the 19th wedding anniversary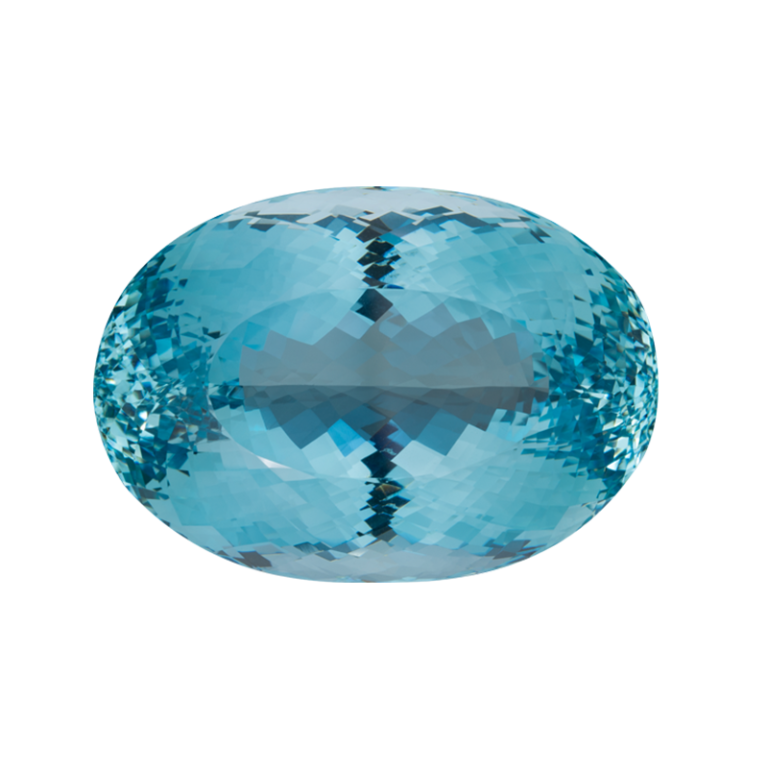 What is Aquamarine?
Aquamarine is a member of the beryl family and a sister gem to emerald. While traces of iron determine its coloring, aquamarines are typically light greenish-blue to blue. Aquamarine grows in pencil-shaped hexagonal crystals and is found in primary (hard rock) and secondary (weathered) pegmatite deposits. This gemstone is mined mainly in the Brazilian state of Minas Gerais, with another important mining spot being in the Karakorum foothills of Pakistan. Smaller deposits can be mined in Kenya, Madagascar, Nigeria, Zambia, Mozambique, China, Myanmar, Russia and Ukraine. Stateside sources include the Mount Antero area of Colorado, where aquamarine is the state gem, and California's Riverside and San Diego counties.
Aquamarine History & Meaning
Invoking the tranquility of its namesake, aquamarine is derived from the Latin word aqua, meaning water, and marina, meaning the sea. Believed to protect sailors, aquamarine was often aboard ships in ancient times to guarantee a safe voyage. Many ancient medicines used powder from aquamarine to help cure infections, particularly eye ailments.
The serene blue or blue-green color is said to help those with a temper, allowing the wearer to remain calm and levelheaded. The stone is also considered to be a great addition to self-care practices and is used widely as a meditation aid to help one cultivate more inner tranquility.
Aquamarine Colors, Characteristics & Value
Evoking the colors of the sea, aquamarines are often clear as water and symbolize purity of soul and spirit. Aquamarine is often light in tone, with its blue or blue-green coloring appearing more intense in larger stones. One of the significant benefits of this gemstone's color is that it complements a variety of metal colors and complexions. Jewelers value specific shades of aquamarine – the more intense the blue color, the more valuable the stone. Green-tinged aquamarines tend to be less expensive. High-grade aquamarine is sometimes imitated with blue topaz, colored glass or heat-treated low-grade aquamarine stones. Synthetic aquamarine is not economical to produce and is actually aquamarine-colored synthetic spinel.
Gem-quality crystals are pleochroic, meaning they appear colorless when seen from some angles. Tumbled stones may range in color from a pure milky blue to a pearly turquoise green. Most natural aquamarine is heat treated to remove the green tint to reveal the preferred intense blue color. If the heat is too high, the stone can suffer discoloration. Color can also be improved with neutron and gamma irradiation, but these changes do not last.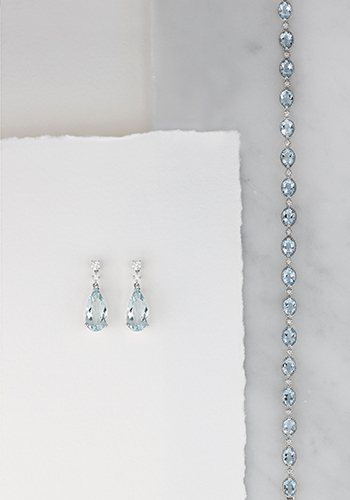 Aquamarine Care & Cleaning
Aquamarine stones should be cleaned using warm, soapy water. Ultrasonic cleaners are typically safe for aquamarines except when the stone has liquid inclusions or fractures. Heat exposure is not recommended for aquamarines. It is important to have your jewelry professionally cleaned and checked three to four times a year. Aquamarine jewelry should be stored in a jewelry box lined with soft fabric when not worn.
Aquamarine Jewelry & Gift Ideas
Whether you are shopping for yourself or someone else, Borsheims has an extensive selection of aquamarine jewelry in various styles. Aquamarine is a popular gift option for those celebrating March birthdays and those commemorating their 19th wedding anniversary. If you need help picking out the perfect piece of aquamarine jewelry, one of our experts would be happy to assist you. Stop into our store or text or call 402.391.0400 during store hours to speak with one of our friendly and knowledgeable sales associates.