Borsheims has promoted Marti Stephens to Shop Manager. In her new role, Marti will oversee the jewelry shop, including appraisals, custom work and repairs. 
Marti has led an exciting career, holding positions in sales, design, buying, appraising and product development for various jewelry companies. She also ran the Omaha Bridal Show from 2002-2008. This wide range of experience gives her a depth of knowledge and skill set that are unmatched.
Marti first worked for Borsheims in the early 2000s in our jewelry shop. She returned in 2012 and worked in our Appraisal Lab before being promoted to Senior Appraiser and then Assistant Shop Manager.
Marti holds a Graduate Gemologist degree from the Gemological Institute of America and a degree in Jewelry Design from the Fashion Institute of Technology. She also earned a Bachelor of Science in Nursing degree from UNMC in 2013. Marti resides in Omaha with her husband and two children.
Borsheims' President and CEO Karen Goracke praised Marti's contributions, saying, "Marti's knowledge, talent and work ethic have had a tremendous impact on Borsheims' success over the last two decades. We couldn't be more excited to watch her grow as she steps into her new role."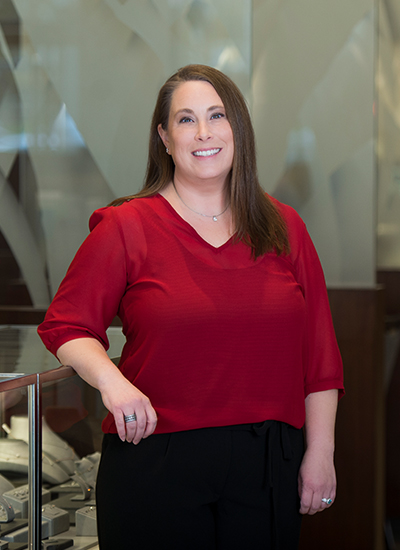 ABOUT BORSHEIMS
Borsheims is one of the nation's largest independent jewelry stores and a proud member of the Berkshire Hathaway family. With an international clientele spanning 50 states and six continents, Borsheims continues to operate with the vision that has guided the company for more than 150 years: "We are privileged to share in the special moments in our customers' lives. We will treat each opportunity with the respect and importance it deserves by providing exceptional service."