To shine a light on the stories of our products and the people behind them, Borsheims celebrates our makers and introduces customers new and old to their world. One such maker is Jay Strongwater, a talented designer who made the switch from jewelry to home decor in  1995. Since, he has made a career of creating dazzling works of art from figurines to furniture, working with a talented team of designers and artisans in New York and Rhode Island to realize each handcrafted treasure.
We interviewed Jay to hear more about his design process, his beginnings at the Rhode Island School of Design, what inspires him and more. Read on to learn more…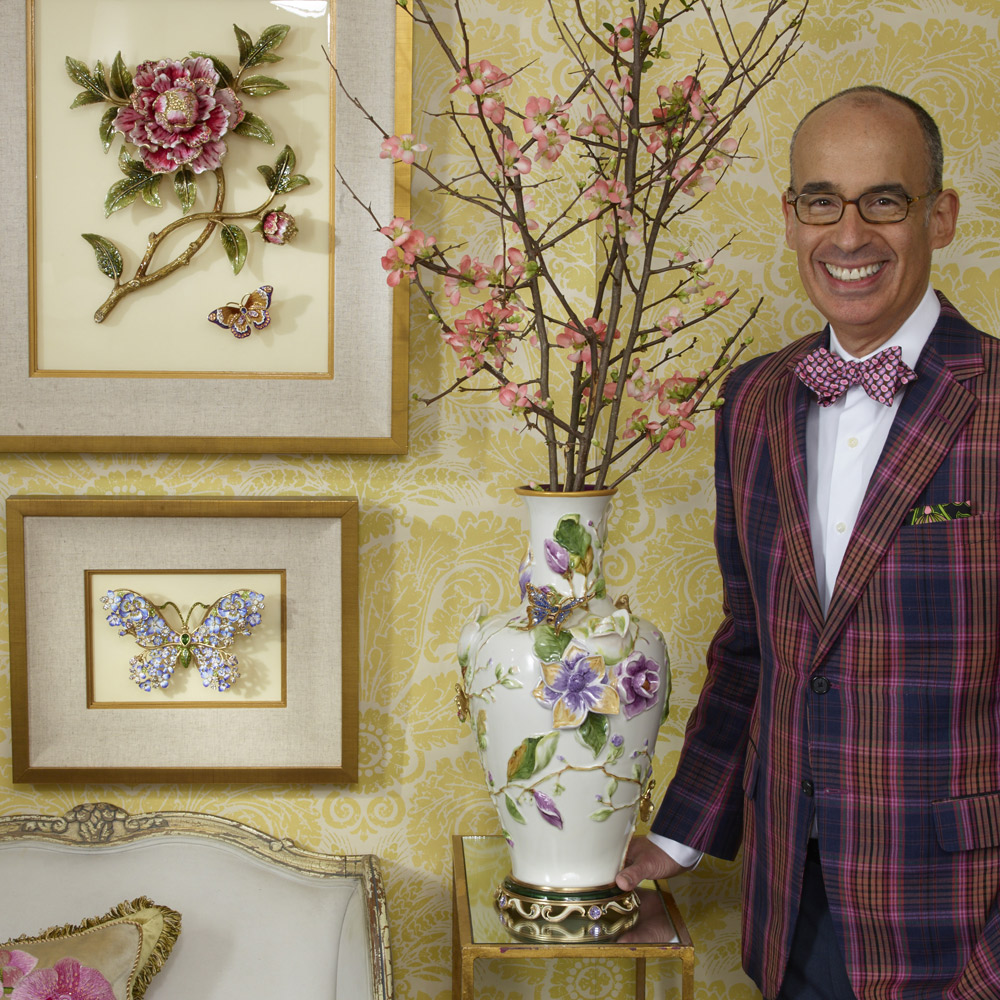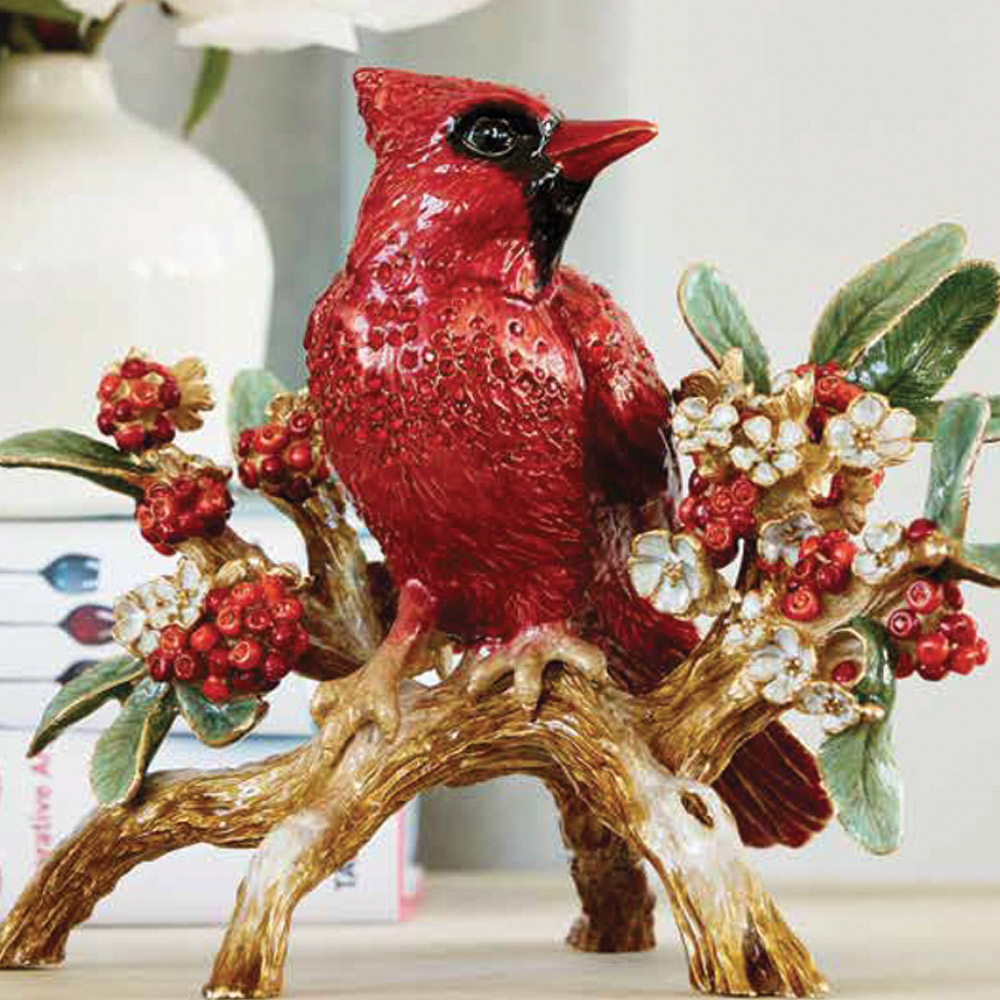 Tell us a little about the Jay Strongwater brand and how it came to be.
After 15 years creating one of a kind fashion jewelry for runways, fashion magazines, and luxury specialty stores I started creating with my jeweler's vocabulary of carved metal, hand-painted enamel and sparkling crystal stones my first all jeweled picture frames. Very quickly those first picture frames organically evolved to precious boxes, whimsical figurines, awe-inspiring wall mirrors, and fantasy tables of Flora & Fauna.
How did the name Jay Strongwater originate?
While born Jay Feinberg – in 1990 I adopted my mother's maiden name – Strongwater – for the name of our brand. My mother's grandparents immigrated from Germany where their last name was Shtarkvasser which was anglicized to Strongwater at Ellis Island in New York City.
You attended the Rhode Island School of Design (RISD) for a few years. Tell us a little about that experience and how it's shaped your work today.
After years of attending high school, I was suddenly immersed in a total visual environment (while attending Rhode Island School of Design) surrounded by like-minded students who wanted to find ways to express their creativity. Having that freedom to bring my creative visions to reality and learning how to express those ideas in all mediums helped shaped my ability to grow and take our brand down many roads.
What was the transition like from designing jewelry to designing home décor?
While the vocabulary was the same – carving metal, hand-painting enamels, setting crystals and cabochons – the scale of our designs soon became much larger than a pair of earrings! Our biggest challenges are finding the right materials and great workshops to facilitate our ever-expanding scale of creations.
What is the Jay Strongwater design process?
A dream, a thought of a fluttering butterfly on a flowering branch, a quick sketch, a detailed vision on paper, preliminary rough sculptures, and many months later a finely detailed clay model. Molds are made, metal is poured, porous metal is hand-polished, and covered in layers on 18K Gold. A palette of enamel colors is mixed, hand-painted with needles and brushes, heated to a hard-glossy sheen. The Swarovski crystals – multifaceted spectrums of brilliant colors – individually set over the surface adding a layer of sparkling light.
What's your favorite piece from the most recent collection?
Each piece always feels like my baby – so it is always hard to choose!
I think I am always excited about a new material or design challenge overcome. This season I am loving our new ceramic pieces that have large bejeweled flowers draped over them. The contrast of the white crackle glazed vessels with these exuberant oversized blooms.
Where do you go for inspiration?
A walk in the park, a trail into the woods, visiting a zoo, an afternoon at museums and galleries.
What's a day at Jay Strongwater like?
Working at the Rhode Island workshop – arriving around 8 am, pulling together metal components to shape, collage, saw and soldier together to form a metal "sketch" of an idea. Spending time talking with the artisans as they hand-paint enamel and set the Swarovski crystals on a new design to find the right combination of colors that brings a design to life.
Visiting a Specialty Store – arriving around 8:30 am to set up my demonstrating table of molds, enamels, and crystals. Talking to the store's associates before the store opens about my heritage and the craftsmanship that goes into each Jay Strongwater design. Walking through the newest collection – highlighting the inspiration and design process. Setting up for our "Master Class" event where clients learn how to glue crystals in their own frame! Greeting many returning clients and meeting new ones as they take seats at tables and we begin the event. A fun time helping the clients select which colors of crystals to put in their frame. Spending the afternoon with clients as they select a new Jay Strongwater piece or pieces for their home or possibly as gifts that I will individually personalize and sign for them.
If you didn't found Jay Strongwater, what would you be doing right now?
One of my first loves was weaving and macramé – always that idea of creating something with my hands. At Rhode Island School of Design, I started my sophomore year majoring in clothing design – learning how to sketch, drape, cut patterns and sew – before going down that different path of working with metal and jewels.
Finally, what one word sums up Jay Strongwater, the brand, and the philosophy?
Bejewel.