At Borsheims, we believe that our merchandise is more than a gift. It's a symbol that tells the story of your life, the methods of its makers and the heritage that brings it all together. To shine a light on these stories, Borsheims celebrates our makers and introduces customers new and old to their world and the people behind the brand. One such maker is Mary Jurek of Mary Jurek Design. An award-winning jewelry and watch artisian, Mary made the transition to home decor in 1998 after moving from New York City to Los Angeles, California.
Guided by the principles of "simplicity of design and use of premium materials", Mary Jurek Design addresses today's lifestyle trends by incorporating the timeless appeal of handwrought metal with hammered organic textures. Always socially responsible, all of the stainless steel items are food safe, dishwasher safe, recyclable and sustainable.
We were able to catch up with Mary recently and learn more about her design business, transitioning from jewelry to home décor, what inspired her use of stainless steel and more.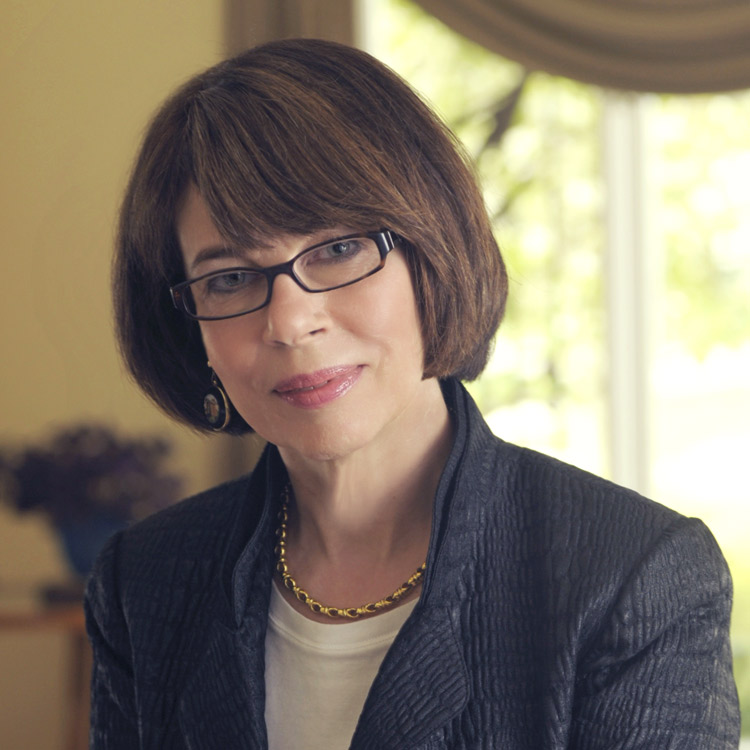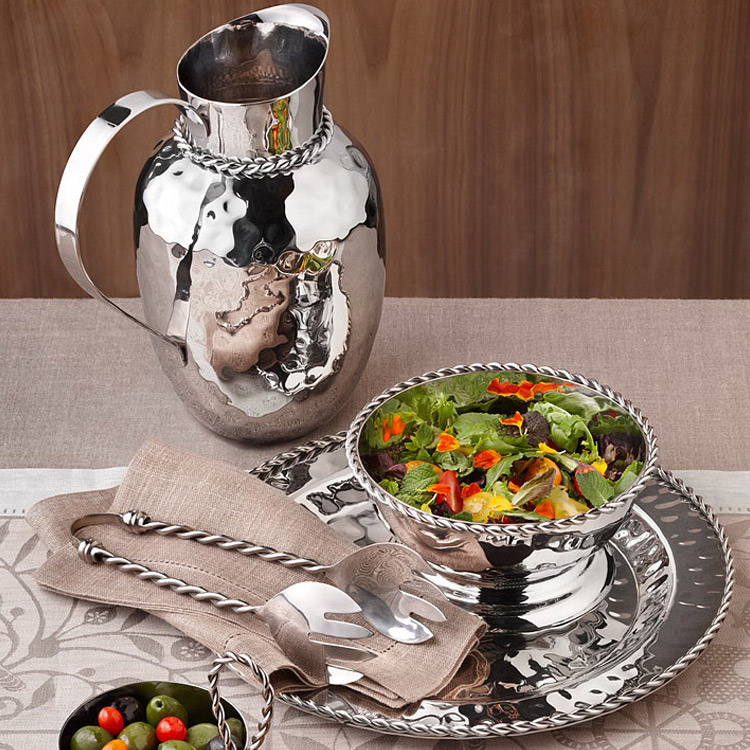 Tell us a little about the Mary Jurek brand and where you get the inspiration for your designs.
Nature in its purest form is the inspiration for my tableware collection. What nature creates naturally I try to interpret with stainless steel. My design style blends urban sophistication with organic texture. That unique combination is achieved only through the "handmade process". Strong, simple forms and soft bodies-that is my design ethos.
You began your career in the jewelry industry. What was the transition like from designing jewelry to designing home décor and tableware?
After relocating from New York City to Los Angeles several years ago, I experienced the joy of living in a beachside house and became obsessed with home décor and entertaining. In retrospect, it proved to be a natural transition from jewelry to tableware. I was intensely eager to design with a broader palette- explore new materials, create larger scale designs and develop products with everyday purpose. Setting a beautiful table always fascinated me and designing tableware became my new passion.
What made you decide to primarily work with stainless steel as your medium?
I always worked with fine metals and understand the technical process of metalworking. Stainless steel is often used in men's watches, architecture, furniture and lighting-for good reason. I designed stainless steel watches in Switzerland. Stainless steel has a language of its own and has a special look. It is such a fabulous metal and perfect for tableware for its hygienic properties. Stainless steel is durable, modern, non-corrosive and lustrous. I love it.
If you had to recommend one Mary Jurek piece for a bride that's registering with Borsheims, what would it be?
The Luna Bowl is our #1 bridal gift. The generous-sized hand hammered bowl is perfect for salads, fruits or simply as a centerpiece. A big salad bowl is a must-have for everyone.
How do you define "good design"?
Many people are confused by that question and believe good design needs to be shocking or startling. I disagree with that attitude. Good design should be integrative and subtle- seamlessly blending with existing forms in space. It should embody the same sense of balance when experiencing the infinite varieties in nature.
Good design should be innovative, useful, aesthetic, understandable and understated. The enduring qualities of good design produce non-fatiguing "design classics".
What's the most fulfilling part of owning your own design business?
Being part of a lineage of an ancient craft provides a profound sense of timelessness. In the handmade process, workers use the same techniques of thousands of years ago. The relationship between the metal and the hands has not changed. Fast forward to today- our products provide our brand the unique opportunity to work with legacy retailers such as Borsheims. In that way, we participate in a continuum that supports traditional values. That is so fulfilling.
What's a day at Mary Jurek Design like?
My day begins at 7:30 am when the factories in Asia are still in their workday. I check on incoming orders or review photos of new samples. 9:00 am our office opens. By that time orders will have come in and customers are calling. My staff handles all customer issues.
After all the busy work of running a small business is finished, I carve out creative time for the drawing board. That is when my office door closes.
Finally what one word sums up Mary Jurek Design, the brand and the philosophy?
Form.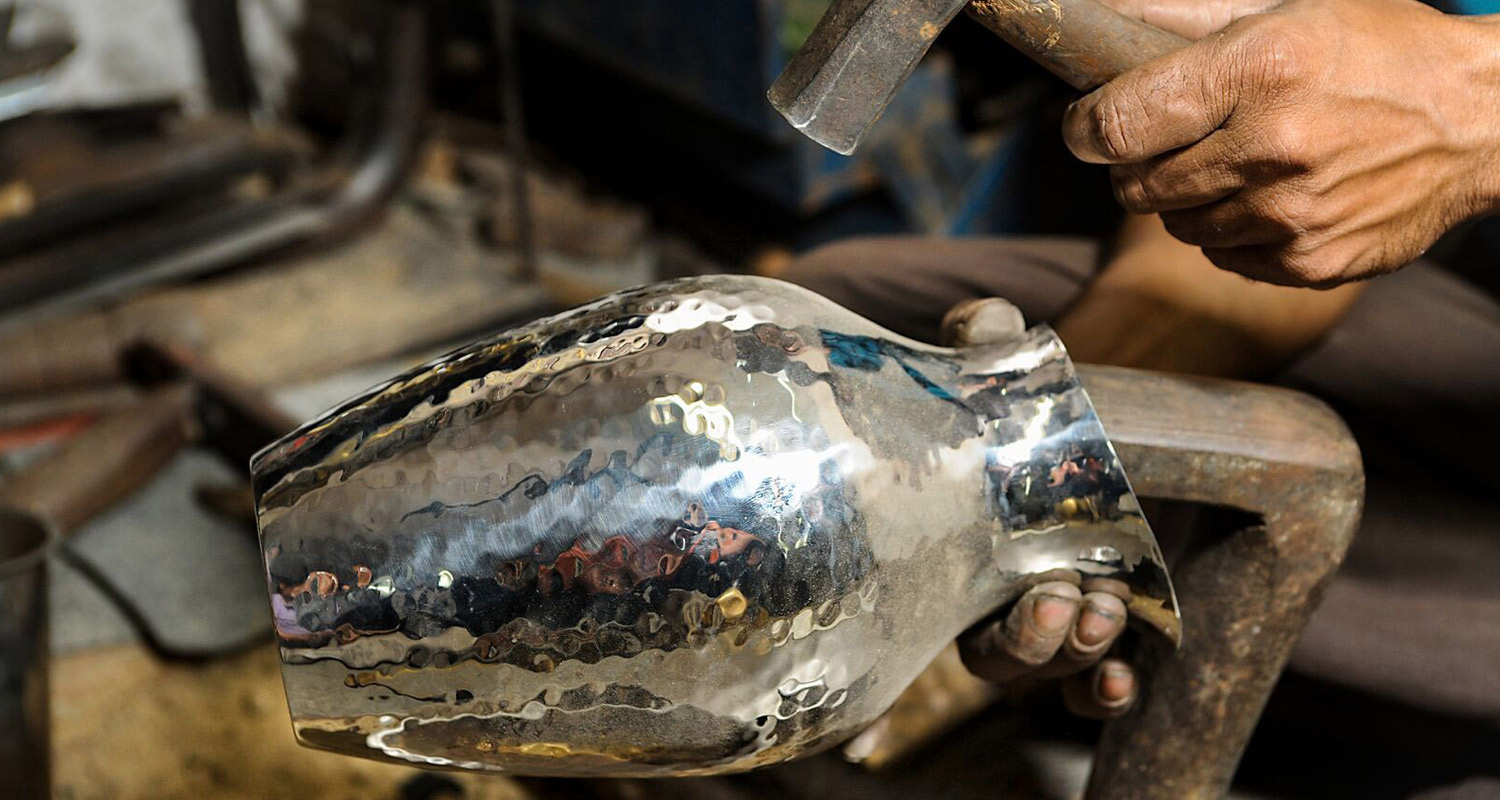 Borsheims is excited to welcome artist and designer Mary Jurek to our store for an exclusive appearance and signing event April 13, 2018, from 2:00 pm to 4:00 pm. Guests will get to meet Mary, have an item signed by her and can receive a free Ibiza Cheese Knife with their $150 Mary Jurek purchase. Pre-sale has begun and is encouraged for the best selection. Below are a few of our favorite Mary Jurek pieces and more can be found on her designer page.