As the engagement destination for over 100 years, Borsheims has seen its share of wedding rings and wedding bands. Each one represents a love story, memories and people who want to make a commitment to each other for the long haul. Often, we have the opportunity to hear the story of the couple coming to us and it leaves an impact on everyone in our store. Anthony Noyes and his wife Allison Parker are one of those couples.
Tony's journey to Borsheims was inevitable, as his father Mike has been an employee and member of the Borsheims family for over 20 years. But what started as just coming in to get a wedding band turned into something so much more meaningful for Tony and for us.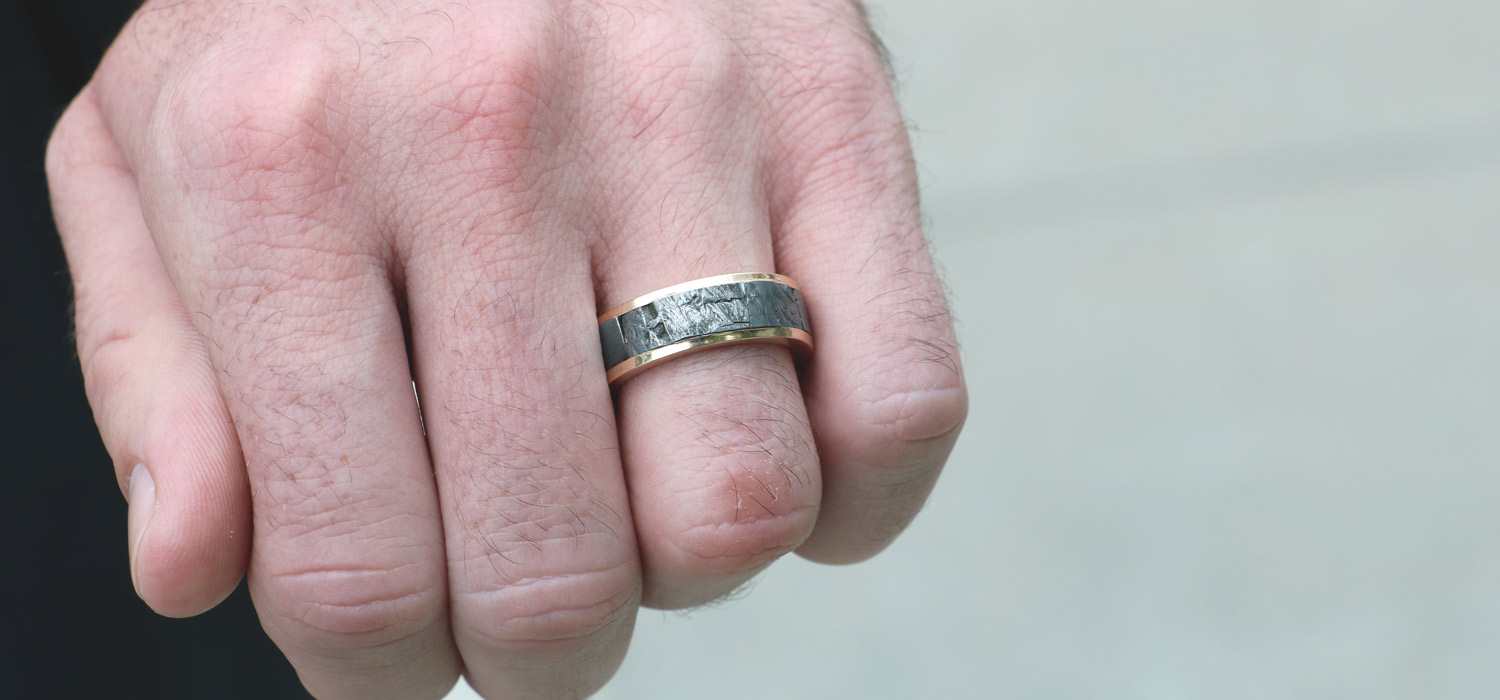 Tony is in the Nebraska Army National Guard, working and fighting daily for our country and liberty. During a tour he did in Iraq about 10 years ago, he and his unit were involved in a Humvee incident with an IED. Thankfully Tony, SSG Anthoney Jensen and SPC Brad Utterback were uninjured and Jensen grabbed a few pieces of shrapnel from the site (he'd later also serve as one of Tony's groomsmen). Tony kept these in a safe to remind him of his time there and how lucky he and his crew were. By the end of his tour, not everyone was as fortunate, including SGT Germaine Debro and SSG Jeffrey Hansen, both of who were in Tony's unit, giving the ultimate sacrifice for our country.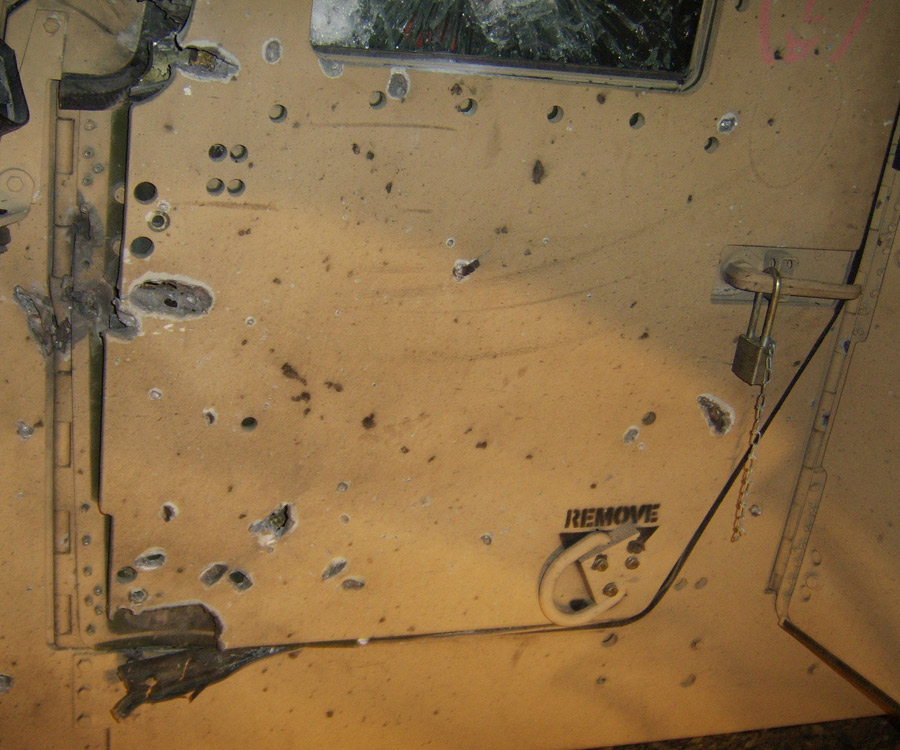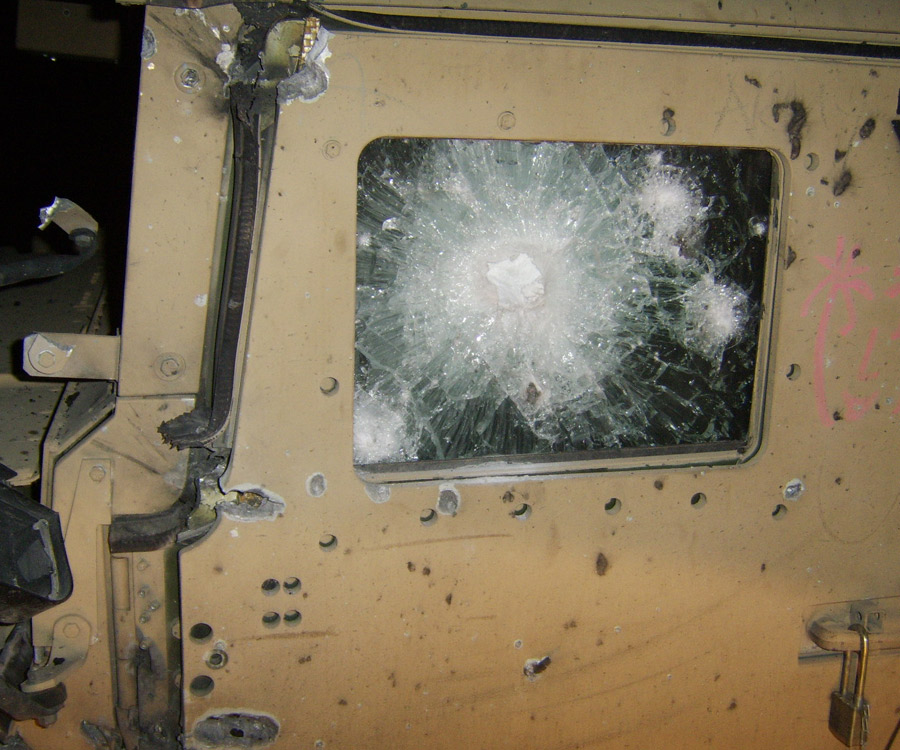 While driving home from Borsheims after initially picking out a wedding band he liked, it hit him. What better way to honor all of his colleagues and connect one of the most intense times in his life with one of the happiest times of his life than to find some way to incorporate these "mementos"? After a phone call with his dad, Tony was connected to one of our master jewelers at Borsheims, Bill Bare. Borsheims offers the opportunity to customize or create jewelry with the help of our expert bench jewelers. Not only do we offer an extensive selection of designers rings, but we can also literally make the ring of your dreams in-house.
"I've made a lot of rings in my life but to do something with that kind of inlay was moving for me. The connection to the military brings out feelings of patriotism but to also incorporate this symbol of Tony surviving… I knew I couldn't let him (Mike) down. The Shop loves getting to work on unique pieces but this had an extra layer; this was for the Borsheims family," Bill offered when asked about the shop's role in designing a truly one of a kind band.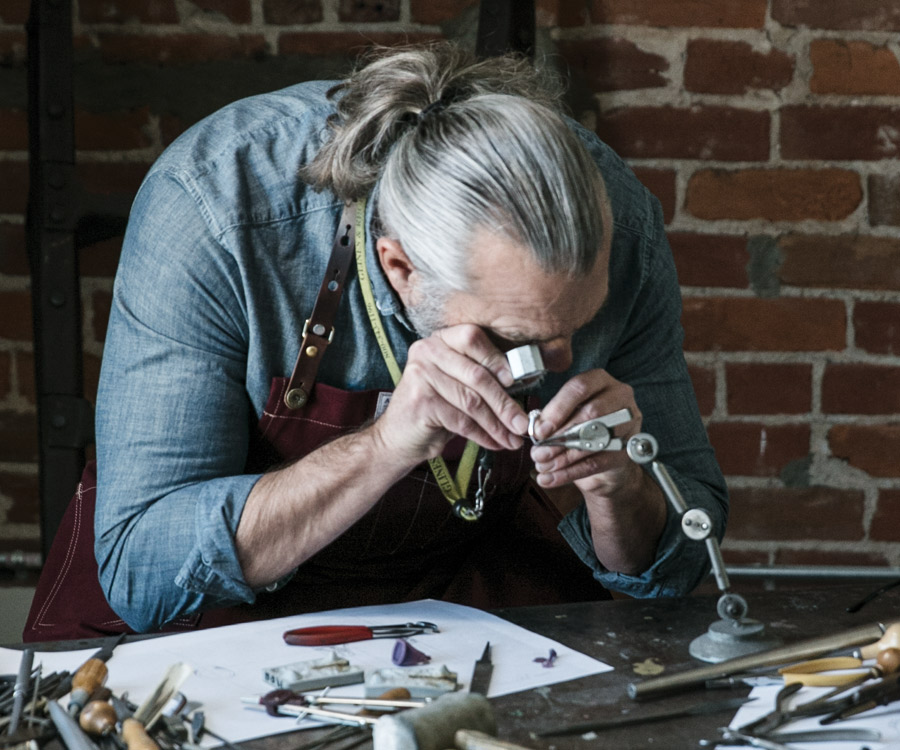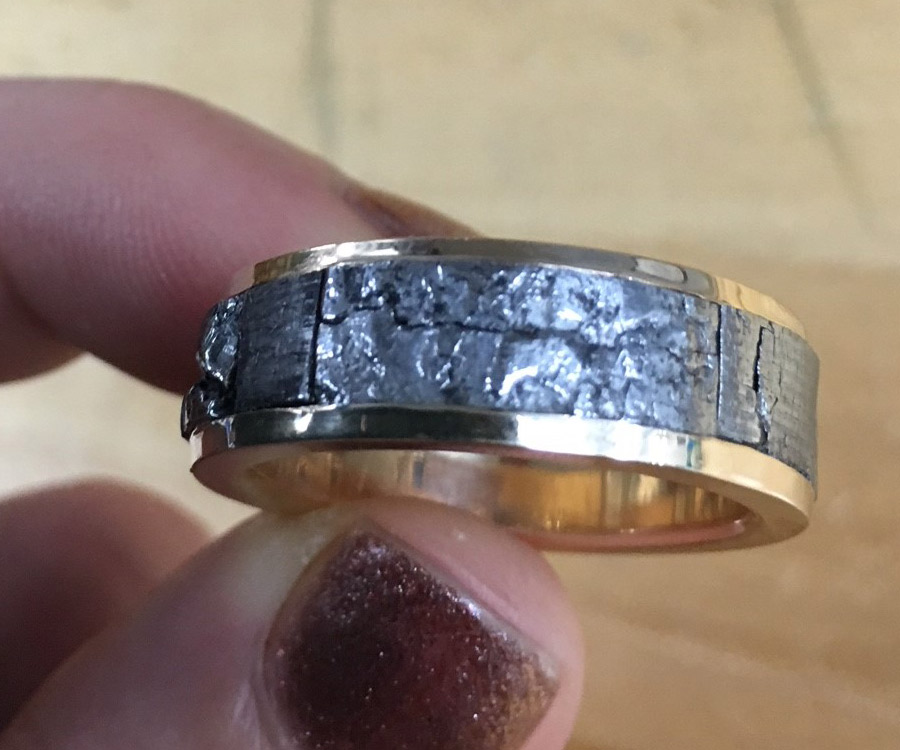 Tony was able to talk through his idea with Bill and select a design Bill worked up for him. Bill then began the process of creating the custom band. The "base" of the ring is three pieces of gold. Originally Bill planned to cast the ring in the shop with a wax mold but for timing, it worked for him to take three pieces of gold bar stock and shape the actual ring and the side channels that got soldered on. Next, he needed to figure out how to inlay the shrapnel. The pieces weren't symmetrical so he had to spend a few hours sawing the shrapnel pieces to end up with something that could fit in the ring. The inlay then wouldn't bend, so Bill had to heat it up, let it air cool and then used the shop's ring bender to bend it into the correct curvature for the ring. Finally, he filed the inlay so it could fit width wise, soldered it on and channel set the sides so it would be tight and everything fit correctly.
"Overall the process was very straightforward and honestly a lot easier than I imagined it would be" Tony recalled. Initially, he just thought it would be a cool detail to his ring, but after the process of designing it and getting married, it now means so much more.
"This ring not only represents our union, but it reminds me what I get to celebrate (making it back to the States) and what I need to live up to every day as a husband and as a man to honor the sacrifices others have made."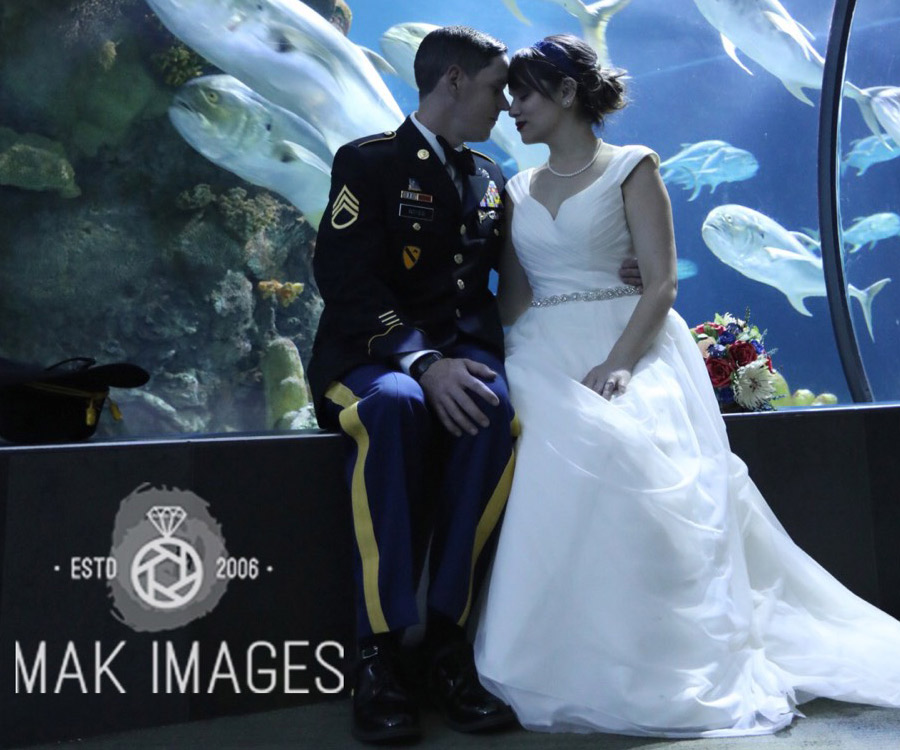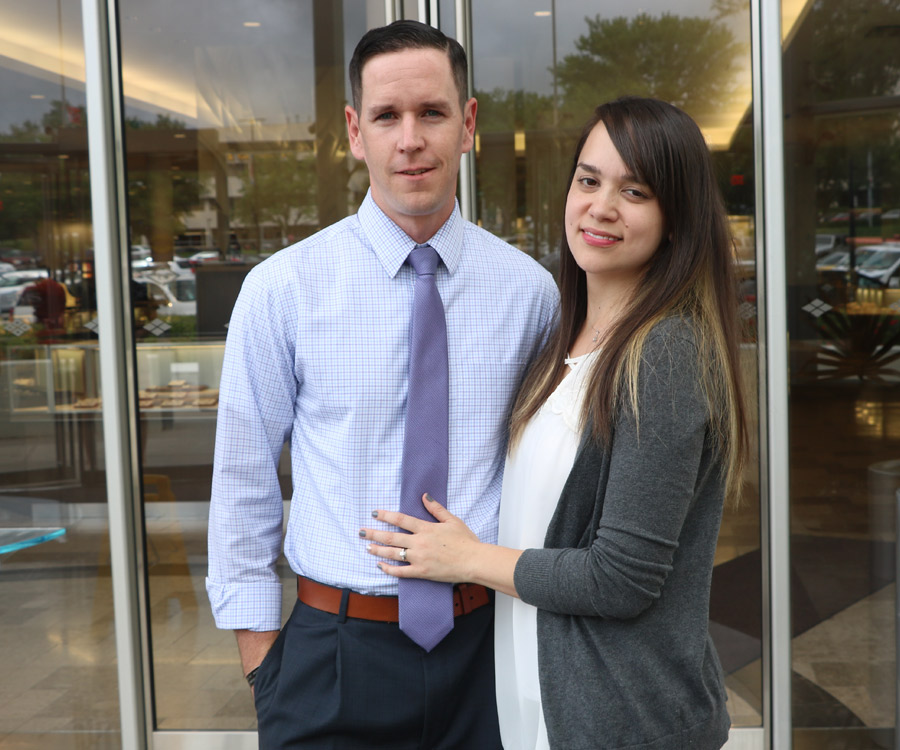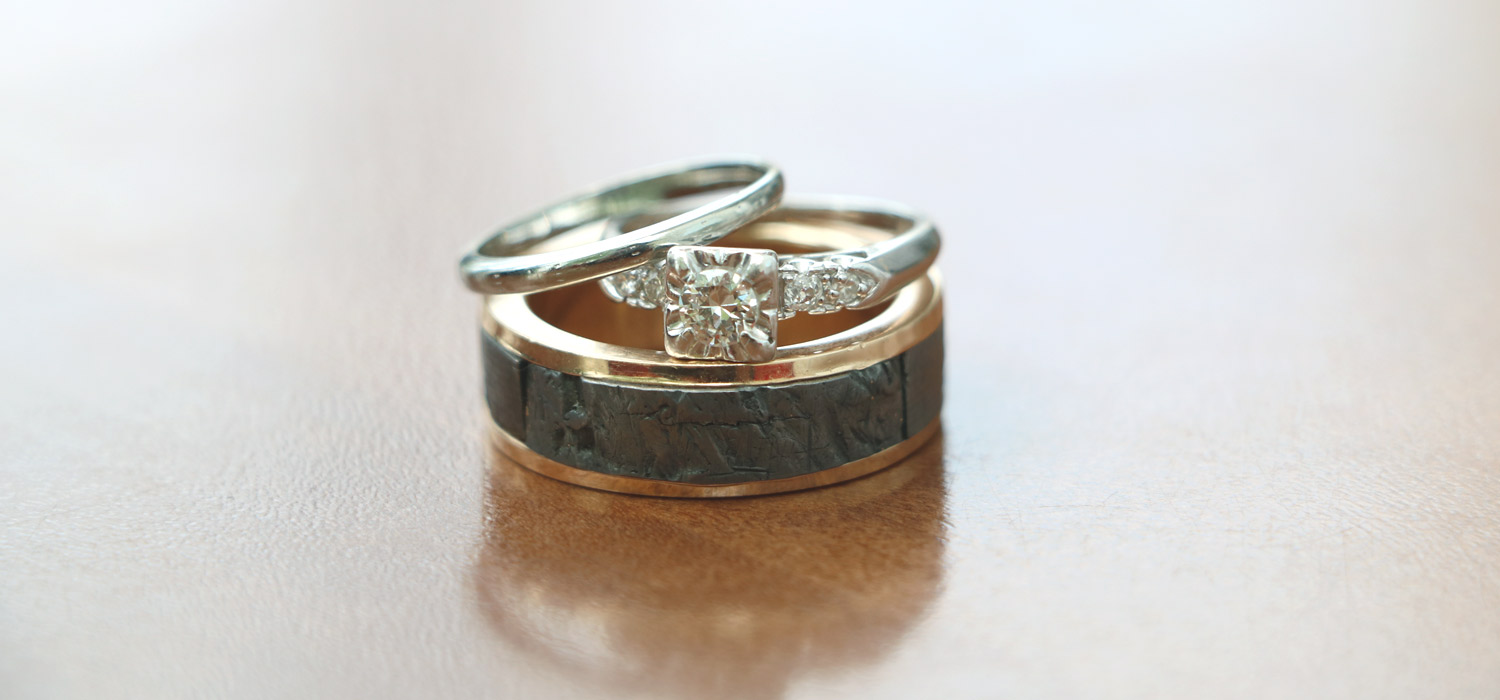 We are so truly honored to have been able to play a role in creating a ring that means so much to its wearer. Borsheims strives to create and connect our customers with tangibles that celebrate the meaningful intangible moments in their lives, Tony's wedding band is the epitome of these efforts, thank you to Tony for letting us be a small part of your story. And hats off to Bill for living our mission.