We are in the midst of a meaningful shift in the diamond industry. The Argyle mine, a world-renowned diamond mine located in the Kimberley Region of Western Australia, has closed after 37 years. According to the Argyle mine's webpage, it is one of the world's largest producers of diamonds and the largest supplier of natural colored diamonds, including blue, violet, and the rare and highly coveted Argyle pink and red diamonds. Argyle has produced more than 825 million carats of rough diamonds since it began production in 1983 and rose to prominence for its high-caliber, robust, pure and intense hues of diamonds that are among the most coveted in the world. Due to growing operations costs and an exhausted reserve of the coveted pink diamond, owner Rio Tinto decided to close the mine in late 2020.  
Perhaps the most significant impact of the Argyle mine closing will be for pink diamonds. Argyle was the largest purveyor of pink diamonds, producing more than 90% of the world's supply. Pink diamonds are already increasing in value faster than those of any other color, and with the closing of the Argyle mine, experts are predicting that pink diamonds will only become rarer and thus more valuable. At current rates, the gems can fetch up to $3 million per carat, and that price is expected to rise in the coming years. Such a monumental shift rarely happens in the natural supply of anything in the jewelry world. While this is an unfortunate loss for the industry, it is an exciting development for the increased collectability of these beautiful pink stones. 
Read on to learn more about pink diamonds and what makes them so extraordinary.
What are pink diamonds and how do they get their color?
As its name suggests, a pink diamond is a type of diamond that is pink in color. Like a white diamond, a pink diamond is formed of carbon over millions of years of extreme heat and pressure in volcanoes' kimberlite pipes.
The color of a pink diamond ranges from faint pink to deep pink. There is much debate among scientists and gemologists as to how pink diamonds get their color. Many colored diamonds obtain their hue from trace elements, such as nitrogen in yellow diamonds or boron in blue diamonds, but pink diamonds have not been found to obtain trace elements. Instead, scientists have come to believe that the diamond's pink hue comes from a distortion in the crystal lattice caused by intense heat and pressure during formation.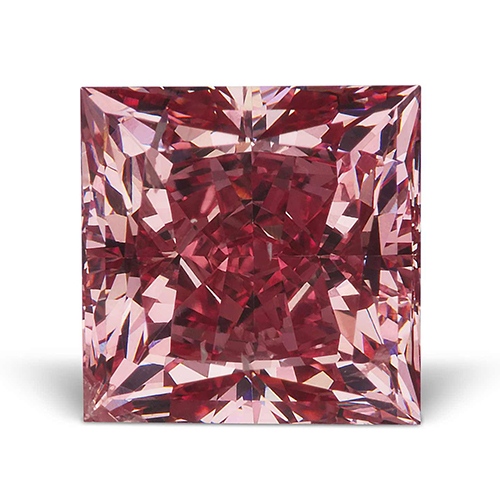 How much is a pink diamond worth?
Pink diamonds are among the most valuable colored diamonds in the world. With the exception of the red diamond, high-quality pink diamonds are thought to be the most expensive natural diamond color available in the market today. In April 2017, a pink diamond known as the "Pink Star" sold for $71.2 million at Sotheby's Hong Kong, setting a record for diamonds sold in auctions. Then, in 2018, the 18.96-carat Pink Legacy diamond brought $50 million at Christie auction house, breaking the world record for the price paid per carat for a pink diamond at auction. Most recently, in November 2020, a 14.83-carat fancy vivid pink diamond, dubbed "The Spirit of the Rose," sold for more than $26.6 million at auction. Like other diamonds, a pink diamond's price depends on its color intensity, cut, clarity and shape.
Where are pink diamonds found?
Historically, pink diamonds have been found in Australia, India, South Africa, Canada, Russia and Brazil. An astonishing amount of the world's pink diamonds, more than 90%, come from Australia's Argyle mine. Interestingly, less than 1% of the Argyle mine's output are pink diamonds, which is a testament to their scarcity.
How rare are pink diamonds?
Natural pink diamonds are extremely rare, and their demand only continues to increase year after year. Only a limited number of pink diamonds exist today, and it has been estimated that only another 500 gem-quality pink diamonds remain to be discovered. With the closure of the Argyle mine, the world's largest source of pink diamonds, these colored gemstones are set to become the rarest of the rare.
Where to buy pink diamonds?
As the largest independent jewelry store in the United States, Borsheims has unrivaled access to natural pink and fancy pink diamonds through partnerships with our coveted suppliers all over the world. Customers who may be interested in purchasing one of these rare stones are encouraged to connect with us quickly, as demand continues to increase. Contact a Borsheims sales associate or call us at 1.800.642.4438 – we'd be happy to curate a showroom for you.