Clean. Bright. Sleek. Modern and timelessly elegant. On the surface, white gold and platinum jewelry can look almost identical – similar enough that it may be easy to think of them as interchangeable. But any jewelry expert will tell you that there are significant differences between the two, and it's important to understand the features, as well as the pros and cons, of each precious metal when making a jewelry purchase.
What is white gold?
White gold is a gorgeous and on-trend option, but it's easy to oversimplify its components. White gold isn't a pure white metal but rather an alloy made up of pure gold and various durable metals, including zinc, nickel, and copper. This mix of alloys results in the metal's signature durability, as well as its white color. Because gold is still inherently yellow, most white gold jewelry receives a rhodium plating to make it appear bright white. 
What is platinum?
Unlike white gold, which is an amalgam of different metals, platinum is much rarer and is generally found in a nearly pure form in jewelry (ranging from 95-98 percent). So what color is platinum? While platinum looks nearly identical to white gold, it is naturally white in color and will retain its white, metallic color over time.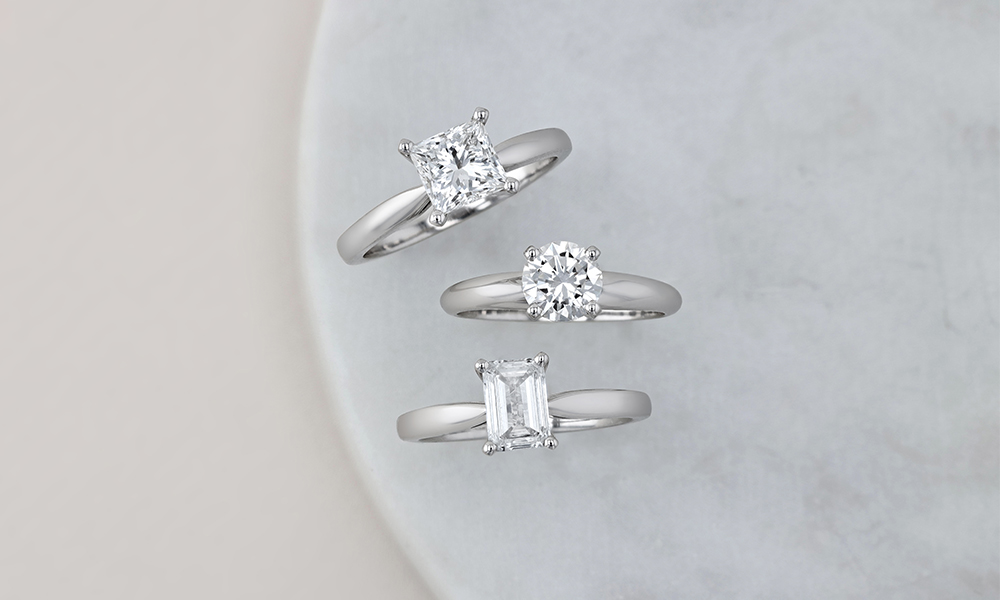 The difference between white gold and platinum
To make a fully informed buying decision between white gold or platinum jewelry, it helps to understand the key differences between the two precious metals – from the differences in cost and durability to their wearability and any required maintenance. 
Price
While platinum and white gold are similar in price per gram, more platinum is required to make an item like a ring because of its denseness. As a result, platinum tends to cost about 40-50% more than white gold. 
Appearance
There is almost no difference in how a platinum ring looks compared to a white gold ring. However, because a white gold ring is plated, it can lose its bright white look over time without proper maintenance. Platinum can develop a patina that some people like, while others have it polished to remove the patinaed look. 
Durability
Platinum is heavier than gold, but it can bend more easily and is more susceptible to scratching – something to consider in a piece of jewelry you wear daily, like an engagement or wedding ring. On the flip side, the mixture of durable metals in white gold gives it added strength and durability. 
Maintenance
Both metals require periodic maintenance to keep them looking shiny and new. While white gold will need to be re-dipped every few years to retain its silvery-white luster, platinum may need to be polished regularly to buff out any scratches. 
Wearability
If you're concerned about weight, platinum is the heavier of these two metals. However, if you have any skin allergies, you may want to choose platinum. Some people with sensitive skin have a nickel allergy, and because nickel is a common alloy found in white gold, it could irritate an allergic person's skin. 
If you need help deciding between platinum and white gold jewelry for yourself or a loved one, one of our jewelry experts would be happy to assist you. Call 1.800.642.4438 during store hours to speak with one of our friendly and knowledgeable sales associates.