At Borsheims, Roberto Coin is one of our most popular jewelry designers among customers and staff alike. As one of the premier jewelry designers in the world, his designs radiate luxury, style and sophistication. The creativity, quality and design that go into each piece of Roberto Coin jewelry are truly awe-inspiring. Read on to learn more about this outstanding label, as well as the designer himself, Roberto Coin.
Who is Roberto Coin?
Roberto Coin is a celebrated luxury Italian jewelry designer based in Vicenza, Italy. His designs have been worn by fashion icons and celebrities like Michelle Obama, Oprah, Laura Linney, Sophia Vergara, and Kate McKinnon. With such world-renowned success, you may be surprised to learn that Roberto Coin wasn't always in the luxury jewelry business.
Born in Venice, Italy, on July 25, 1944, Roberto Coin started his career in the hotel business. After the loss of his father at a young age, Roberto was sent to boarding school in Switzerland to learn about the hotel trade. Upon his graduation from L'Ecole Hotelier de Lausanne, Roberto moved to England and spent one year working as an assistant manager for a prestigious hotel in Guernsey Island. From there, Roberto bought a café and then a restaurant. Equally ambitious and capable, he took out a loan to buy a hotel at the young age of 24, becoming a respected Channel Island hotelier.
At the age of 32, Roberto decided to leave his successful career as a hotelier. He sold all his possessions and returned to Italy to pursue his passion for jewelry design. The skills he gained in the hospitality industry no doubt served him well as he moved into the jewelry business.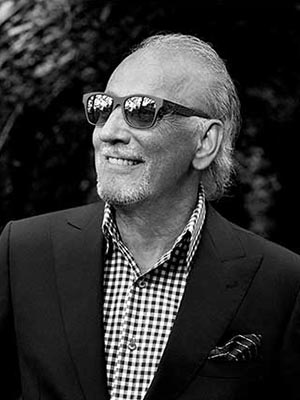 Roberto Coin Brand History
The Roberto Coin brand has a rich history. After returning to Italy to pursue his passion, Roberto settled in Vicenza and began learning the craft of jewelry manufacturing from the Italian masters. In 1977, Roberto Coin established his namesake company in Vicenza and began manufacturing 18k gold jewelry, primarily for other brands.
Vicenza was the perfect place for Roberto to set up shop. Known as the "City of Gold," Vicenza is the world leader in gold jewelry and the heart of Italy's 18k gold industry. With over 700 years of goldsmithing tradition, nearly one-third of all Italian goldsmiths hail from the city. As evidenced by many of his collections, Roberto is endlessly inspired by Vicenza as well as Italy itself. Still today, all of Roberto Coin's pieces are designed in Italy, where the production teams combine time-honored Italian craftsmanship with the latest innovations in technology.
In 1996, Roberto Coin was introduced to the United States as a fine jewelry brand with the Appassionata collection. Today, Roberto Coin is one of the most widely recognized brands in the industry. His jewelry collection has over 1,000 points of sale and can be accessed throughout the world, with standalone boutiques in the Americas, Europe, Russia, Asia and the Middle East.
With more than 20 years of industry experience and success, Roberto Coin is now considered an "Ambassador of Italian Style." He draws inspiration from nature, his travels, and, most notably, the traditions and history of his Italian heritage. Perhaps most famous for his iconic gold jewelry, Roberto Coin is synonymous with designer gold jewelry at the highest level of style and elegance. The texture of his gold collections distinguishes Roberto Coin's expert artistry, from his hand-hammered pieces to the hand-polished Pois Moi collection.
The Roberto Coin Ruby
The ruby is the signature of Roberto Coin and was first used in his debut collection, Appassionata, in 1996. He often refers to the ruby as the heart and soul of his jewelry, and it serves as the designer's gift of prosperity, longevity and happiness to his loyal clients.
The incorporation of the hidden ruby in Roberto Coin's jewelry is inspired by ancient Egyptians and came about when Roberto was reading a book on ancient Egyptian history and lore. Pharaohs believed that if a ruby touched a woman's skin, it would grant her immediate prosperity, love and happiness. Roberto Coin's ruby is intentionally set inside each piece of jewelry so that it gently kisses the skin of the person wearing it.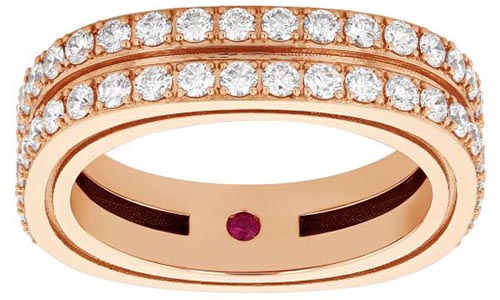 Popular Roberto Coin Collections
Roberto creates over 600 new pieces of jewelry each year, with 200 of these styles being unique or limited-edition pieces. The common thread throughout his various collections is a thoughtful balance of creativity, quality and innovation. His collections include only the finest quality diamonds, and most of his pieces are available in 18K white, yellow and rose gold. Roberto Coin's extensive collections range from accessible to exclusive, so there is something for every woman.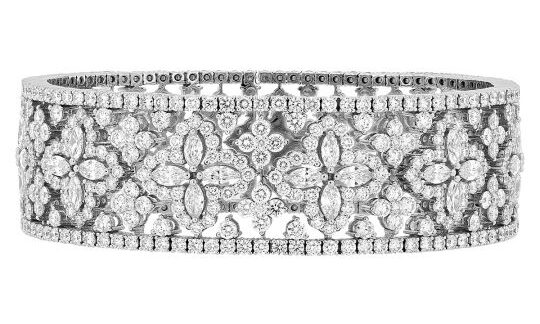 Princess Collection
Inspired by the fairy tales we read as children, the Princess collection features romantic floral patterns and elaborate twisted thread designs. The shapes and details characteristic in this collection are reminiscent of the rose windows that adorn many prominent facades in and around Roberto's birth city of Venice.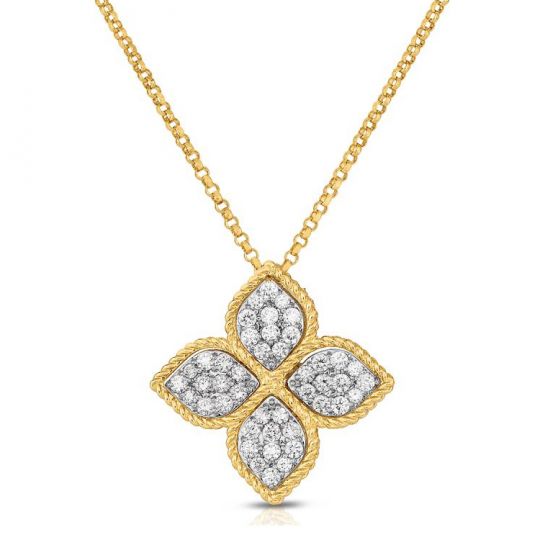 Princess Flower Collection
Roberto Coin's Princess Flower collection is exclusive to independent retailers and cannot be found in department stores. Creating the Princess Flower jewelry requires a perfect balance of technology and fine craftsmanship, as the flowers are assembled by hand, one by one.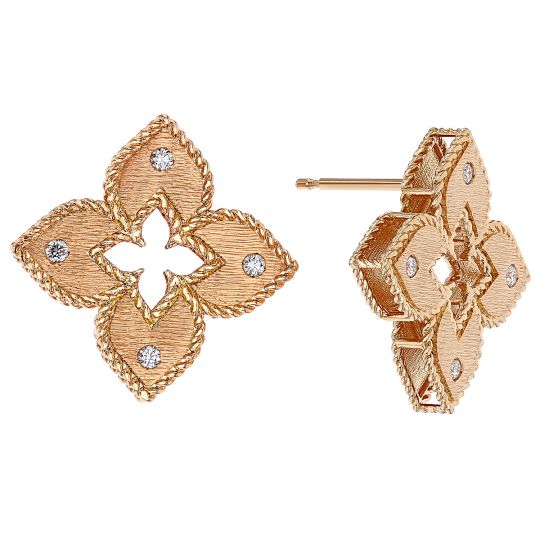 Venetian Princess Collection
The story of the Venetian Princess collection is one of legend and majesty, told in narrow Venetian streets under warm lantern-light reflected on the canal. Featuring modern yet classic designs through oversized floral medallions, the pieces in the Venetian Princess collection are emblems of timeless elegance.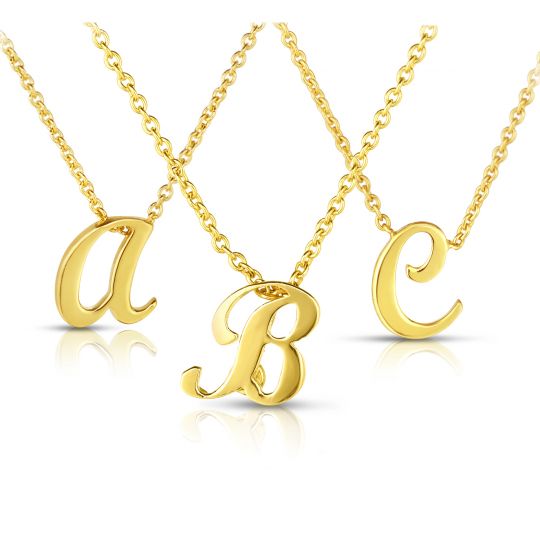 Tiny Treasures Collection
Effortless and elegant, the Tiny Treasures collection is made up of a wide variety of gold and diamond pendants. These whimsical and playful pendants make great gifts and are perfect for layering with other necklaces. The initial pendant necklaces are among the most popular and are available at an introductory price point for the Roberto Coin brand.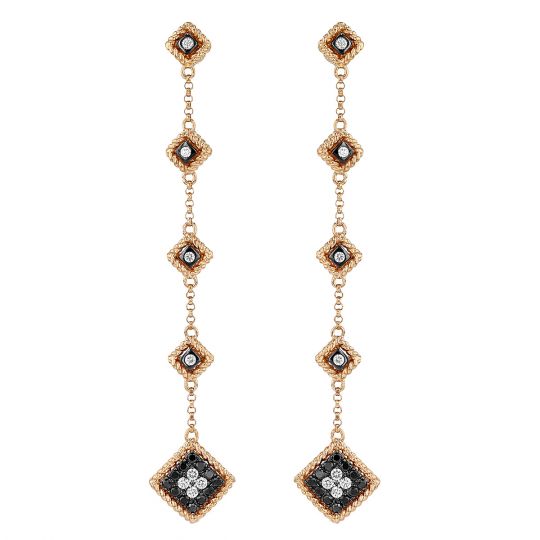 Palazzo Ducale Collection
Roberto Coin pays homage to the city of his birth with the Palazzo Ducale collection. Presiding over Piazza San Marco, the Palazzo Ducale is one of the storied city's most iconic landmarks. From the 14th century, the rulers of Venice, the doges, or dukes, lived and worked in this remarkable edifice. The satin finish of the Palazzo pieces is reminiscent of the palace walls while the flush-set diamonds evoke the gothic Venetian windows that dot its surface.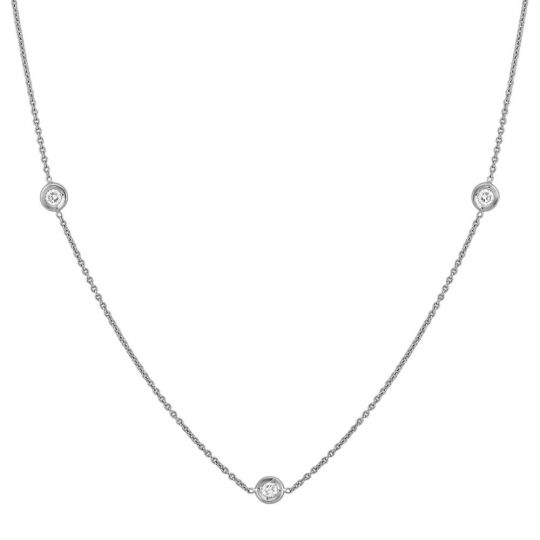 Diamonds by the Inch Collection
Known as the little black dress of your jewelry wardrobe, the Roberto Coin's Diamonds by the Inch necklaces offer endless versatility. These necklaces are feminine, sophisticated and youthful with their delicate chains and bezel-set diamonds. The perfect accessory for any occasion, the Diamonds by the Inch necklace offers an instant upgrade to any outfit.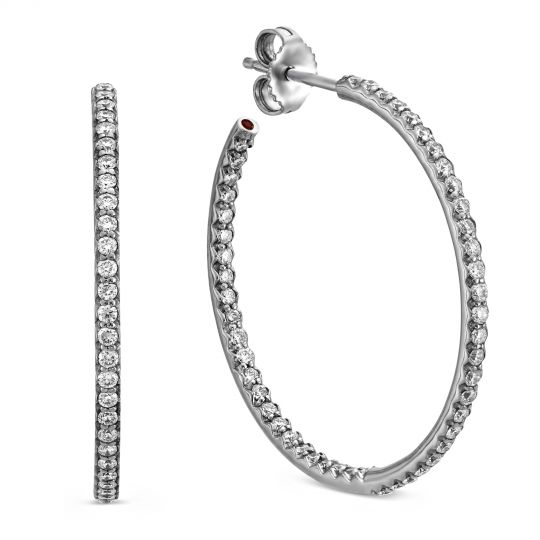 Perfect Hoops Collection
Just as its name would suggest, these earrings are the perfect hoops. The Perfect Gold Hoops come in a variety of shapes and sizes to flatter any face shape. The collection includes earrings in 18k yellow, white and rose gold. The Perfect Diamond Hoops have diamonds set on both the inside and outside of the hoop, reflecting lots of light and creating a radiant sparkle.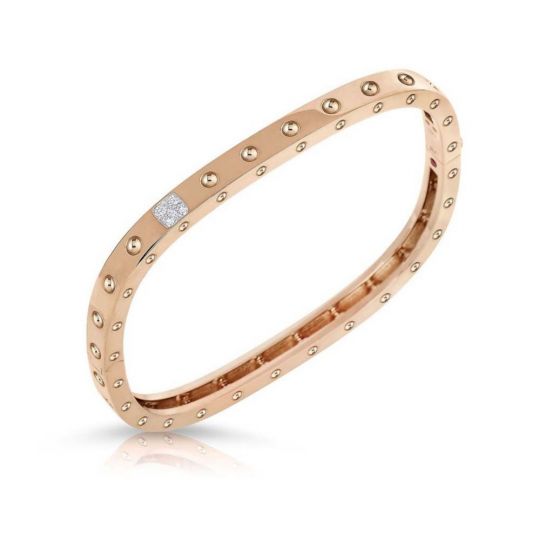 Pois Moi Collection
For Roberto, the term "pois moi" refers to dots or dimples. His Pois Moi collection features beautiful indentations on the surface of the jewelry. The concave dots are polished by hand and reflect a lot of light. The shape of the original Pois Moi bracelet is reminiscent of a vintage television set. This unique silhouette keeps the bracelet from spinning and rolling on your wrist, so the diamonds are always facing up. The Pois Moi Luna pieces are reminiscent of the moon and recreate its characteristic uneven surface.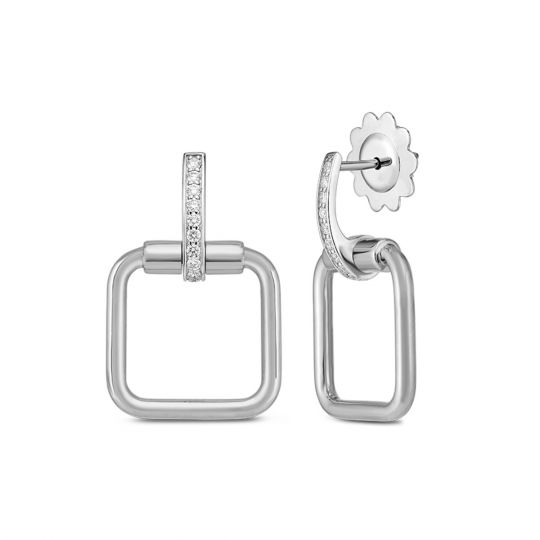 Classica Parisienne Collection
Roberto Coin's Classica Parisienne collection was born out of an admiration for the effortless style of French women. Inspired by the hoop earring, Roberto set out to create a universal hoop style earring. Today, the Classica Parisienne earring is available in four shapes, including circle, oval, square, and rectangle. This versatile earring looks great on any woman, flattering several different face shapes.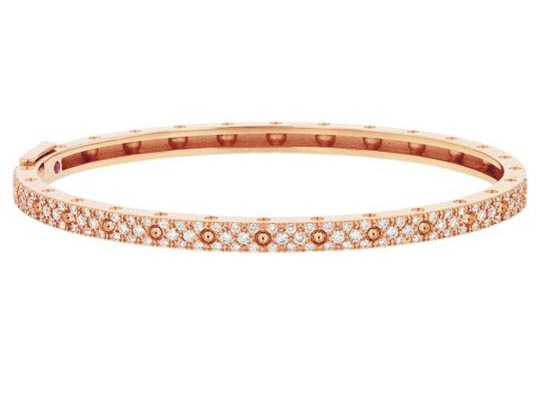 Symphony Collection
Roberto Coin's Symphony collection is an ode to his five most iconic collections. To create the Symphony collection, Roberto Coin replicates the essence from some of his most iconic collections, including Pois Moi, New Barocco, Golden Gate and Princess. Women are encouraged to stack an assortment of bangles to create a look that's a treat for the eye.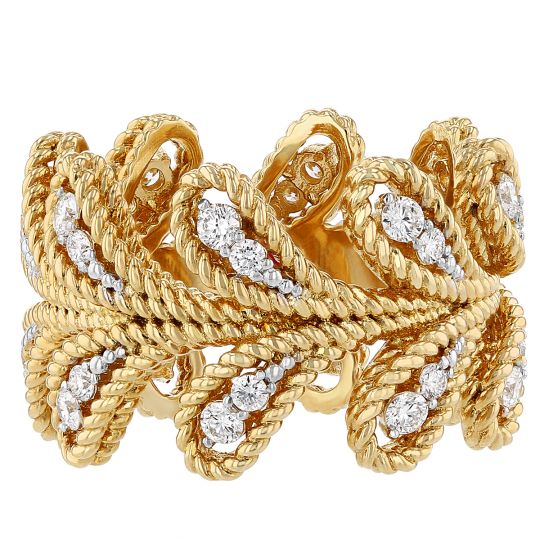 Barocco Collection
Roberto Coin's Barocoo collection refers to the braided edge of its pieces. Gold threads are twisted and woven to form textural, open pieces inspired by the elaborate style of Barocco architecture. As one of Roberto Coin's most celebrated collections, he has expanded it to include the New Barocco and Byzantine Barocco collections.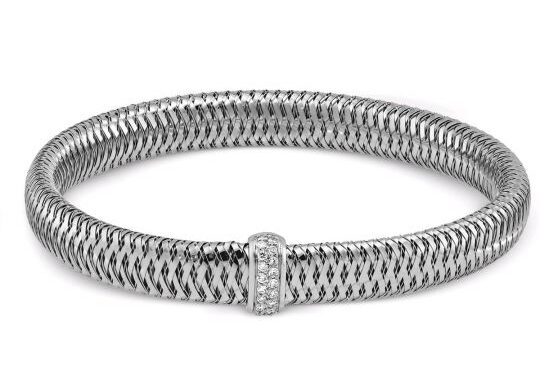 Primavera Collection
Roberto Coin's Primavera collection is innovation at its finest. Using cutting edge technology, the Primavera collection is both lightweight and flexible. This accessible collection is made up of stretchy bracelets that are comfortable, durable, and easy to take on and off.
How to Wear Roberto Coin Pieces
Roberto Coin's jewelry is all about versatility. His striking, yet practical designs are intended for maximum wearability. From timeless basics to those extra special statement pieces, his designs provide the freedom to layer necklaces, stack bracelets, and mix metals and finishes. Roberto Coin was a leader in mixing metals and created a stacking craze with his Classica Parisienne collection, where he shows how easy it is to wear white, rose, and yellow gold in combination. Many Roberto Coin collections include complementary items and can be intermixed—making it simple for customers to build a jewelry wardrobe with pieces that reflect their own personal style.