Bracelet stacks are a lovely way to polish off your look and allow you to make the most of your favorite pieces and incorporate new ones. Whether you're mixing metals, textures or adding a pop of color, curating a bracelet stack should be a fun and creative way to add to your unique style. Read on to discover different styling ideas and what to consider when putting together your bracelet stack.
Where to Start
A simple, classic style of bracelets, is a sure-fire look to debut as your first bracelet stack. If you're drawn to yellow gold, you may opt for three yellow gold bangles or three yellow gold chain link bracelets. Choosing pieces that have a similar design element is an excellent approach to deciding how to layer bracelets.
Make A Statement
Bracelet stacks are a fun way to incorporate your favorite statement bracelet. Start with the statement bracelet, and build onto your look with pieces to compliment. When working with statement jewelry, it's important to keep in mind that the statement is the star, so you may only need one or two additional bracelets to curate your fabulous look.
Mixing Metals & Textures
Never be afraid to mix metals and textures when creating a bracelet stack. Adding different elements of metal color and texture can totally change a look.
Comfort Matters
The most important thing to keep in mind when curating a bracelet stack is your comfort level. If your ideal bracelet stack is three bracelets and you don't feel comfortable adding any more, that's perfectly fine! Jewelry is a lovely way to express your style, and the right way to style your bracelet stack is whatever makes you feel best.
Bracelet Stack Styling Inspiration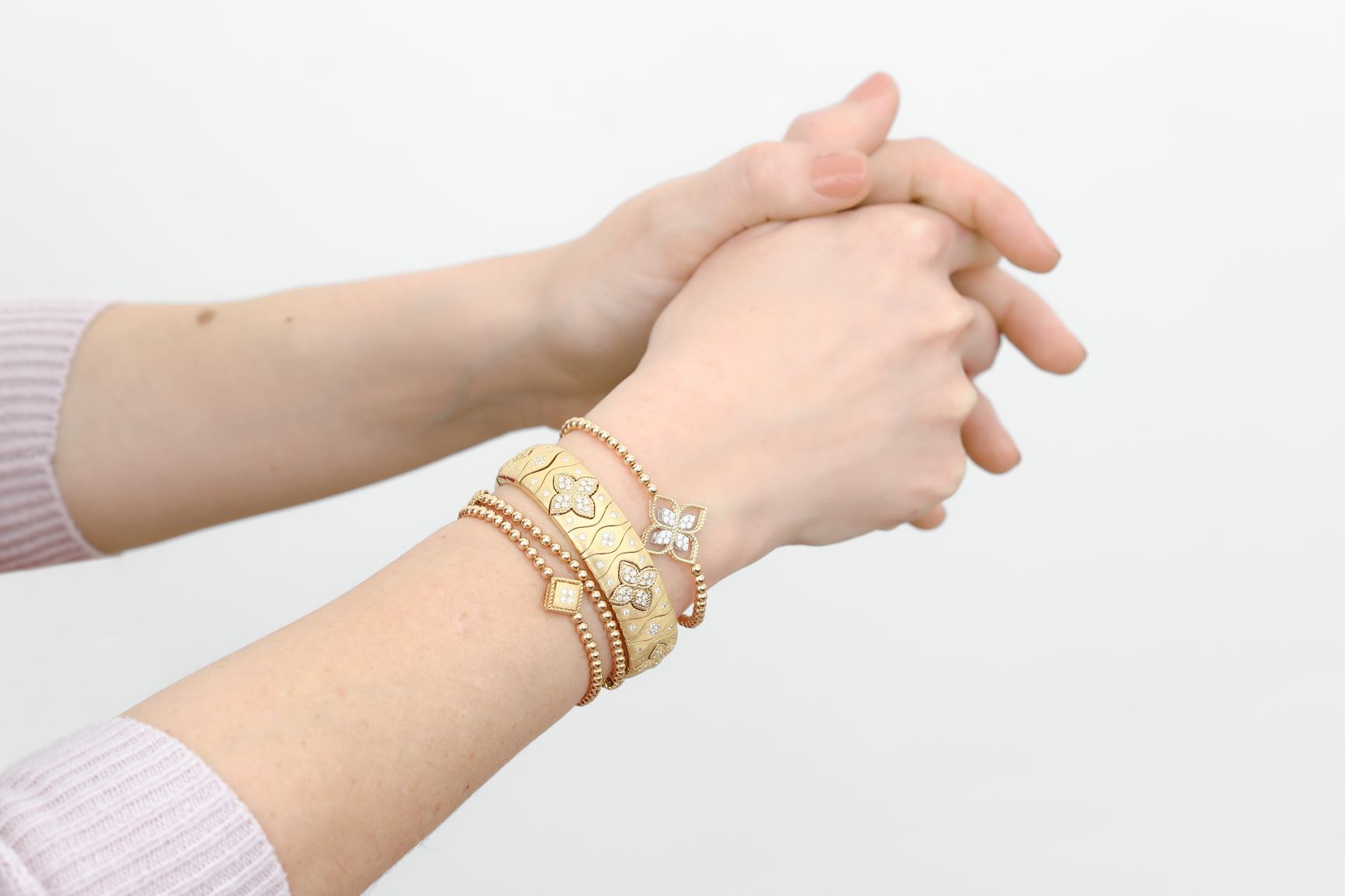 Elegant Gold Bracelet Stack
Rich, yellow gold tones are a timeless approach when deciding how to stack bracelets. To incorporate similar design elements throughout your bracelet stack, you may want to consider wearing different styles crafted by the same designer, like these Roberto Coin bracelets.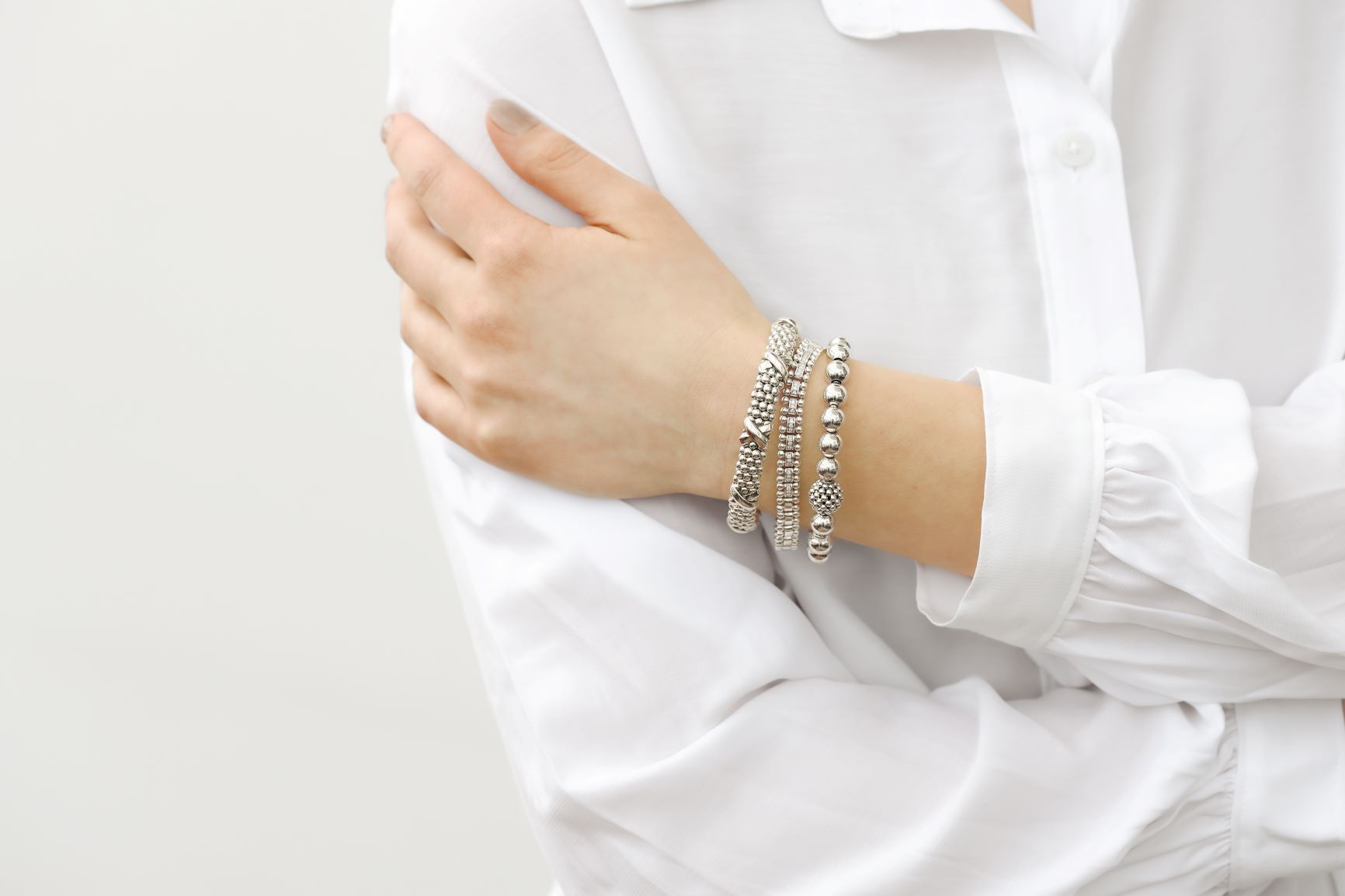 Silver Bracelet Stack
For a subtly edgy, modern bracelet stack, silver tones are the way to go. Lagos has an excellent selection of sterling silver bracelets that incorporate different textures to customize your style.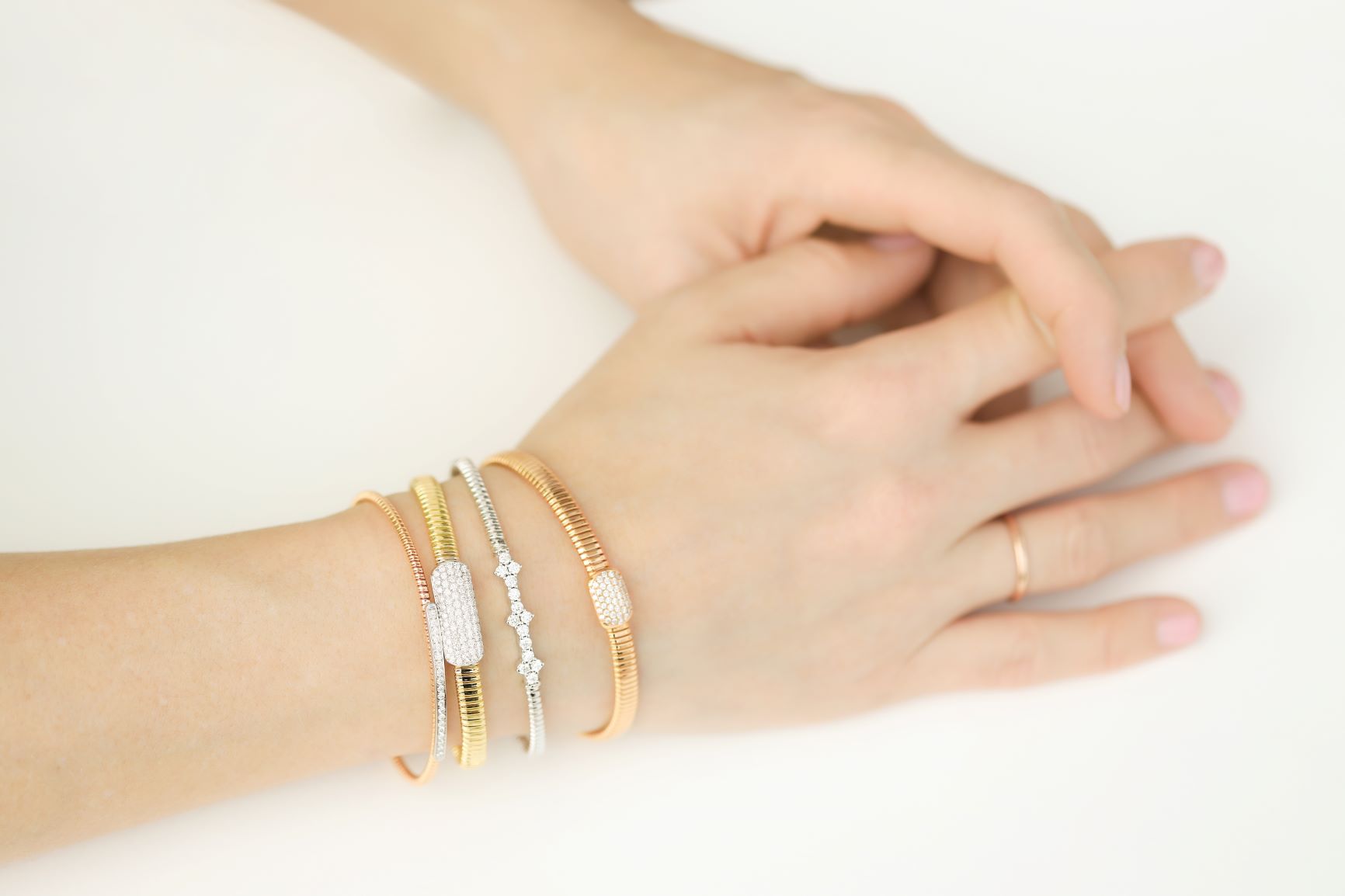 Mixed Metal Bracelet Stack
Mixing metals is the perfect addition to an everyday glam look. For a more understated execution, start with two different metal colors to create a stack that you can quickly build upon.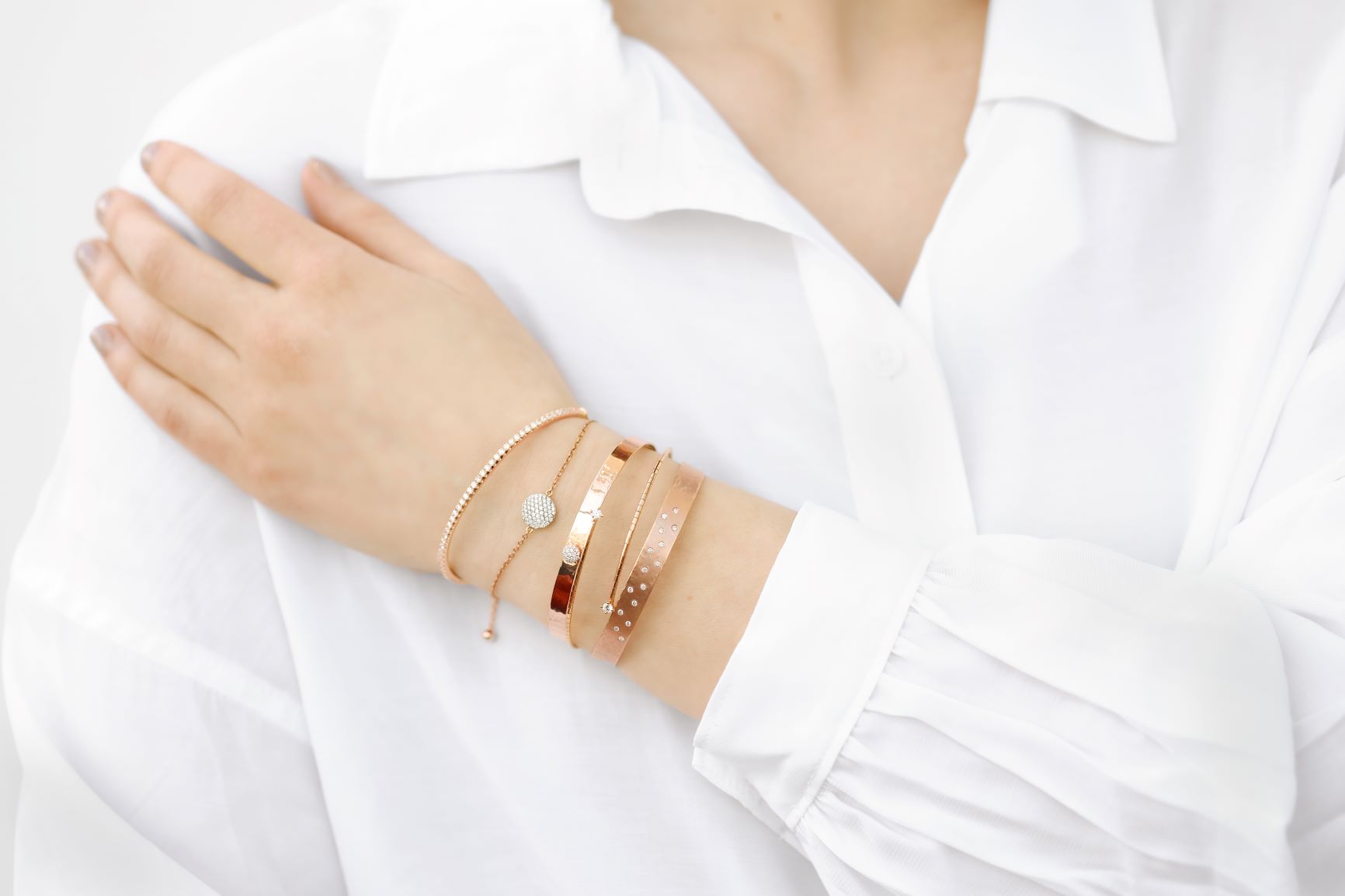 Rose Gold Bracelet Stack
The warm tones of rose gold jewelry create a whimsical and romantic look. For a glamourous take on this style, mix and match textures and incorporate a gemstone or two.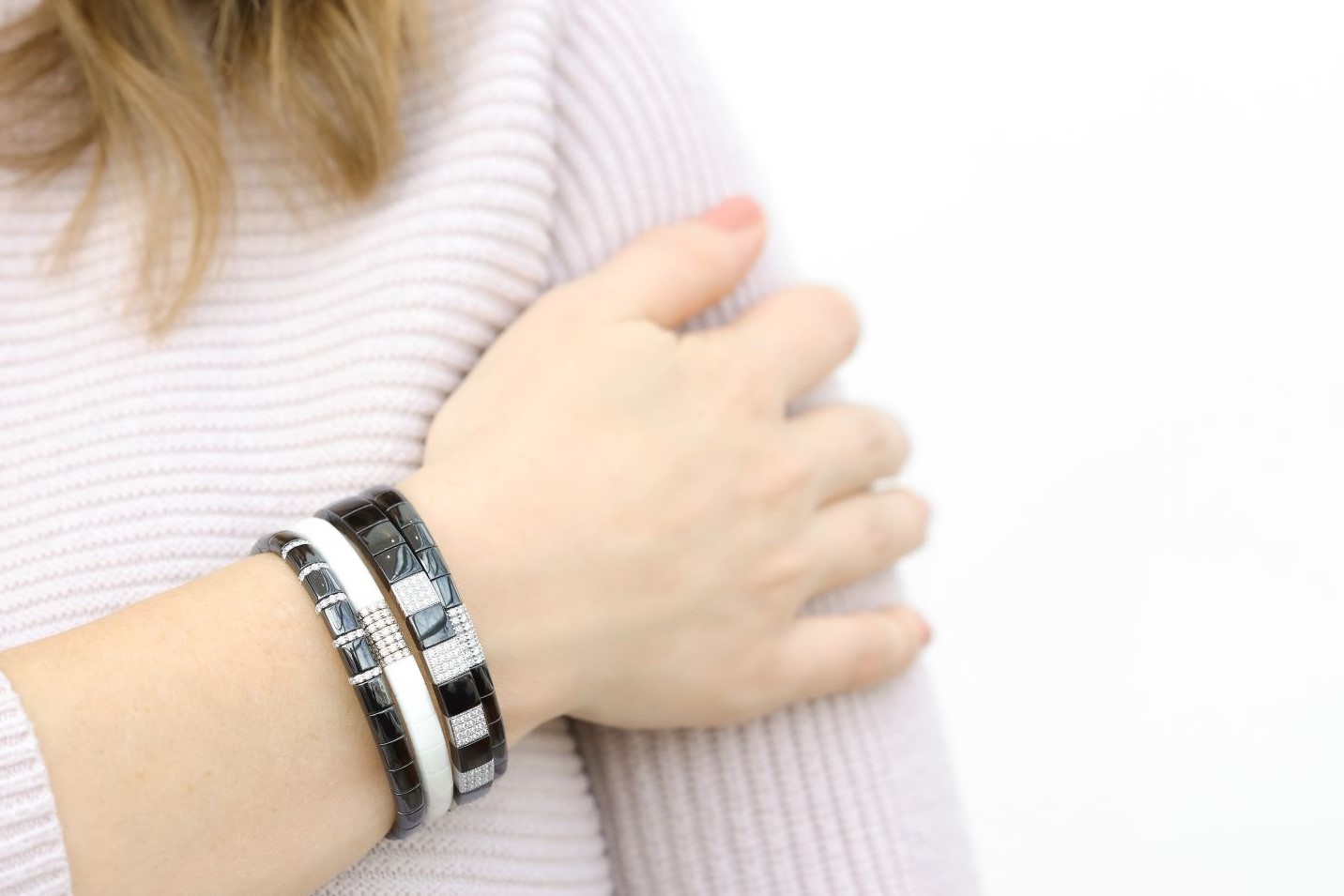 Black Bracelet Stack
An ultra-edgy look that compliments diamonds beautifully, black bracelets are versatile and chic. Roberto Demeglio offers an excellent selection of black bracelets designed to be just as comfortable as they are stunning.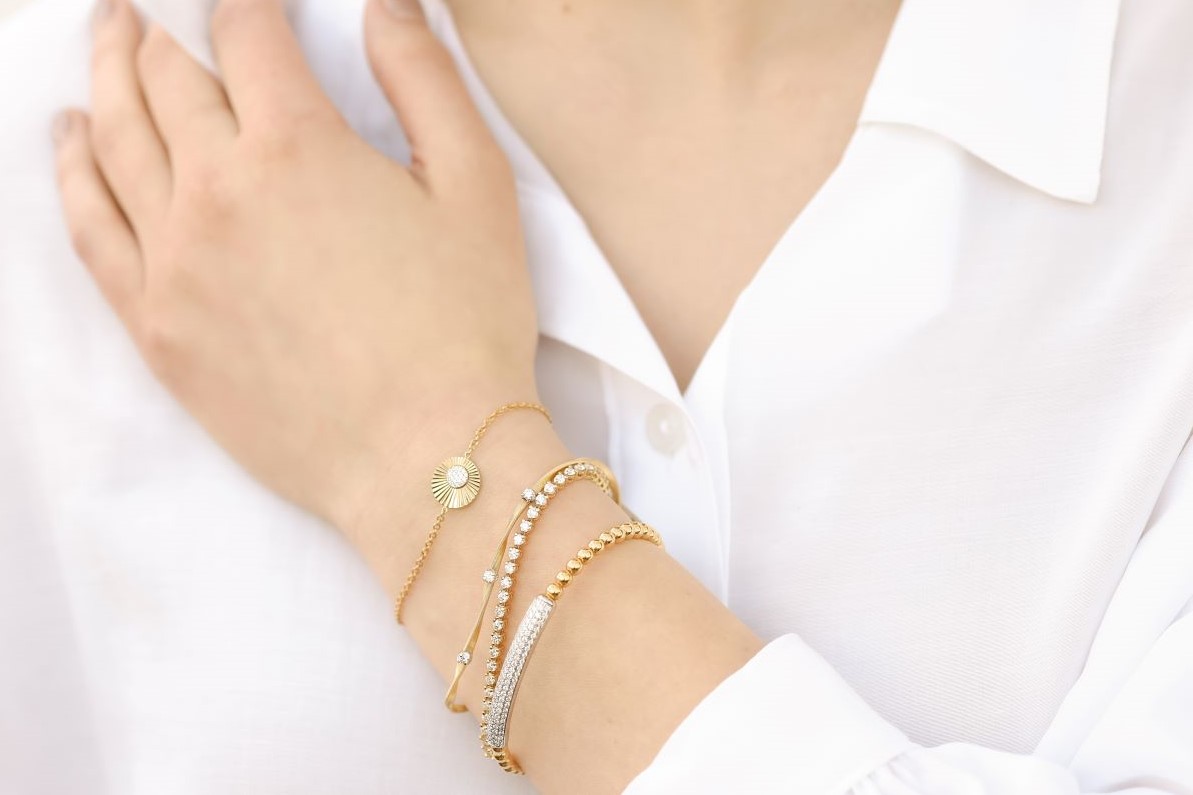 Diamond Bracelet Stack
Diamonds have a gift of creating an everyday elegant look that you can effortlessly dress up for a night out. The key to stacking diamond bracelets is to incorporate different textures and bracelet styles. We suggest starting with a tennis bracelet and adding at least two other styles of bracelets to create a well-balanced look.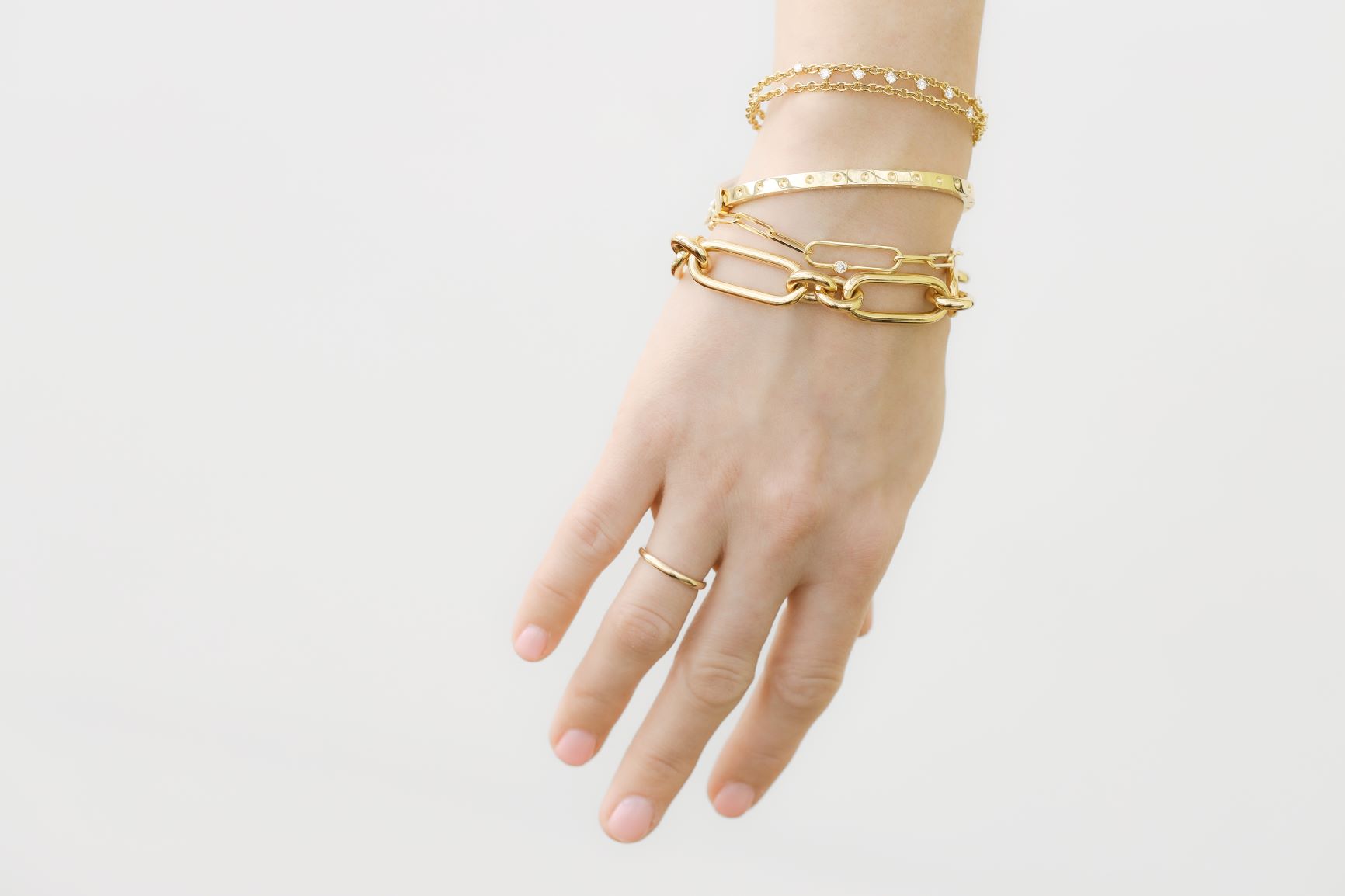 Chain Link Bracelet Stack
Our go-to style for a bold, modern look is the multi-chain bracelet stack. Start with your favorite chain and continue with different chain link sizes, styles and metal colors.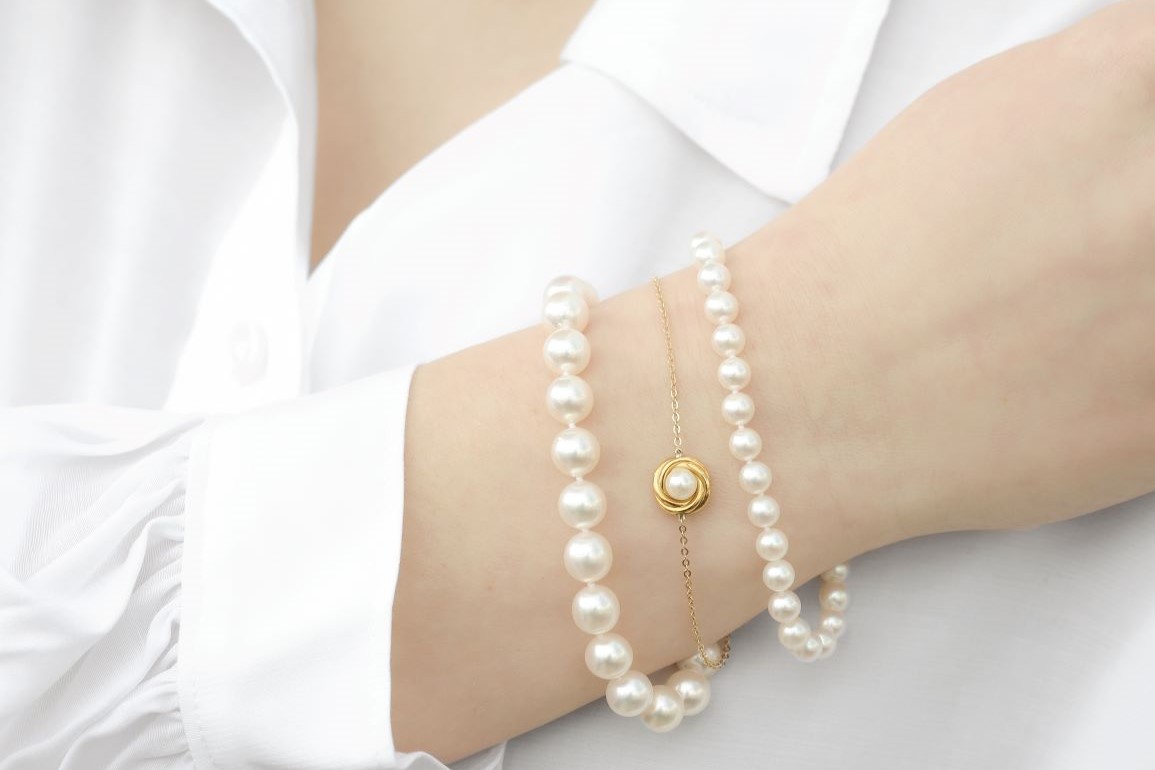 Pearl Bracelet Stack
A look that can be styled to be ultra-classic or chic and contemporary. To make more of a statement, we suggest layering a few different pearl bracelets that feature different sizes of pearls. You can also incorporate different pearl types and bracelet styles to break up your look.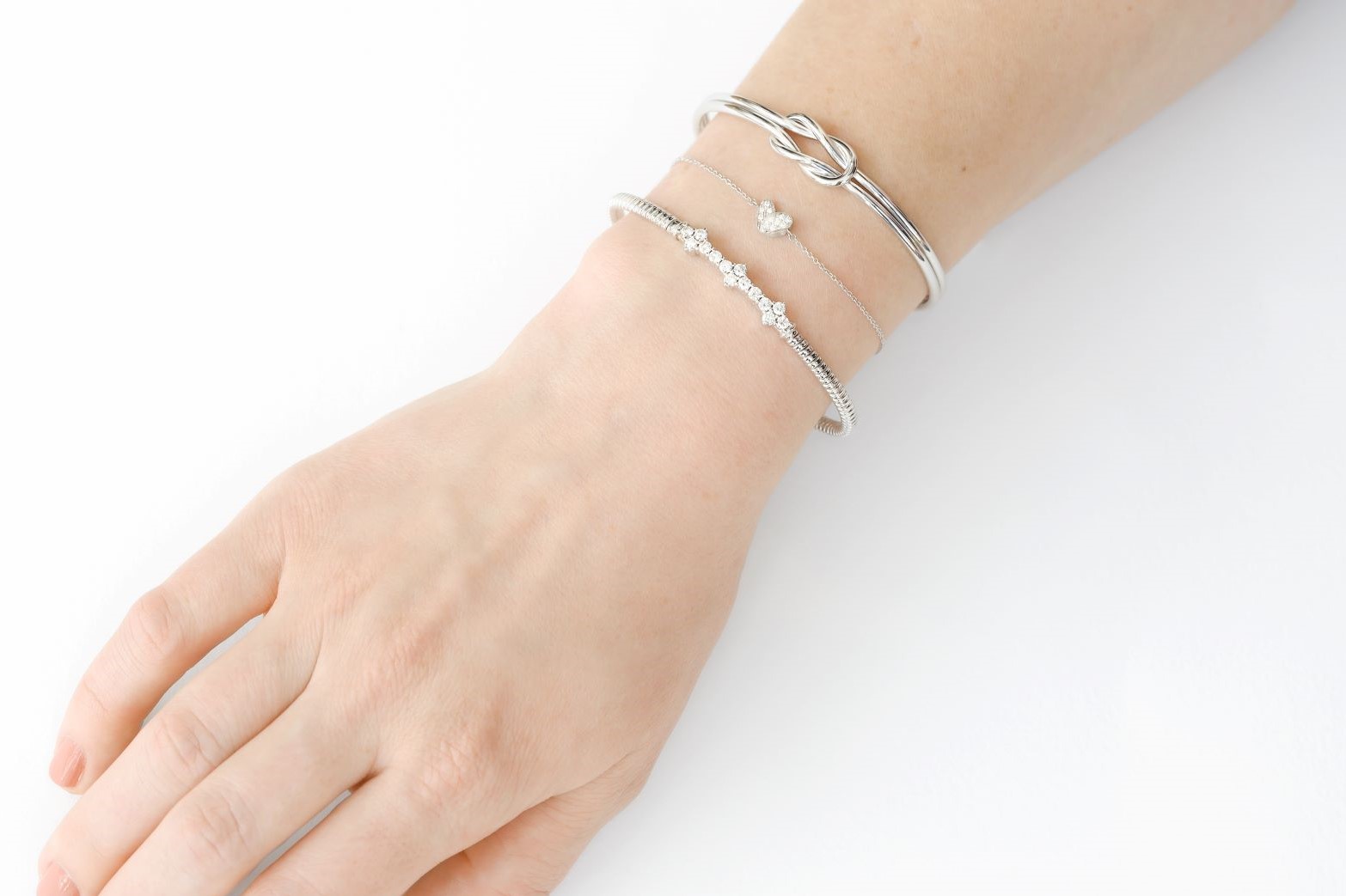 Dainty Bracelet Stack
Dainty bracelet stacks make a delicate statement and can be just stunning as a bold statement stack, perfect for the minimalist jewelry wearer. This style is also great for days when you're on the move and want to avoid the sound of bracelets clinking together all day.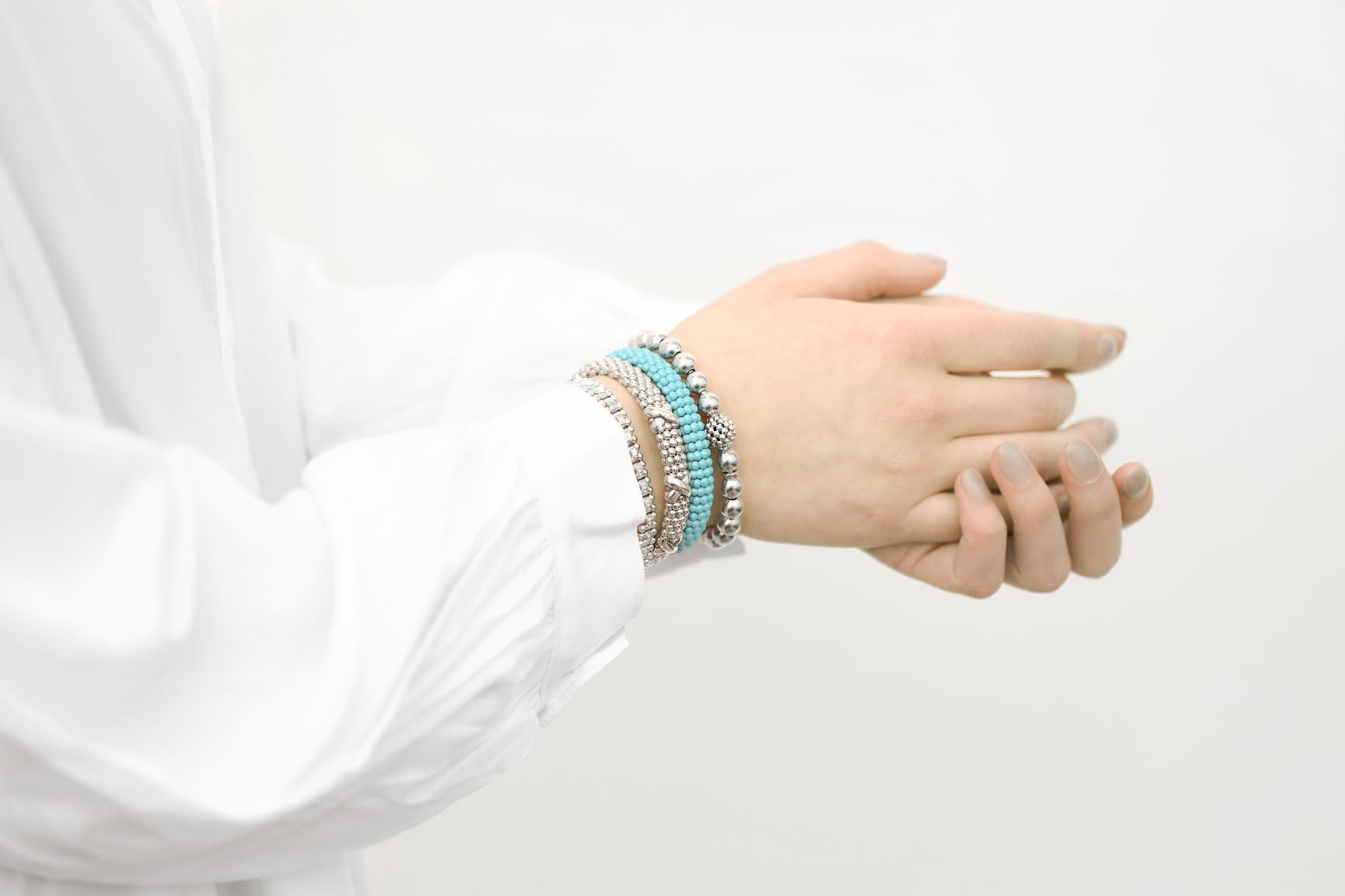 Pop of Color Bracelet Stack
Express your true personality with a lively pop of color. To make the color pop, we suggest starting with that bracelet and building onto your bracelet stack with pieces to compliment. Gemstone jewelry is a great place to start if you're looking to add a pop of color to your jewelry box.
If you need help picking out the perfect bracelet for yourself or someone else, one of our jewelry experts would be happy to assist you. Call 1.800.642.4438 during store hours to speak with one of our friendly and knowledgeable sales associates.