Engagement ring trends come and go, but classic engagement ring styles remain popular year after year. Engagement rings featuring simple designs, timeless details, and traditional bands have an air of sophistication and are perfect for brides of any age as well as those who plan to wear the same ring for the rest of their lives. Featuring enduring design and quality craftsmanship, Precision Set remains a top choice among Borsheims brides who prioritize timeless over trendy when it comes to their engagement rings and wedding bands.
From simple to showstopper, here's a look at seven engagement ring designs that you won't grow tired of.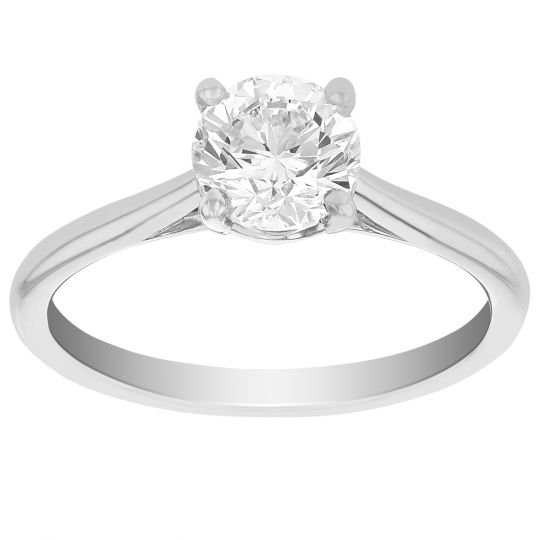 Solitaire Engagement Rings
With their effortless elegance, solitaire engagement rings walk the line of modern and timeless perfectly. Solitaire engagement rings feature a single stone, usually a diamond, with a simple band, thus allowing the diamond to take center stage. While a solitaire engagement ring setting pairs beautifully with any diamond shape, diamonds featuring a round cut remain the most popular and offer the most sparkle. 
Diamond Band Engagement Rings
From pave to channel settings, diamond-covered bands will never go of style. These diamond accents pair perfectly with any type of center stone and add some serious sparkle to your engagement ring!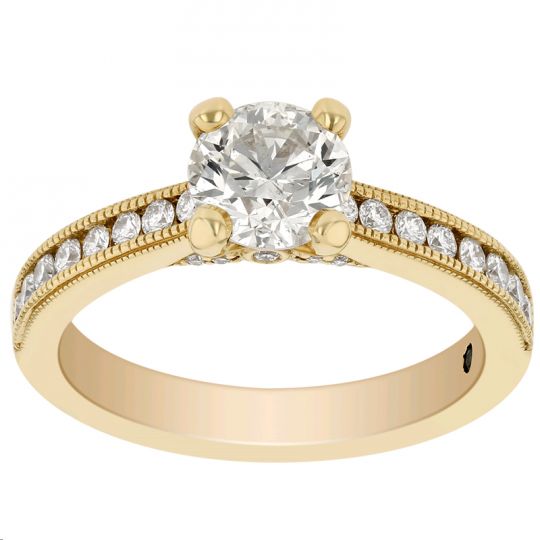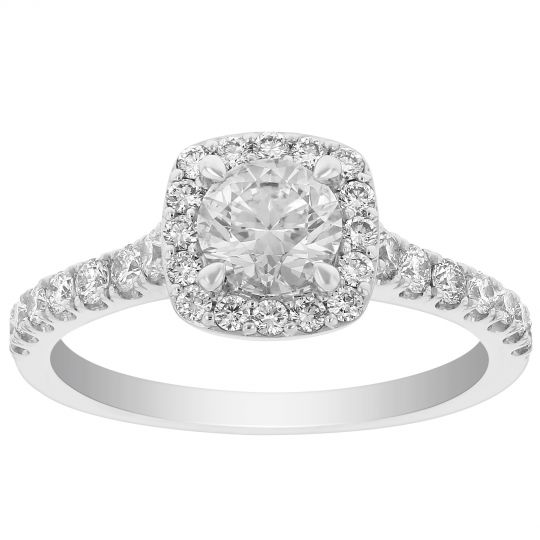 Halo Engagement Rings
Another modern classic, the halo engagement ring setting has experienced peak popularity over the last decade and is considered to be the second most popular engagement ring setting of all time, behind the solitaire. The halo engagement ring as we know it first rose to popularity in the 1920s as a result of the art deco movement.
The delicate pave diamonds that surround the center stone in a halo ring give the illusion of a larger, more sparkly diamond. A double halo ring features a second halo of diamonds encircling the first, which makes the center stone appear even bigger and more brilliant. 
Vintage-Inspired Engagement Rings
If you want a truly timeless engagement ring, look to the past. We have seen a renewed appreciation for jewelry with history, and engagement rings are no exception. Unfortunately, these highly sought after, one-of-a-kind antique engagement rings can be difficult to come by. Many soon-to-be brides are opting to recreate these timeless treasures to get the exact look that they want. To capture the elegance and style of a vintage engagement ring setting, look for old-world details like feminine florals, elaborate scrollwork, and filigree embellishments.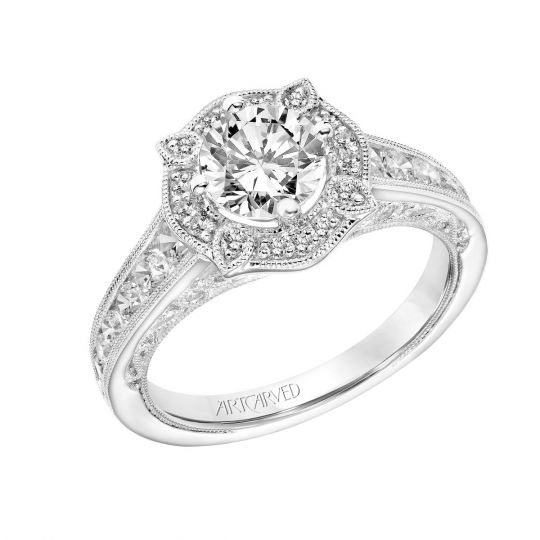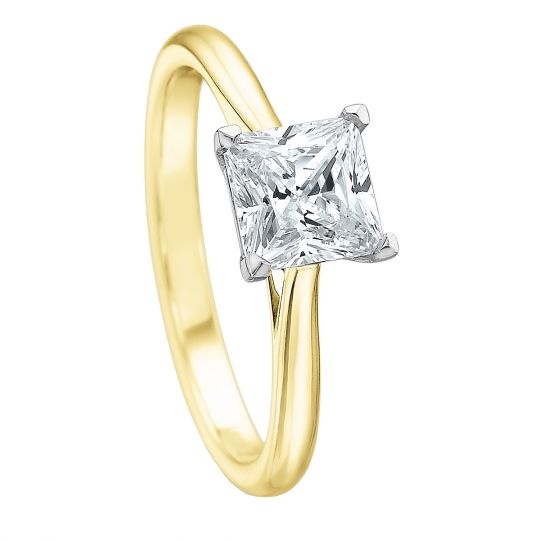 Gold Band Engagement Rings
Gold is a timeless, traditional option for engagement rings. At one time, yellow gold was the standard for engagement and wedding rings, but in the mid-90s, it went out of style. That's when white metals, like white gold and platinum, became the popular choice for modern brides. While white metals still dominate the market today, we have seen a resurgence of the more traditional yellow gold once again.
Rose gold has also become increasingly popular over the last decade due to its feminine, romantic look. More unexpected than white gold and more subtle than yellow gold, we believe rose gold is another trend that will stand the test of time.
Three-Stone Engagement Rings
A three-stone diamond ring makes an exceptional engagement ring that's full of sparkle. Sometimes referred to as a trilogy ring, a three-stone engagement ring features a large center stone bookended by two slightly smaller diamonds. 
Fittingly, this stunning engagement ring also happens to be full of romantic symbolism. Some think the three stones stand for friendship, love, and fidelity, while others believe that the stones represent a couple's lifetime together, including their past, present, and future.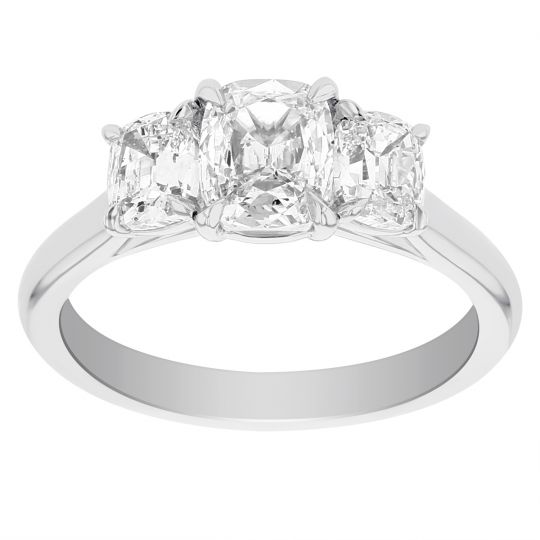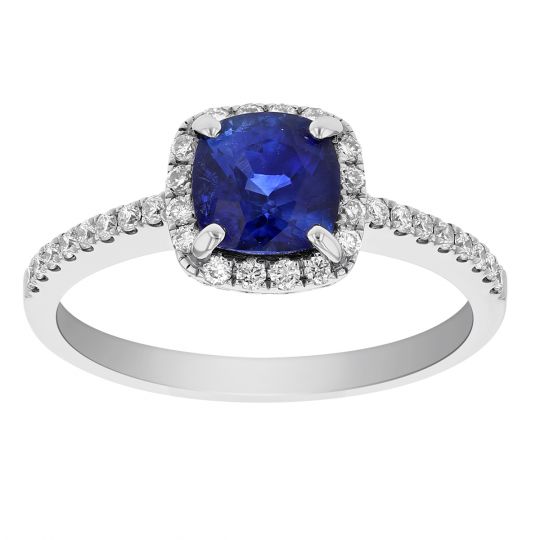 Gemstone Engagement Rings
Gemstone engagement rings have been an enduring engagement choice due to their unique look, vibrant coloring, abundant size, and affordable price point. In fact, gemstone engagement rings have been worn by style icons such as Princess Diana and Jackie Kennedy.
Some of the most common gemstones used in engagement rings include sapphires, emeralds, and rubies. Keep in mind that gemstones have varying degrees of hardness, making some gems unsuitable for everyday wear. No gemstone is as durable as a diamond, which contributes to the diamond's continual popularity as the engagement ring stone of choice.
You deserve to have an engagement ring that you will cherish for years to come, and while trendy rings are fun to look at, they may not be what you want for the rest of your life. Choosing an engagement ring is one of the most important purchasing decisions you will ever make. When the time is right to pick out THE engagement ring, you may choose to design your engagement ring online, or you can work with one of our knowledgeable sales associates who will walk you through the process. To get started, contact us at 1.800.642.4438 or email us at [email protected]. You can also connect with us on live chat.
We look forward to being apart of your special moment! 
More Engagement Ring Resources