Length may not be the first thing that comes to mind when shopping for a new necklace, but it happens to be one of the most important factors to consider when looking at necklaces. Determining the right length can become especially tricky when buying a necklace online, since you don't have the luxury of trying on a necklace to see how it fits like you would in-store. We've designed this guide to help you choose the right necklace length so you get the fit and overall look that you want.
Standard Necklace Lengths
Necklaces come in a number of sizes, with standard necklace lengths being even inch sizes such as 16", 18", 20", 22", 24" and 30". Whether you are looking for a shorter necklace that hugs the collarbone or a longer necklace that drapes down your chest, our breakdown of the different necklace lengths can help you select the size you need. Read on to learn more about some of the most common necklace lengths, including how they fit and what they pair best with.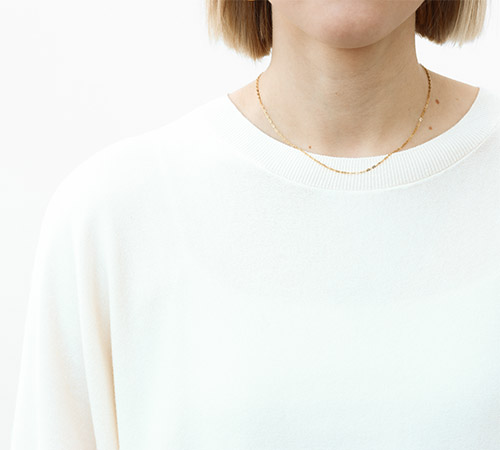 16-Inch Necklace Length
The Fit: Sits gently around the base of the neck on top of the clavicle
Wear With: V-necks, scoop necks, boat necks, and button-up blouses
Also known as a choker or bib, 16-inch necklaces pair well with most necklines and offer a subtle and sweet way to accessorize an outfit.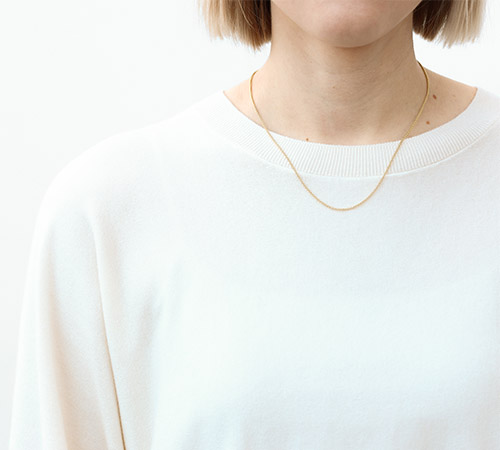 18-Inch Necklace Length
The Fit: Falls just below the collarbone
Wear With: Complements most necklines
18-inch, or princess, necklaces are the most popular necklace length. They can be worn with any neckline and outfit – transitioning effortlessly from a chic, everyday look to an elegant, evening ensemble.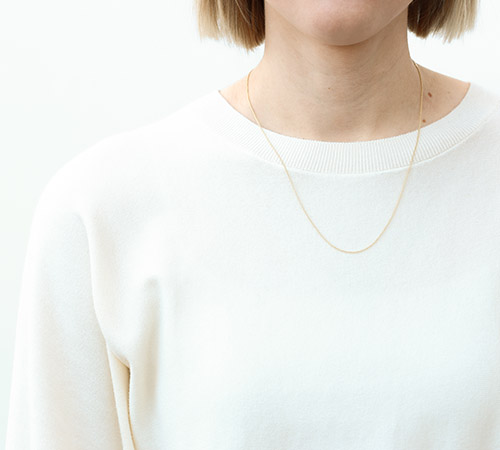 20-Inch Necklace Length
The Fit: Sits a few inches below the collarbone
Wear With: Pairs well with most necklines
"Matinee" refers to necklaces that fall within the 20-24 inch length range and usually hit somewhere between the collarbone and breastbone.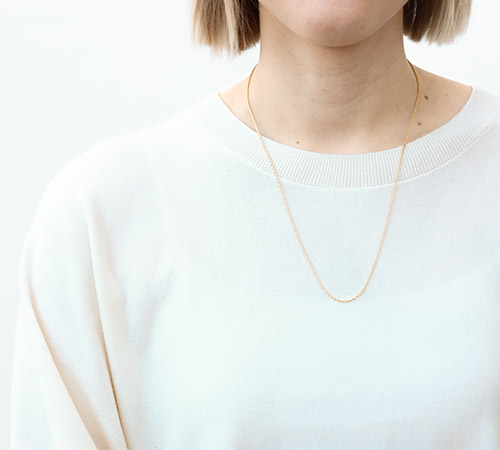 22-Inch Necklace Length
The Fit: Falls in the middle between the clavicle and bustline
Wear With: Pairs well with low or plunging necklines
This mid-length necklace complements lower necklines especially well.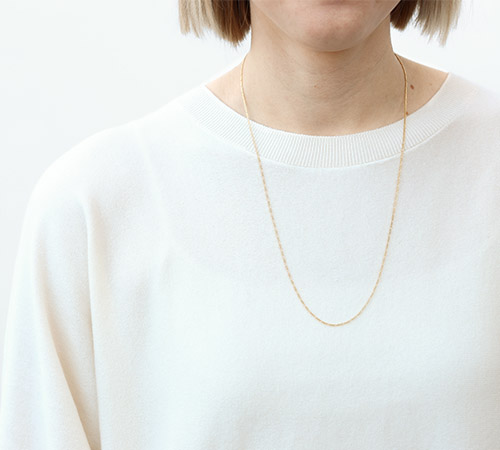 24-Inch Necklace Length
The Fit: Hits at or just above the bustline
Wear With: Looks lovely layered with other necklaces
The longest of the matinee necklaces, 24-inch necklaces are a great length to layer with different chain lengths, like a princess-length or opera-length chain.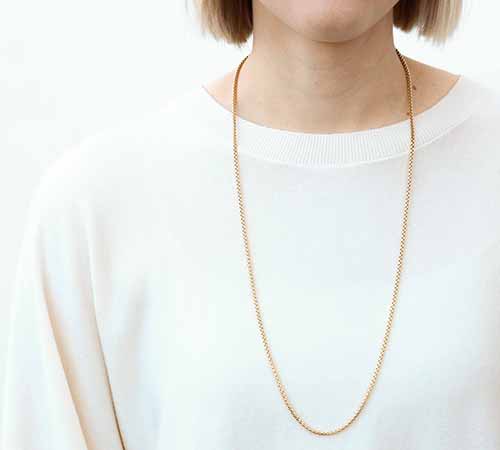 30-Inch Necklace Length
The Fit: Falls just below the bustline
Wear With: Higher necklines like boat necks, cowl necks, and turtlenecks
Necklaces that fall within the 28"-36" range are known as opera necklaces. These lengthier styles are a popular necklace trend and help break up an outfit by adding something of visual interest to the middle part of the torso.
Necklace Length Guide
To choose the right necklace size, you should consider your height, neck size and overall body type, as these factors can affect how a particular necklace style or length is going to lay. A necklace is likely to draw attention to the area of the body that it hits, so keep this in mind when shopping for necklaces. The chart below gives an idea of where you can expect different necklace lengths to fall on the average woman's body compared to other sizes. Remember that everyone's body is unique, and certain necklace chain lengths may fit people differently.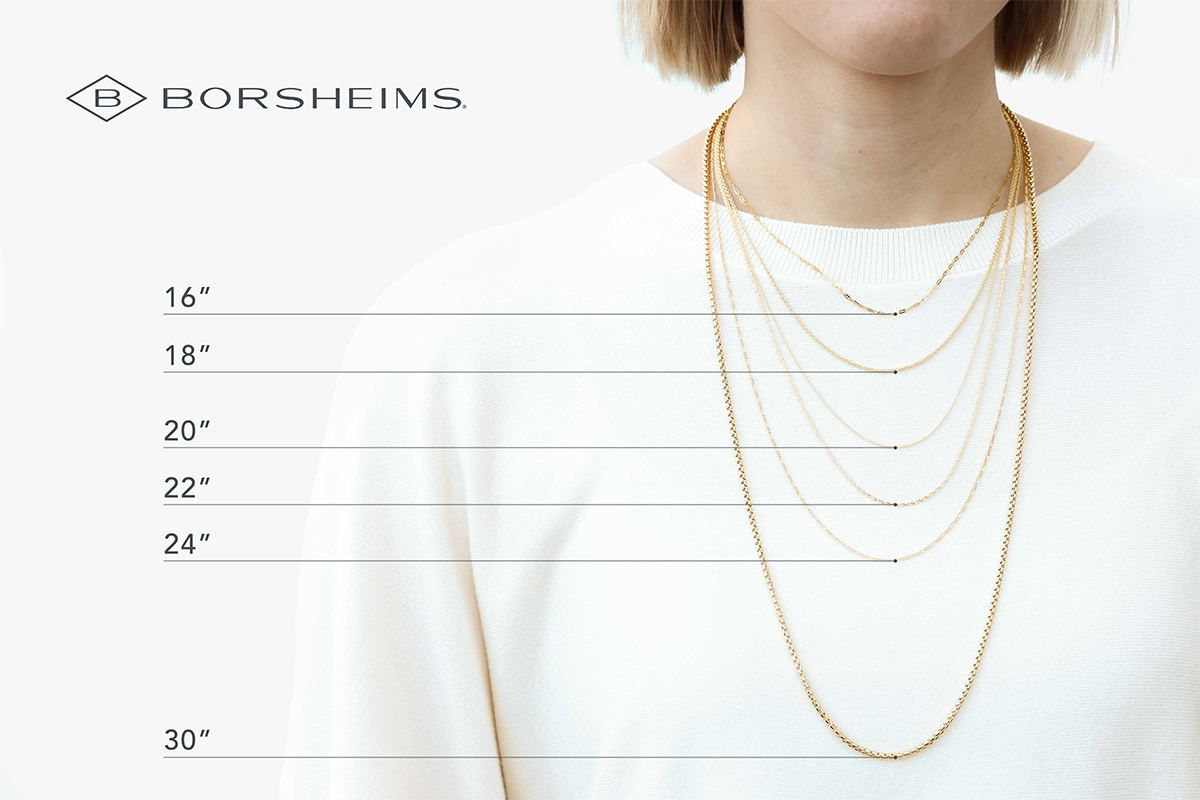 If you need help picking out the perfect piece of jewelry, one of our experts would be happy to assist you. Stop into our store or text or call 402.391.0400 during store hours to speak with one of our friendly and knowledgeable sales associates.