If you're looking for a special way to celebrate your anniversary, you should be looking at anniversary rings. This meaningful piece of jewelry is the perfect way to symbolize the love you've shared so far and will continue to share for years to come. If the concept of anniversary bands is new to you, keep reading before you start shopping. We'll help you navigate when to give an anniversary ring, how to choose it and more. 
What is an Anniversary Band?
An anniversary band is a wedding band, just given on an anniversary instead of your wedding day. Typically featuring a traditional band styling, an anniversary ring may feature diamond or gemstone accents, or be a solid gold or platinum band. Anniversary rings are usually given to women, although some couples may choose to mark a special anniversary with matching anniversary bands. Anniversary rings for her range from simple gold bands to more ornate diamond rings, so you are sure to find something she will love.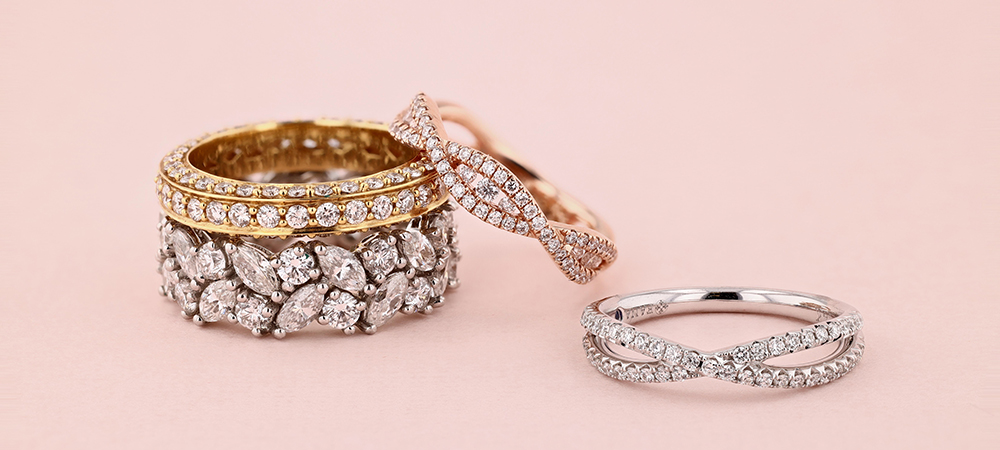 What Anniversary Do You Get an Anniversary Band?
There aren't any set rules for when you should give or receive an anniversary band. Many couples choose to commemorate their milestone anniversaries, such as the 10th, 15th, 20th, 25th, etc. with an anniversary ring while others prefer to celebrate alternative years with a ring as its unexpected. Generally, anniversary rings are an appropriate gift for any year you want to celebrate being with your spouse. 
Another occasion to give your spouse an anniversary band is if you're renewing your vows. A stunning ring is a beautiful way to honor your commitment to one another. For an extra dose of sentimentality, match the number of stones in your anniversary ring to represent the number of years you've been married or choose the stone that coincides with the traditional anniversary gift for that particular year of marriage. 
How to Wear an Anniversary Band
There are several ways to wear an anniversary band. In fact, an anniversary ring can be worn on either hand and on any finger. It's entirely up to your personal preference! If you don't want to overwhelm the ring finger on your left hand by adding another ring, you can wear the new piece of jewelry on your right ring finger. You might also choose to put it on any other finger. It's up to you!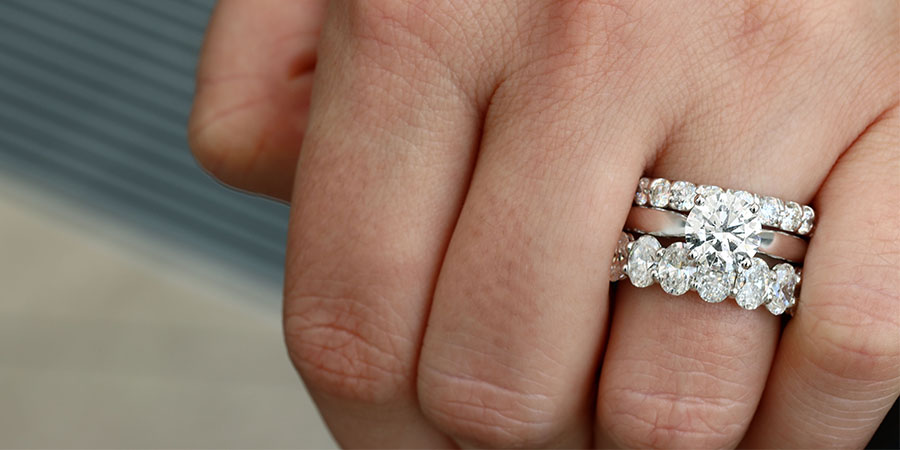 Some couples decide that the anniversary ring should replace the engagement or wedding ring, which might be right for you if your wedding or engagement ring is no longer what you want. After all, now is the perfect time to upgrade your ring while celebrating your latest anniversary. If you want to keep your engagement and wedding ring and are looking for inspiration on different ways to wear your engagement ring, here are some ideas.
Stacked with the Engagement Ring & Wedding Band
If you still love your engagement and wedding rings and just want to complement them with another ring, you can stack all three together on the same finger. Stacking your rings can create a stunning and substantial look that will catch everyone's eye when you're out and about.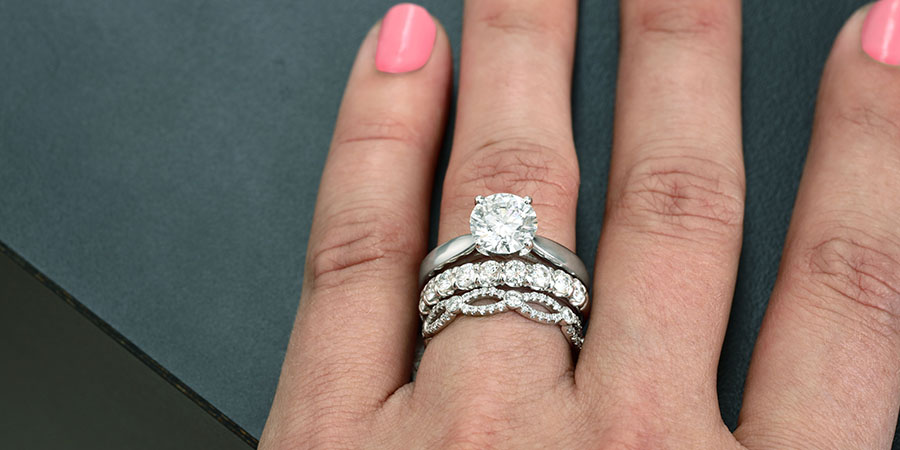 Try choosing an anniversary ring with a more ornate design for some added interest or opt for differing metal types to create a beautiful mixed metal look.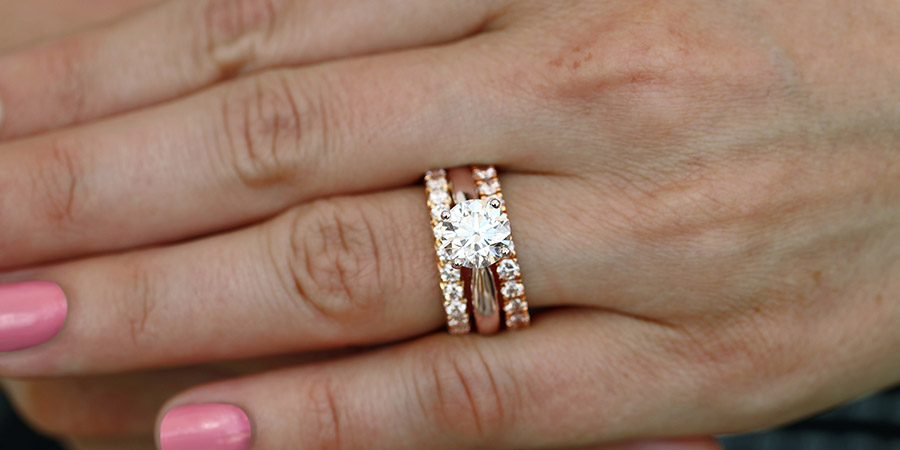 Worn on the Same Hand, Different Finger
If you aren't interested in stacking your anniversary band with your existing rings, consider wearing it on a different finger on your left hand.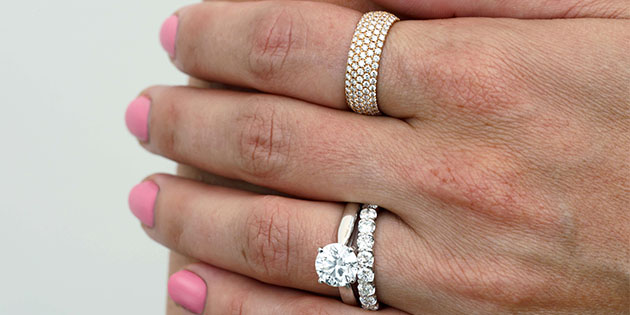 Worn on the Right Hand
If you want an anniversary ring that doesn't compete with your existing engagement and wedding ring settings, try wearing it on your right hand. It can be worn on any finger and adds some pretty sparkle to your other hand.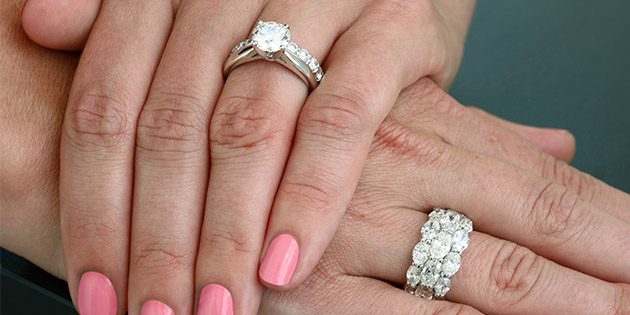 While women are most often the recipients of anniversary rings, men can also wear them. And just as with women, there are no strict rules on how men can wear their anniversary ring. Many men choose to pair their anniversary band with their wedding ring, or even substitute the new ring for their wedding band. Men's anniversary bands are available in a wide array of classic and unique styles, fits and finishes.
How to Choose an Anniversary Ring
If your style aesthetic has evolved over the years since you've been married, an anniversary ring is an excellent opportunity to choose a ring that reflects where you are today. The first thing to consider when choosing an anniversary band is how you are planning on wearing it. Is it going to replace your existing wedding ring, be stacked with your engagement and wedding rings, or worn on the other hand entirely? If you are planning to wear your anniversary band by itself, you might opt for a more prominent statement ring. Alternatively, if you are planning to stack your new anniversary band on the same finger with your wedding rings, you may want to choose a ring that will complement your existing rings. An eternity band, featuring diamonds all the way around, is a symbol of everlasting love and a tasteful option that tends to coordinate well with most wedding ring settings.
Next, it's time to choose the gemstone and metal. Diamond anniversary bands are a timeless and popular choice, but you can find anniversary rings with numerous other gems, from emerald and sapphire to opal and garnet. Choose your spouse's favorite gemstone, or consider picking a ring with gemstones that correlate to your children's birth months. If your wedding ring is a white gold eternity band, you could opt for an eternity anniversary band in yellow gold or rose gold to create an on-trend mixed metal look.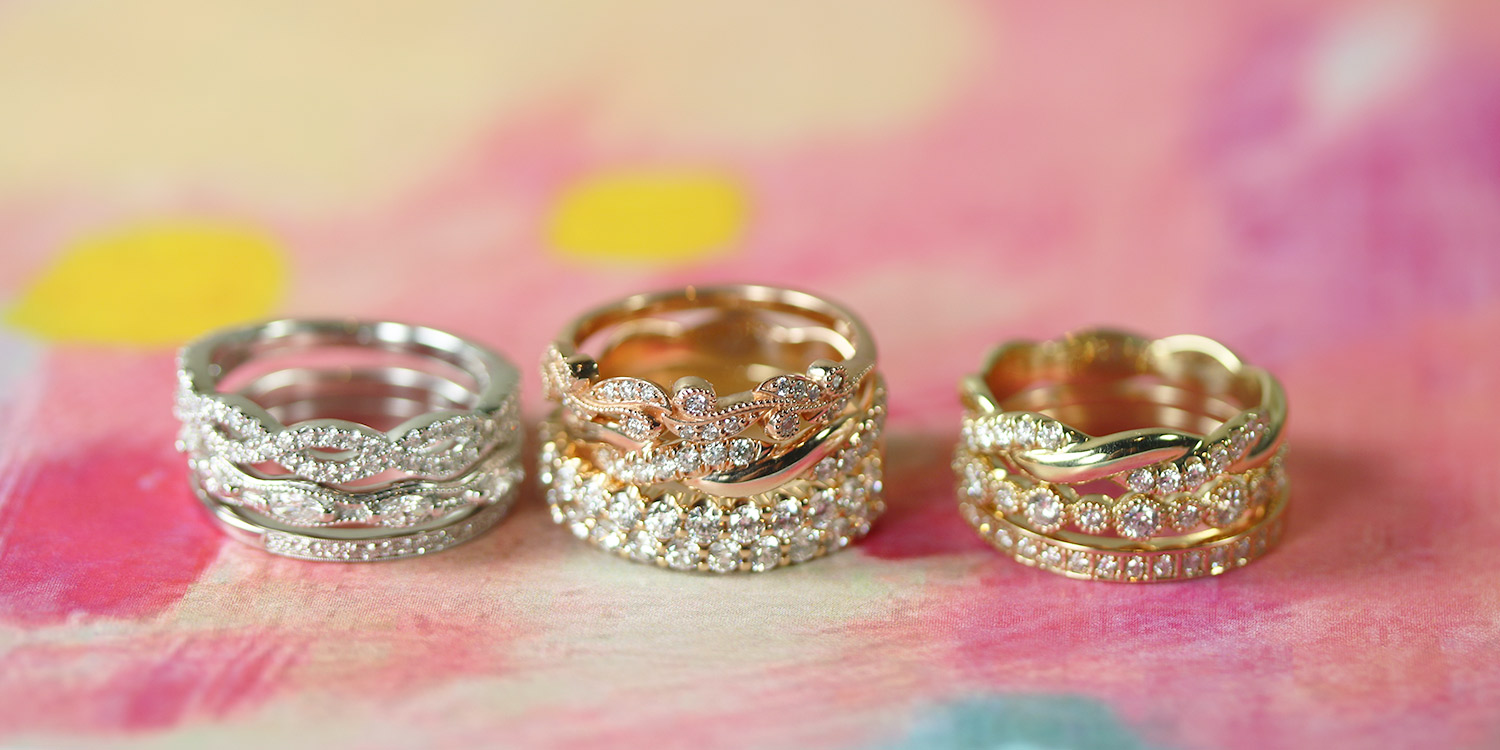 Traditional Metals & Gemstones by Anniversary Year
If you're not sure what kind of gemstones or metals to choose for an anniversary ring, knowing the traditional options for each anniversary year might help narrow it down. Take a look at what the experts say are the best gemstones for just about every anniversary year.
1st anniversary: 

Gold 

2nd anniversary: 

Garnet

 

3rd anniversary: 

Pearl 

4th anniversary: 

Blue Topaz

 

5th anniversary: 

Sapphire

 

6th anniversary: 

Amethyst

 

7th anniversary: 

Onyx

 

8th anniversary: 

Tourmaline

9th anniversary: 

Lapis Lazuli

 
10th anniversary: 

Diamond

 

11th anniversary: 

Turquoise

 

12th anniversary: 

Jade

 

13th anniversary: 

Citrine

 

14th anniversary: 

Opal

 

15th anniversary: 

Ruby

 

20th anniversary: 

Emerald

25th anniversary: 

Silver Jubilee

 

30th anniversary: 

Pearl Jubilee
35th anniversary: 

Emerald

 

40th anniversary: 

Ruby

45th anniversary: 

Sapphire

50th anniversary: 

Golden Jubilee

 

55th anniversary: 

Alexandrite

 

60th anniversary: 

Diamond

 

70th anniversary: 

Platinum Jubilee

 

75th anniversary: 

Sapphire Jubilee

80th anniversary: 

Ruby Jubilee

 
If you're ready to shop for an anniversary ring, but don't know where to start, we'd love to help! Simply call us at 1.800.642.4438. We'll answer any questions you may have and walk you through the process of choosing the perfect anniversary band.