If you're looking for a wonderful way to celebrate the time you've spent married to your spouse, you should be looking at anniversary rings. This type of jewelry is the perfect way to symbolize the love you've shared so far and will continue to share for years to come. If the concept of anniversary bands is new to you, take a look at our guide before you start shopping. We'll help you navigate when to give this type of jewelry, which gemstones to choose, and more!
When Should You Give an Anniversary Band?
There aren't any strict rules for when you can give your significant other an anniversary band. But there are some occasions that call for this type of gift more than others. The most common one tends to be a milestone anniversary, such as the 10th, 15th, 20th, 25th, etc.
On the other hand, some couples choose to celebrate the non-milestone anniversaries with a ring, as it's unexpected. So if you're not sure what else to give your spouse for the 8th or 17th year, a diamond eternity band may be the perfect gift! You can also get creative and tell your spouse you're celebrating the anniversary of another milestone, such as the day you got engaged or the day of your first kiss. Anniversary rings can be the perfect way to celebrate such occasions.
Another great reason to give your spouse an anniversary band is if you're renewing your vows. A stunning ring is a beautiful way to mark this important event. Plus, a ring can be an excellent way to signify a new beginning if you've been going through a rough time in your marriage and want to show your commitment to staying together. Simply put, anniversary rings are appropriate any year you want to celebrate being with your spouse!
How to Shop for Anniversary Rings
Anniversary rings can range in style, so you should be able to find one that perfectly represents your spouse's taste in jewelry. For example, you can choose the type of metal that your spouse prefers, with just some of your options being white gold, yellow gold, sterling silver, and platinum. If you're not sure which metal your spouse would love, choose one that would best match his or her wedding ring.
Next, it's time to choose the gemstone. Most anniversary rings have stones all around them, so it's rare to find a ring of this kind that just has one big gemstone. For example, the diamond eternity band is popular because it features sparkling diamonds around the entire ring, symbolizing a love that will last forever. So if your spouse loves diamonds, the diamond eternity band is a great choice.
But you can find anniversary rings with numerous other gemstones, from emerald or sapphire to opal or garnet. Choose your spouse's favorite gemstone, or consider picking a ring with gemstones that correlate to the birth months of your children. You can even request a specific number of gemstones around the ring, such as an amount equal to the length of your marriage so far. Just think about what kind of ring your spouse would most appreciate, and go with that for best results!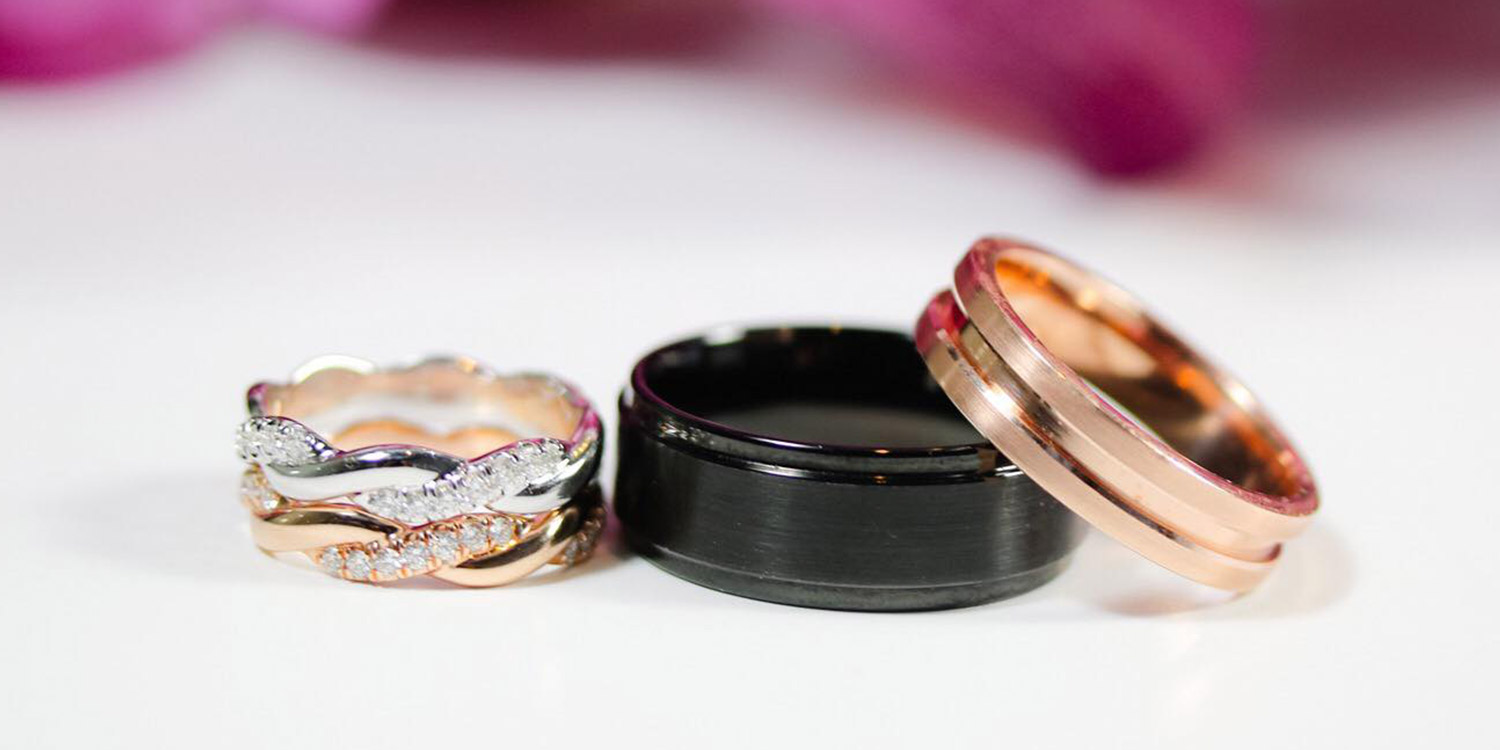 What Are the Traditional Metals & Gemstones for Each Anniversary Year?
If you're not sure what kind of gemstones to choose for an anniversary ring, knowing the traditional options for each anniversary year might help narrow it down. Of course, you don't have to stick to these guidelines if you don't think your spouse would like the gemstone for your upcoming anniversary. They're just there to give you ideas, particularly if you and your spouse are very traditional. So take a look at what the experts say are the best gemstones for just about every anniversary year.
1st anniversary: Gold — A simple, pretty 14k gold band is perfect for the 1st anniversary, so no gemstone needed!
2nd anniversary: Garnet — This deep red gemstone is a great symbol for long-lasting love.
3rd anniversary: Pearl — The pearl is not only beautiful, but also a symbol of purity.
4th anniversary: Blue Topaz — This pretty blue gemstone promotes calmness and faithfulness.
5th anniversary: Sapphire — The 5th year of marriage calls for a typically deep blue gemstone that promotes truth & consistency.
6th anniversary: Amethyst — This gemstone is usually purple and symbolizes faith and love.
7th anniversary: Onyx — This gemstone is dark, durable, and a favorite for men's jewelry.
8th anniversary: Tourmaline — This gem comes in several colors, including pink and green.
9th anniversary: Lapis Lazuli — A pretty blue gemstone like this can help balance positive & negative energies.
10th anniversary: Diamond — You can't go wrong with a sparkling diamond ring for the 10th anniversary!
11th anniversary: Turquoise — You'll find turquoise in a range of hues, from green to blue.
12th anniversary: Jade — This gemstone most often comes in a gorgeous shade of green.
13th anniversary: Citrine — With a yellow-orange shade, this gem has a nice warm tone.
14th anniversary: Opal — This gem signifies hope & comes in hues like white, black, crystal & more.
15th anniversary: Ruby — A red gem that symbolizes fire & passion will help you celebrate 15 years of marriage.
20th anniversary: Emerald — This green gem symbolizes fertility & youth.
25th anniversary: Silver Jubilee — This is the time to buy a beautiful sterling silver anniversary ring.
30th anniversary: Pearl Jubilee — This is your chance to upgrade the pearl ring from the 3rd anniversary!
35th anniversary: Emerald — This gemstone is just a classic, so it's perfect for both the 20th and 35th anniversary.
40th anniversary: Ruby — Show that the passion is still there with a ruby anniversary band!
45th anniversary: Sapphire — If you bought a blue sapphire for the 5th anniversary, consider a sapphire in a different shade for your 45th.
50th anniversary: Golden Jubilee — Luckily, you have your pick of pretty gold rings for your 50th.
55th anniversary: Alexandrite — This gem appears either green or purplish red, depending on the lighting.
60th anniversary: Diamond — Now is the time to improve on the diamond ring from the 10th anniversary, such as with a diamond eternity band!
70th anniversary: Platinum Jubilee — Get a pretty platinum ring engraved to celebrate your 70th year together.
75th anniversary: Sapphire Jubilee — This is another great occasion for a gorgeous sapphire ring!
80th anniversary: Ruby Jubilee — It's been 40 years since the last ruby ring, so it's time for an upgrade to celebrate an impressive 80 years with your spouse!
How Should You Wear an Anniversary Band?
There are many ways to wear anniversary bands, so there's practically no wrong answer for this. In fact, you can wear an anniversary ring on any finger, on either hand. If you don't want to overwhelm the ring finger on your left hand by adding another ring, you can wear the new piece of jewelry on your right ring finger if you'd like. You might also choose to put it on any other finger. It's up to you!
Some couples decide that the anniversary ring should replace the engagement or wedding ring, which might be right for you if your wedding or engagement ring is plain or just not your style. Now is your chance to upgrade your ring while celebrating your latest anniversary.
Of course, if you love your engagement and wedding rings and just want to complement them with another ring, you can stack all three together on the same finger. Stacking your rings can create a stunning look that will catch anyone's eye when you're out and about.
Note that while women are most often the recipients of anniversary rings, men can also wear them. And just as with women, there are no strict rules on how men can wear their anniversary ring. While many choose to pair theirs with their wedding ring, or even substitute the new ring for their wedding band, they can also wear it on any finger on either hand.
If you're ready to shop for a ring, start browsing Borsheims today! We offer a wide range of anniversary rings, both on our site and in our store. Contact us if you have any questions or need more guidance on finding the perfect anniversary ring!