Did you know that it's not expected that you keep the same engagement ring or wedding band throughout your entire marriage? On the contrary, it's actually a widely accepted custom for couples to upgrade their engagement rings after numerous years of marital bliss. 
Understandably, styles evolve, budgets change and personal tastes shift over time, so what you initially picked for an engagement ring may not be what you want a decade or more later. For these reasons, many couples choose to upgrade their engagement rings by adding more stones, updating to a larger center stone, or changing the setting entirely. After all, you deserve to have a diamond that you love, especially when you wear it every day.
Whether you are renewing your vows, celebrating a milestone anniversary, or just because, now is the perfect time to upgrade your diamond for a higher quality stone, a larger carat size, or a more brilliant cut. Just as your original engagement ring represented your union's first stage, your upgraded ring can reflect your marriage in the years to come.
When to Upgrade Your Wedding Ring
The decision of exactly when to upgrade your ring is totally up to you and your spouse. While there's no right or wrong time to upgrade a wedding ring, some major life events like big birthdays and milestone anniversaries present the perfect opportunity to indulge in a new piece of bling. For example, the 10th anniversary is an immensely popular time for couples to upgrade their wedding rings. Ultimately though, the decision is yours whether you choose to upgrade after one year of marriage or 50 years of marriage. 
Ideas for Upgrading Your Engagement Ring or Wedding Ring
From a simple update to a complete redesign, there are endless ways to upgrade your engagement ring. Whether you're thinking about changing everything or just one detail, here are some of the top ring upgrade ideas to get you started.  
Upgrade the Stone
One of the most popular ways to upgrade an engagement ring is by upgrading the stone. Whether you want something bigger or better quality, upgrading the center stone can make a big difference in your ring's overall appearance.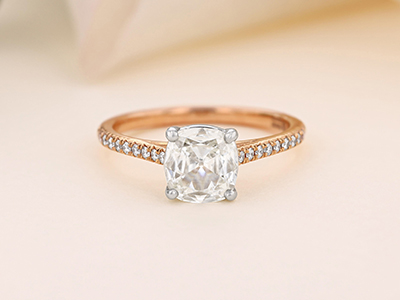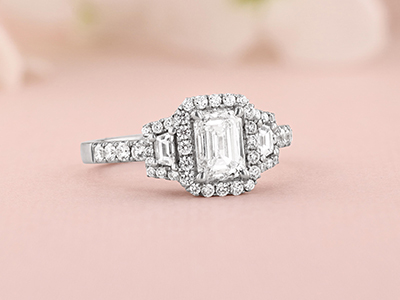 Add Diamond Accents
If you want to keep your original center stone for sentimental reasons but still want to transform its look, try adding diamonds to either side of the center stone. Alternatively, a halo setting can make your center stone appear larger while creating more sparkle. 
Incorporate Color
If you're looking to mix things up, add a pop of color to your ring with sapphires, rubies or colored diamonds. You can add meaningful significance with birthstone colors, whether they are your own or those of your children. Keep in mind that not every gemstone is durable enough to be worn every day, but both sapphire rings and ruby rings are strong enough to stand up to daily wear and tear.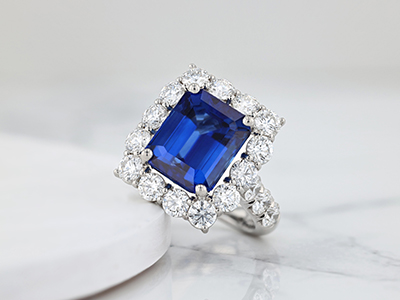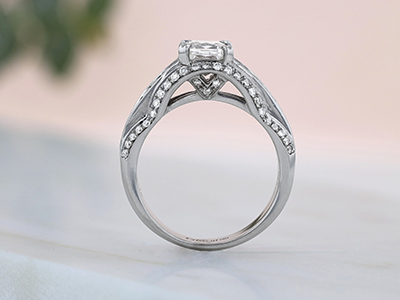 Change the Band
Are you tired of your original metal choice or wish you had opted for a diamond band? Well, now is your chance! Yellow gold is a timeless choice that happens to be trending right now, but white gold or rose gold are also classic options. Platinum is a durable alternative that looks great and is ideal for those with metal sensitivities or allergies.
Get a New Ring Altogether
This might be the most obvious way to upgrade, but now is your chance to get the ring you've always wanted! Choose a different setting, a new shape, or a bigger and better diamond.  The options are endless when you start from scratch, so why not design the ring of your dreams!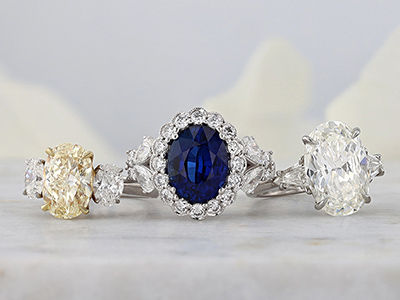 What to Do with Your Old Engagement Ring After an Upgrade
What you choose to do with your original engagement ring is totally up to you. One option is to trade your engagement ring in, including the diamond and the setting, and get credit towards your new, upgraded diamond purchase at Borsheims.
However, if you aren't ready to part with your original ring for sentimental reasons, there are ways to preserve it. One option is to keep it and wear it on your right hand or pass it down to your children. You might prefer to retain some elements of your engagement ring, such as the setting, and just upgrade the diamond. You could also have the original ring's metal melted down or use its gems as side stones in your new ring. Lastly, you could even transform your old ring into a new piece of jewelry, like a classic diamond pendant necklace that you could wear every day.
If you want to upgrade your diamond but aren't ready to part with your existing stone, our team of professionals would be happy to assist you in repurposing your original stone into a remarkable statement piece that you'll love.
From fabulous preset diamond rings to spectacular custom pieces designed just for you, Borsheims is here to help you find the diamond of your dreams. Learn more about our Lifetime Diamond Trade-in Policy or call 1-800-642-4438 to speak with one of our diamond experts.