Buying an engagement signifies a major milestone in a relationship and is a commitment you want to take seriously. After all, it's one of the most significant purchases you'll ever make! To ensure you get it right, we've put together this engagement ring shopping guide to help eliminate some of the stressing and guessing that often go along with engagement ring shopping. 
Set a Budget
Setting a budget that works for you is the first step to finding the right ring. While most people are familiar with the two months salary "rule," ring budgets are not one size fits all. By being honest with yourself about what you can afford, you'll only see options that make sense for you and won't add any additional stress to what should be a happy time. Borsheims offers many great options at every price point and various financing opportunities. If you aren't entirely satisfied with your options based on your current budget, keep in mind that couples always have the option to "upgrade" their ring down the road, as Borsheims has an enticing diamond trade-in program.
Determine a Buying Timeline
Now that you have a budget, it's time to plot your shopping timeline. Do you have a specific date in mind that you want to propose? If so, you will need to count backward from that date to determine how far in advance you need to start ring shopping. While a preset engagement ring may be ready to take home the same day, custom engagement rings can require four weeks or more before they are ready. Many soon-to-be ring buyers spend days, weeks or even months researching rings online before they even set foot in a jewelry store, while others may head to the jewelry store right away. A benefit of shopping in-store is that you get to see and touch rings in person, and a sales associate is there to educate you and answer questions along the way. 
Do Your Research
Research is essential to ensuring that your purchase is right for your and your partner's needs. You will want to find the right style of ring, diamond (or gemstone), and the jeweler or jewelry store to work with—all of which takes time and research.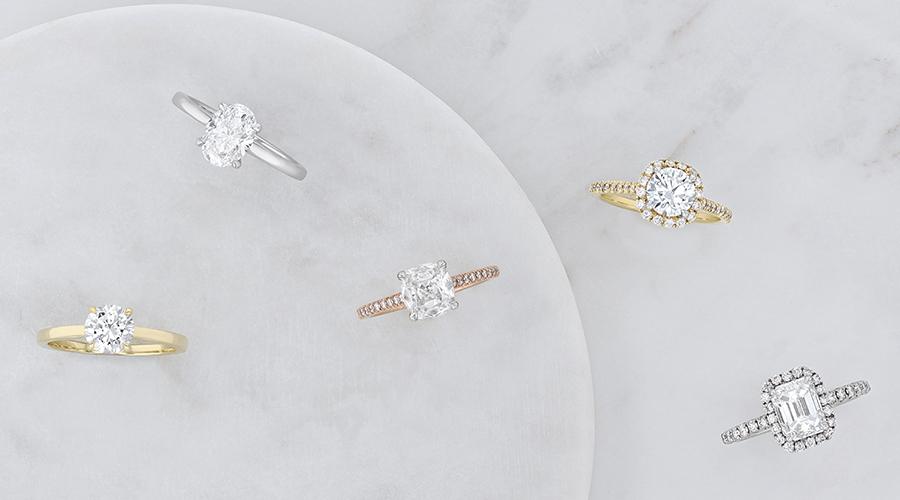 Choose a Style
When deciding on the right ring for your significant other, it's important to consider their style preferences and lifestyle. Ring styles can vary from modern to traditional, simple to ornate, so knowing their style preferences will help you narrow down the selection. 
The most straightforward way to pinpoint your partner's preferences is to ask them, but for those who want an element of surprise, some investigative techniques come in handy. If your partner has a Pinterest account, they've likely pinned some #dreamrings. Their friends or family members may also be valuable assets. 
You'll also want to be mindful of metal choices when selecting a ring. The best way to determine which metal choice and color your partner would prefer is to pay attention to any jewelry they currently wear. For example, a yellow gold engagement ring is a safe choice if they gravitate towards yellow gold jewelry. For information on all the ins and outs of a ring, check out our Ring Anatomy Guide. 
Select a Stone
First, you must determine what type of stone your partner would like. Diamonds are the traditional stone for an engagement ring, and by far the most common, but many brides opt for a colored gemstone instead. If a diamond is what you're looking for, you will want to familiarize yourself with the 4Cs – cut, color, clarity and carat weight – each of which will impact the overall look and cost of a ring.
Find a Jeweler You Trust
Buying an engagement ring is a big commitment, and you want to ensure you work with someone you can trust. Finding the right jeweler helps minimize stress, enables you to be confident with your purchase, and ensures your partner's ring is taken care of in the long run. Some things to consider when jeweler shopping are:
They are interested in learning more about your needs and your partner's style.

They are focused on finding options within your budget.

They give you enough information to make an informed decision, including letting you examine all settings and diamonds.

They can provide information about customizations when needed and timelines for receiving your purchase.

They provide you with a GIA report when purchasing a diamond (if applicable).

They are knowledgeable about returns, resizing, financing, and care of your purchase.
Insure the Ring
Sometimes, things happen that are out of your control, so it's vital to purchase ring insurance to cover life's little accidents. And it's important to seek insurance coverage right away! Nothing would be worse than something happening before you pop the question or say, "I Do." 
You have two options when purchasing insurance: get an extension or "rider" on your current renters/homeowners insurance or purchase insurance from a third party like Jewelers Mutual. Both types of insurance require you to submit an appraisal. When conducting an appraisal, an appraiser will assign a value to your entire ring, considering the main gemstone, metal and accent stones. This value helps determine how much you will pay to insure your ring. Appraisals typically cost a nominal fee and should be conducted as soon as possible. Borsheims provides complimentary appraisals for all purchases of $1,000 or more. 
Ring Rider Insurance – Renters or homeowners insurance generally covers items in your home but does not necessarily consider high-value items like engagement rings. Rider insurance will cover these high-value items for an additional fee. This insurance option may also qualify you for a cheaper general rate through customer discounts or because you have multiple types of insurance.
Third-Party Insurance – If you don't have a renters or homeowners policy, you can get insurance through your jeweler. Advantages of this type of insurance include working with individuals knowledgeable about jewelry and having more comprehensive coverage that considers the unique nature of this type of purchase.
Before deciding which policy to purchase, consider the following questions to determine which is right for you:
Is my ring covered if something happens accidentally? Does it have to be stolen? Is there any reason my ring wouldn't be replaced?

How will my ring be replaced? Will I get a check, or do I have to go to a particular jeweler?

Do I have to "prove" the ring is missing?

Is the total cost of my ring insured?
Now that you understand the steps to take to make your engagement ring buying process flow smoothly, it's time to start shopping! If you need help picking out the perfect engagement ring, one of the engagement experts at Borsheims would be happy to assist you. Stop into our store or text or call 402.391.0400 during store hours to speak with one of our friendly and knowledgeable sales associates.