What is a tennis bracelet?
A tennis bracelet is an elegant bracelet that consists of a symmetrical line of diamonds or gemstones joined together by a delicate gold or platinum chain. The diamonds or gemstones used in tennis bracelets are typically the same color, cut, clarity, and carat — however, if you prefer something more unique, alternatives to the classic tennis bracelet style are available that feature stones in varying sizes and shapes.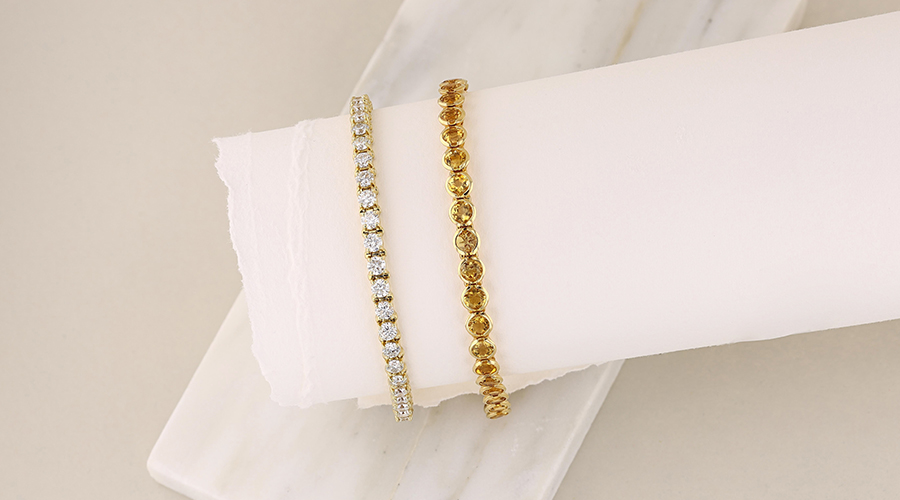 Why is it called a tennis bracelet?
The tennis bracelet we know today first came to prominence in the 1920s and was initially known by the name 'diamond line bracelet.' The 'tennis bracelet' moniker came about during the 1987 U.S. Open Tennis Championships when professional tennis player, Chris Evert, lost her diamond bracelet during the middle of a match. The game was halted so Evert could search for the missing bracelet, all while television viewers and spectators in the stands watched. The diamond bracelet was eventually recovered, and with her lucky charm back in Evert's possession, the match resumed.
More recently, it has been argued that the bracelet got its name in the 1970s when Evert, the number one player in the world, became widely regarded for her stylish fashion during matches. Evert was known for always wearing a diamond bracelet, even on the tennis court.
How much is a tennis bracelet?
The price of a diamond tennis bracelet depends on several factors, the most important being whether the stones used are authentic or artificial. A tennis bracelet utilizing CZ's, or cubic zirconia's, could cost less than $100, while a bracelet utilizing genuine diamonds or gemstones can cost anywhere from $1,000 on up.
Another important factor that will influence the cost of a diamond tennis bracelet is the carat weight, or rather the size of the stones used in the bracelet. A bracelet featuring larger stones will cost more than a daintier bracelet with smaller stones. Color, cut and clarity are other determinants that will impact the overall price of a tennis bracelet.
How to wear a tennis bracelet
Whether it's dressed up or dressed down, a tennis bracelet brings unmatched versatility to your jewelry wardrobe. Here are a couple of ways to style this multifaceted piece of jewelry.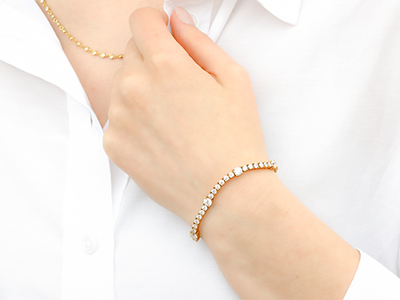 Wear alone
You better believe that a single diamond tennis bracelet in any size or style is strong enough to be worn on its own.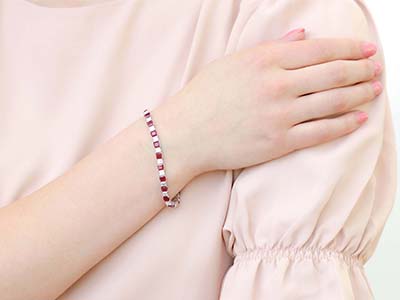 Embrace color
For a pop of color, opt for a tennis bracelet that boasts bold gemstone accents. You can choose an all gemstone design or a bracelet that has diamonds and gemstones intermixed.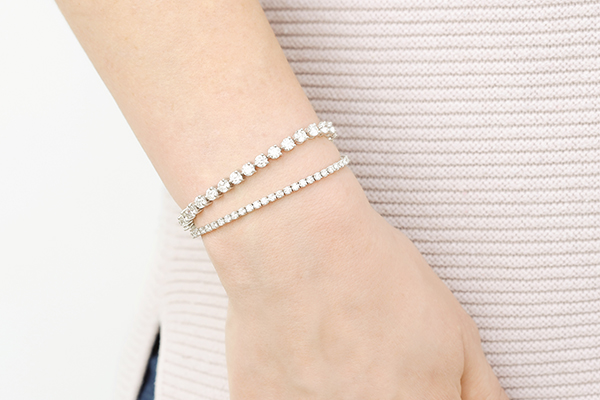 Mix varying sizes
We absolutely love the way diamond tennis bracelets in varying sizes look when worn side by side.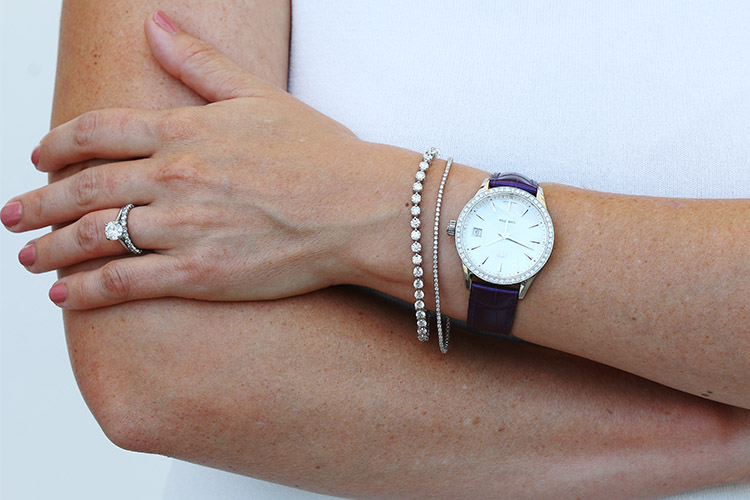 Pair with a watch
Pair your diamond tennis bracelet with a watch to create a substantial look for your wrist. Opt for a watch with a diamond bezel for even more sparkle.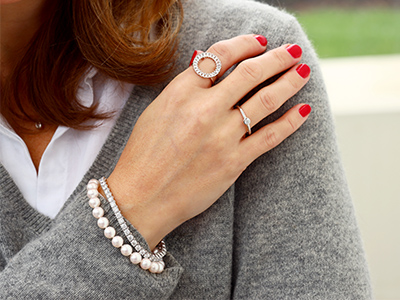 Layer with pearls
We can't think of anything more refined and elegant than diamond and pearl jewelry paired together.
If you need help picking out the perfect tennis bracelet, one of our jewelry experts would be happy to assist you. Stop into our store or call 1.800.642.4438 during store hours to speak with one of our friendly and knowledgeable sales associates.