With so many options to choose from, shopping for the perfect wedding band to match your beloved engagement ring can seem like a daunting task. The first step is to make sure you have your engagement ring with you when shopping for an accompanying band. It's best to try any prospective wedding bands on with your engagement ring to make sure you like the way they look together.
The next step is to take cues from your engagement ring as the size and shape of the center stone, as well as the metal color, will likely influence your decision on what pairs well together. Traditionally, the wedding band has matched the engagement ring's metal color, but if you're looking to shake things up, opt for a mixed-metal look. Mixing metals has risen in popularity over the last decade as modern brides are drawn to the unique and contrasting effect it offers.
Whether you're already engaged and searching for the perfect complement to your engagement ring, or simply looking for ring inspiration, we've put together a list of classically chic ring pairings just for you.
Oval Engagement Ring +
Marquee Wedding Band
Set off your oval diamond engagement ring with a marquee and round diamond band. The distinctive and alternating diamond shapes used in the band are the perfect counterpart to the diamond's soft oval shape.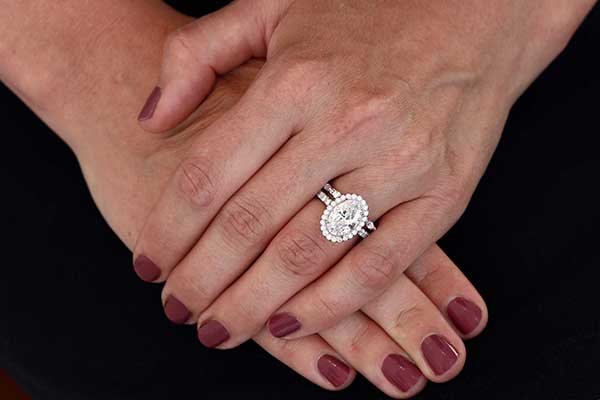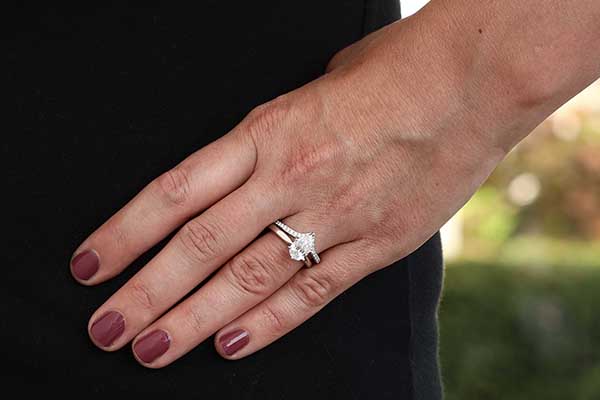 Pear Engagement Ring +
Curved Wedding Band
A curved wedding band looks great with most engagement ring shapes. The contoured styling of the wedding band curves gently around the engagement ring, perfectly framing it. For a more fashion-forward look, opt for the pointed, V-shape look of a chevron wedding band. This design pairs exceptionally well with oval and pear-shaped diamond rings. You can even flip the band to make the point can face inward or outward.
Emerald Cut Engagement Ring +
Baguette Wedding Band
Enduring beauty abounds with this elegant pairing. An emerald cut diamond ring is evocative of the glamour of the past and is perfectly complemented by a baguette diamond band. The beautiful baguettes mimic the emerald shaped center stone of the engagement ring for a truly striking combination.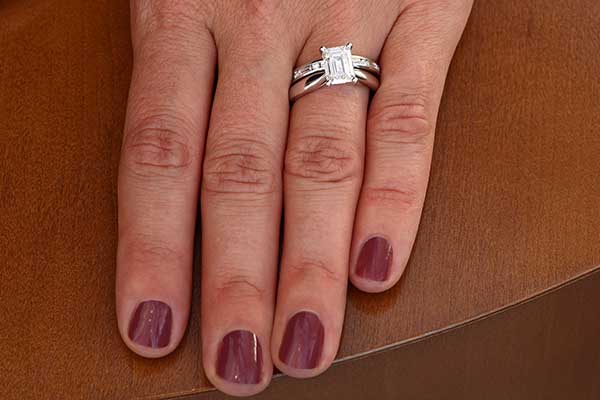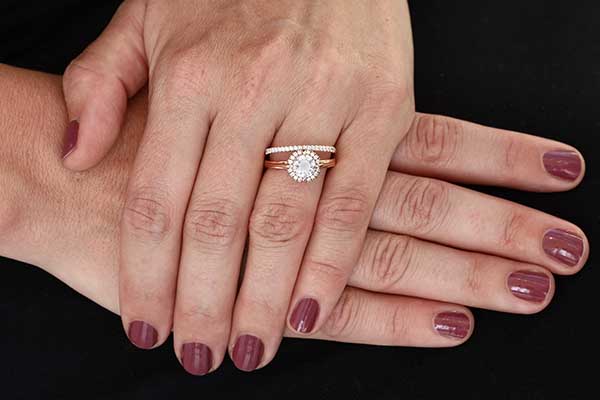 Halo Engagement Ring +
Pavé Wedding Band
While a delicate pavé wedding band makes a stunning addition to almost any engagement ring, we are especially fond of how it perfectly flatters a halo engagement ring setting. The delicate diamonds of the pavé band enhance the diamond halo while adding more sparkle.
Round Solitaire Engagement Ring +
Diamond Wedding Band
A true classic, round solitaires are the most popular engagement ring style year after year. While this simple style pairs nicely with any wedding ring, a band featuring round diamonds is a beautiful way to set off the stunning round center stone.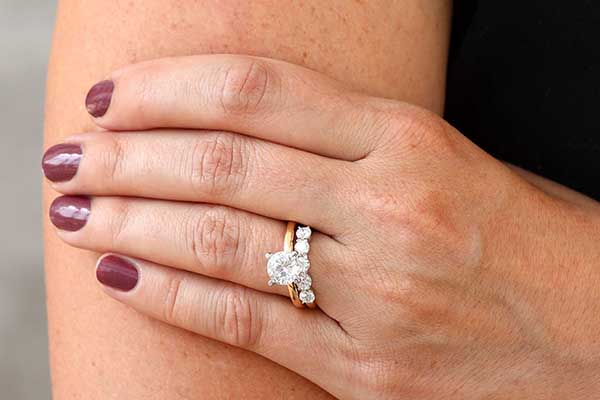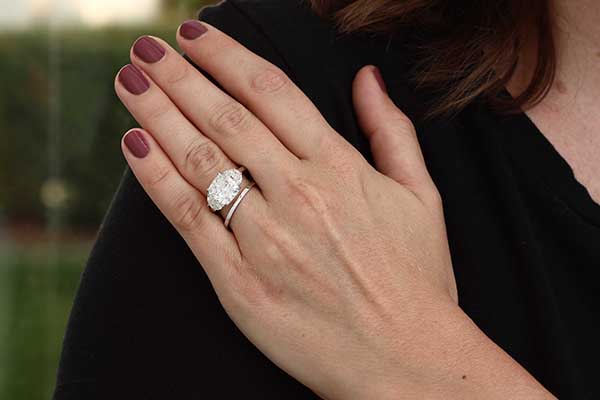 Three-Stone Engagement Ring +
Plain Wedding Band
A three-stone diamond engagement ring is an absolute stunner. Create a subtle and tastefully elegant look with a plain wedding band that doesn't compete with the three diamonds' intense sparkle. 
Princess Cut Engagement Ring +
Criss-Cross Wedding Band
The delicate curves of a criss-cross wedding band help soften the sharp, square shape of a princess cut diamond ring while adding visual interest.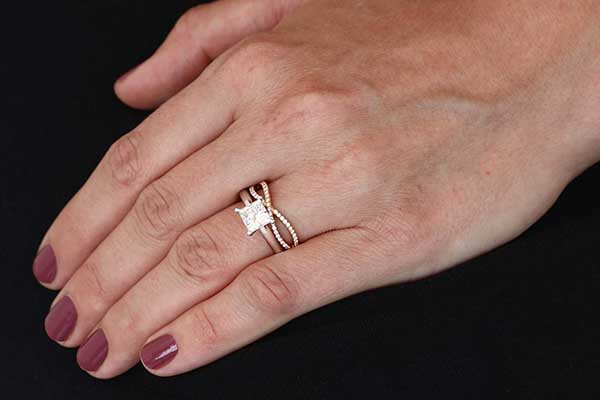 You can't go wrong with a timeless diamond eternity band to match any engagement ring style, but if you want something a little more outside of the box, try any one of these creative yet classic pairings. To view Borsheims extensive selection of wedding rings, click the button below. 
You Might Also Be Interested In